Discover Your Roots With DNA Testing
DNA testing offers insights into your family tree, but watch out for unintended consequences.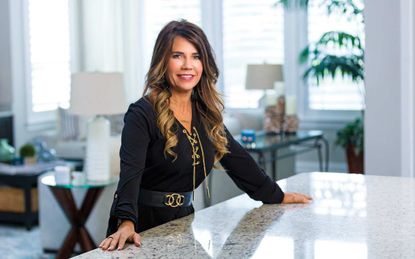 (Image credit: © Ryan Ketterman)
When people would ask Carrie Reynolds about her ethnicity, she didn't know the answer. Reynolds, of Ponte Vedra Beach, Fla., was born in 1975 and adopted. So, in early 2018, she bought a genetic testing kit from AncestryDNA (opens in new tab), spit in a tube and sent her sample off for processing.
Reynolds's results surprised her in more ways than one. Because of her dark hair and hazel eyes, she figured she was Spanish, Italian or Cherokee. Turns out she is mostly English, a little Irish and Scottish, and a tad Swedish. And her genetic matches among other test-takers in Ancestry's database included two half-siblings. Reynolds messaged them through Ancestry's system, and one, Mark, also an adoptee, responded immediately. The pair decided to team up to find their biological parents. A couple of months later, they were notified of a third half-sibling in the system, a sister who filled them in about their biological father.
Reynolds and Mark met their biological dad, who received them warmly and told them about their mothers. Reynolds wrote to hers but never heard back. She was disappointed, she says, but focuses on the fact that the people who raised her are her parents. "My family is my family, no matter what the DNA says," she says.
Subscribe to Kiplinger's Personal Finance
Be a smarter, better informed investor.
Save up to 74%
Sign up for Kiplinger's Free E-Newsletters
Profit and prosper with the best of expert advice on investing, taxes, retirement, personal finance and more - straight to your e-mail.
Profit and prosper with the best of expert advice - straight to your e-mail.
More than 28.5 million consumers have purchased a genetic-testing kit from one of the four largest direct-to-consumer testing companies: Ancestry­DNA, FamilyTreeDNA (opens in new tab), MyHeritage (opens in new tab) and 23andMe (opens in new tab). The companies plan to ramp up their advertising and offer discounts during the holidays, and you may be enticed to sign up.
Most people who order a kit are curious about their roots and are looking for more details about where their ancestors are from. You may want to find living people with whom you share DNA, whether to break through a brick wall in your family tree or to identify your biological parents. Or you may want to find out if you are at risk of developing or passing along certain diseases.
At a minimum, it's all good fun, right? Sure, but you still need to know what you're signing up for, including possible unintended consequences and whether your privacy is at risk.
How It Works
You'll pay $79 to $99 for a basic testing kit (see the box below for details on four popular kits). After you either spit into a tube or swab your cheek to provide a DNA sample, the testing company's in-house lab or lab partner will extract your DNA and translate it into data that is your genetic code. The company's algorithms will calculate your ethnicity estimate, determining which segments of your DNA originate from different regions of the world. You'll receive your results within four to eight weeks.
Your genetic code will be compared with that of everyone else who has taken the same test. "Matches" indicate a relationship of some degree, close or distant, based on the percentage of DNA you share with the other person. You and your match will receive notification if both of you have selected that option. So long as you're in the system, you'll be compared with new test-takers.
Matches will include a user name (it may not be the person's actual name), how you and the match are related, and (depending on the company) how much DNA you share in common, country of residence, ethnicity, and whether the match has opted to link a family tree to the data.
You can take three types of tests. Which ones you choose depend on your goals.
Autosomal testing, which analyzes DNA that you inherited from both parents, is described as having a broad but relatively shallow reach, according to Richard Hill, author of The Guide to DNA Testing (opens in new tab) and one of the first known adoptees to find his biological parents through genetic testing. You get half of your autosomal DNA from your mom and half from your dad, and they got the same from their parents, and so on. That means the DNA from any one ancestor gets cut in half every generation, so after about five generations, the DNA from any one generation may not be detectable with an autosomal test.
Two other tests have a narrow but deep reach, and they can help you trace your ancestry back 10 or 20 generations. The Y-DNA test can only be done on males, but women may recruit a male relative for the test. A man inherits Y-DNA from his father, who inherited it from his father, and so on. Because family surnames generally pass down the male line, you can use this test to find out if families with the same surname are related. Mitochondrial DNA is passed from mothers to all of their children, but only women pass it on, so you can use this test to identify your maternal line.
To find as many matches with relatives as possible with just one test, take an autosomal test from AncestryDNA, which has the largest database. FamilyTree­DNA is the only company that offers all three tests.
For the most comprehensive set of matches, "fish in all the ponds," says Hill. Because so many people take just one test, the companies' databases differ a lot, and you can't know in advance which test will produce your closest and most useful matches. (FamilyTreeDNA and MyHeritage accept uploads of your data from other services so you can get additional matches from them, but AncestryDNA and 23andMe don't.)
"If you test at Ancestry but not the other three, you may be missing your very best match, like the cousin who has family photos or a family Bible you never knew about," says Roberta J. Estes, a genetic genealogist and member of the International Society of Genetic Genealogy (opens in new tab), a group of genealogists who have added DNA testing to their toolbox.
Hill says test takers often mistakenly imagine that they'll get a ready-made family tree. But even with matches and an idea of how closely those people are related to you, you must trade information with them and seek clues from other resources to figure out where and how those people fit into your family tree. With a paid membership at Ancestry.com (opens in new tab) and MyHeritage (opens in new tab), you can see other members' family trees and search online archival resources.
Just an Estimate
Genetic genealogists loathe the AncestryDNA TV ad in which a guy trades his Scottish kilt for German lederhosen after he gets his ethnicity results, says Estes, because it oversimplifies the process and misdirects consumer expectations.
The testing companies identify "reference panels" of living people with deep regional roots and known ancestry. Then they compare your data from an autosomal test to their reference panels' data to come up with your ethnic origins, expressed in percentages. Because each company's reference panels are proprietary, your results from each test will differ. Although you inherited half of your DNA from your mom and half from your dad, you will receive a different 50% from each parent than your siblings got, so you and your siblings' results may differ. And, because people migrate and national borders change over time, the results reliably place your ancestors only at the continental level—European, Asian, African or Native American (North and South America). Within Europe, the tests also reliably identify Ashkenazi Jewish ancestry.
As more people take a DNA test, the reference panels will improve, and the testing companies are working to improve their models and algorithms. You'll receive updated reports per­iodically, which could clarify your ancestry—or confuse you more. For example, Carrie Reynolds's first ethnicity estimate referenced the Iberian Peninsula—Spain and Portugal—but later results omitted it.
Genealogists say many Americans commonly believe they have a Native American ancestor. That may be true, but it's hard to prove, even with genetic testing. Although their genetic code is distinctive, Native Americans have been mixing with Europeans for centuries. So Native American ancestry may show up as a very small percentage of your ancestry—as Elizabeth Warren discovered when she took up President Trump's challenge to prove her Native American heritage. In the eastern U.S., the percentage of Native American ancestry may be between 0% and 1%, whereas in the western states, it can be as high as 3% to 4%, says Hill.
The Privacy Question
Sometimes, test takers learn that the people who raised them weren't their parents or that a parent was unfaithful. Fathers may not have known they were fathers. Biological mothers may not want to be found. Parents may not want to acknowledge that they gave up a child for adoption or were reproductive donors. The National Institutes of Health recommends that you think about what information will be reported to you, whether there is information you would rather not know, and whether you can decline to receive more specific information.
Before you buy a kit, the Federal Trade Commission recommends that you scrutinize the companies' websites and privacy policies for details about how the company secures, uses and shares the information it collects. When you sign up, choose your account and privacy settings carefully. When companies invite you to participate in research opportunities, make sure you understand what you're agreeing to. AncestryDNA, MyHeritage and 23andMe have aligned their privacy policies with best practices recommended by the Future of Privacy Forum, a think tank in Washington, D.C., for the collection, protection, sharing and use of genetic data generated by direct-to-consumer testing companies.
The privacy policies generally require informed consent for the companies to share your genetic information in aggregated and de-identified form—grouped with other people's data and without identifying personal information—with research partners. For example, AncestryDNA says their partners may include commercial or nonprofit organizations that conduct or support scientific research or the development of therapeutics, medical devices or related material to treat, diagnose or predict health conditions—"with no benefit to you."
"You're literally giving away the software of you that connects you to all your family members," says Joel Winston, a former deputy attorney general for the State of New Jersey whose legal practice focuses on consumer rights litigation, information privacy and data-protection law. Given emerging technologies, unanticipated issues will arise, and you must balance the risks of direct-to-consumer testing against the benefits, says Thomas May, a researcher with the HudsonAlpha Institute for Biotechnology (opens in new tab). "Avoiding the potential violation of privacy comes at the expense of not getting the good stuff, either."
The companies test and store your biological sample and genetic data in-house, or they may use third parties for those purposes. You can ask them to destroy or return your sample and delete your DNA data from their system, usually within 30 days of your request. However, anecdotal evidence suggests that extraction of your data may be easier said than done, and privacy policies say your data can't be removed from research projects that have begun or have been completed. Privacy could be breached at any point, says Winston. "I thought Equifax would have protected its information, so you never know," he says.
Other Risks
Direct-to-consumer genetic testing is big business and getting bigger. The global direct-to-consumer genetic-testing market will surpass $2.5 billion by 2024, according to Global Market Insights. "You think you're signing up for history, but it's really the commercialization of your DNA," says Winston. "They're running the tests at cost so they can acquire the haystack and find the needle in it," he says. The companies' goal is to find people who have the genetic variant to, say, avoid Alzheimer's or lower blood pressure.
People always worry, What if an insurance company or employer sur­reptitiously tried to identify who is at high risk, says May. There's also concern that anonymous data can be re-identified. If you think that a testing company has misused your data or you otherwise have a claim against it, the burden of proof is on you and the companies will require you to go to arbitration.
In certain circumstances, law enforcement can submit the DNA or upload the genetic code of an unknown suspect to seek familial matches in the companies' databases. In 2018, the notorious Golden State Killer, a serial murderer and rapist, was identified after FamilyTreeDNA cooperated with the FBI. Customers were outraged when they realized they had no advance warning, no notice afterward and no effective option if they objected, says Judy G. Russell, a genetic genealogist and lawyer (www.legalgenealogist.com (opens in new tab)).
Afterward, FamilyTreeDNA clarified that law enforcement agencies can submit DNA samples to get matches to try to identify the remains of a deceased individual or to identify the perpetrator of a homicide or sexual assault. But, without valid legal process (using court orders, subpoenas and warrants), law enforcement won't see any more than any other user sees. Users can opt out of law enforcement matching without losing the benefits of the test for which they've paid.
Should you fear losing your in­surance coverage or being charged higher rates because of genetic testing? The Genetic Information Non­discrimination Act of 2008 (GINA) protects Americans from discrim­ination in health insurance and employment based on genetic information. Health insurers can't use genetic information to make eligibility, coverage, underwriting or premium-setting decisions. Employers can't use genetic information in decisions such as hiring, firing, promotions, pay and job assignments. However, GINA doesn't apply to employers with fewer than 15 employees, nor to people covered by several forms of federal and military insurance (Federal Employees Health Benefits, the Veterans Health Administration, the U.S. Military Tricare and the Indian Health Service). It also doesn't cover long-term insurance, life insurance or disability insurance.
Your state may provide some protection. Seventeen states restrict the use of genetic information in determining coverage for life insurance and for disability insurance, and eight states restrict its use for long-term-care insurance, according to the National Human Genome Research Institute.
Explore Your Ancestral Homeland
Heritage travel companies offer group and individual tours to specific countries, or they'll create a custom itinerary so you can visit a village, see a family home or meet with living relatives you may have found through the matches from a DNA test. On a genealogical tour, you can visit archives, churches and other sources of family records and traditional genealogical research. We've highlighted several options here. For most tours, you have to contact the company for prices.
Ancestral Footsteps (opens in new tab). Personalized tour packages with background research into one branch of your family with documentation, luxury travel arrangements and a researcher who will accompany you to meetings with experts and visits to archives. Two-day tours in England, Scotland and Wales run $9,200; they cost $11,050 for other parts of Europe. Three-day tours run $11,670 or $13,510; request pricing for four-day tours.
Ancestry ProGenealogists (opens in new tab). Guided heritage tours include a five-hour, pre-trip family history review and travel with a group and a genealogist to Ireland, Italy or Germany. Prices start at $3,400. Or, create a personalized ancestral home visit for $2,000 and up.
My China Roots (opens in new tab). Ancestral research and travel with a tailored itinerary and expert guides.
My Ireland Family Heritage (opens in new tab). Personalized research and one- to three-day genealogy tour packages.
Polin Travel Guide & Genealogy (opens in new tab). Private guide and genealogy research services in Central Europe.
Spector Travel of Boston (opens in new tab). Roots and culture tours of various African destinations and custom itineraries.
Comparing the DNA Test Kits
All of the four major direct-to-consumer DNA testing companies provide prepaid return shipping of their test kits. The cost doesn't include shipping and taxes.
AncestryDNA (opens in new tab). The company has a potential database of more than 15 million people. The test is $99. For another $20, you can get additional details about 26 personal traits. A monthly Ancestry subscription to access genealogical records (after a 14-day free trial) is $20 to $45; a six-month membership is $99 to $199.
Family Finder (opens in new tab). Family Finder's database (as estimated by MIT Technology Review) is 1 million people. An autosomal DNA test (analyzing your DNA from both parents) is $79. For $89 to $199, you can get a DNA test for your maternal line; for your paternal line, it's $169 to $359. Test bundles range from $248 to $637.
MyHeritageDNA (opens in new tab). The company's database is potentially 2.5 million individuals. An ancestry test is $79; for $199, you can get the health and ancestry test. A complete ancestry plan is free for the first month and $149 for the first year, which is 50% off the annual fee. An annual subscription for health updates is $99, with the first year free.
23andMe (opens in new tab). The company has, potentially, more than 10 million people in its database. Ancestry service is $99; for $199, you can get health and ancestry results, with a 10% discount for each additional kit. Add a health report to an ancestry report later for $125 (if you include it at the start, you save $25).
The Health Connection
Bob Perkins of Stillwater, Okla., took a DNA test from 23andMe to explore his ancestry. When Perkins, 64, who was adopted, received updates, he learned that he was predisposed to hemochromatosis, a disorder in which the body stores too much iron, which can lead to joint and organ damage and, eventually, death. Perkins had been suffering from poor health for two years. Based on the 23andMe results, his doctor ordered a test that showed that Perkins had already developed the condition and started treating him. Perkins says the test saved his life.
Of the four major direct-to-consumer testing companies, 23andMe is the only one that currently offers health-related reports that have been approved for marketing by the U.S. Food and Drug Administration. It provides reports about your carrier status (Do you have genetic variants for a condition that you won't develop but may pass on to your children?), health predisposition to 10 diseases or conditions (What is your chance for developing certain conditions, such as breast cancer, late-onset Alzheimer's disease or Parkinson's disease?), wellness (How does your DNA influence, for example, your caffeine consumption, lactose digestion or muscle type?) and traits (How does your DNA make you unique, from your food preferences to your physical features?). AncestryDNA now offers information about traits. MyHeritage recently introduced health reports, but because it provides "physician oversight," it hasn't had to get approval from the FDA.
Having a variant that is known or suspected to be associated with a disease or trait doesn't necessarily mean you will develop the condition. It's possible to get a false positive result, and the reports don't cover all of the genetic variants, environmental factors or lifestyle choices that could influence your risk for the conditions. For example, more than 1,000 variations in each of the BRCA1 and BRCA2 genes have been associated with an increased risk of cancer, according to "Direct-to-Consumer Genetic Testing," published by the National Institutes of Health (https://ghr.nlm.nih.gov (opens in new tab)). But 23andMe's test analyzes only three of those variations, which are most common in people of Ashkenazi Jewish background. So, even if your test result is negative, it doesn't mean you will never get cancer, nor does a positive result mean you will develop cancer.
The testing can't be used to diagnose any disease or condition, so if you receive a positive result, you should consult your physician or a genetic counselor and get a confirmatory test prescribed by a physician.
Because a direct-to-consumer test is done without a referral from a health care provider and isn't considered diagnostic, health insurance companies generally don't pay for it. But if you share your results with your physician and he or she recommends additional testing or management, the follow-up care may be covered. The IRS recently issued a private letter ruling to 23andMe saying that purchasers of the 23andMe Health and Ancestry test kit could deduct part of the cost as a medical expense if they itemize on their federal return. Even if you don't itemize or haven't accumulated enough medical expenses to deduct them, the ruling allows HSA funds and flexible spending accounts to reimburse you for that amount.
Contributing Writer, Kiplinger's Personal Finance
Esswein joined Kiplinger in May 1984 as director of special publications and managing editor of Kiplinger Books. In 2004, she began covering real estate for Kiplinger's Personal Finance, writing about the housing market, buying and selling a home, getting a mortgage, and home improvement. Prior to joining Kiplinger, Esswein wrote and edited for Empire Sports, a monthly magazine covering sports and recreation in upstate New York. She holds a BA degree from Gustavus Adolphus College, in St. Peter, Minn., and an MA in magazine journalism from the S.I. Newhouse School at Syracuse University.