How to Ease the Stress of Gift Giving
How would you handle these three gift-giving etiquette dilemmas?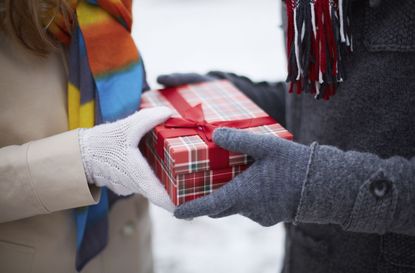 (Image credit: Getty Images/iStockphoto)
The Holiday season has many rewards, but choosing gifts can be stressful—for you and your wallet. Follow our advice on giving sensibly without giving offense.
Some people on my list could use cash rather than a present. How can I give money tactfully? Financially strapped college students will appreciate the gift of money, whether it's cash, a check or a prepaid gift card from a retailer or an issuer such as Visa or MasterCard. Dress up the envelope with a bow or holiday sticker, or include a token gift (such as a small picture frame) with the card to make the present more festive, says Elaine Swann, an etiquette and lifestyle expert and founder of the Elaine Swann Leadership Academy, in San Diego.
Giving money to an older relative is a more delicate matter. If, for example, you know your aunt could use money, include a handwritten note with a check to make it more personal. Smooth over any awkwardness by saying, "We didn't know what to get you, so we want you to get what you like," says Diane Gottsman, etiquette expert and owner of the Protocol School of Texas, in San Antonio. (Avoid saying, "Get what you need.") If you'd rather help her purchase something specific, gather a few relatives together and pose a question such as, "We really want to give you something other than another sweater. Can you pass on some hints?"
Subscribe to Kiplinger's Personal Finance
Be a smarter, better informed investor.
Save up to 74%
Sign up for Kiplinger's Free E-Newsletters
Profit and prosper with the best of expert advice on investing, taxes, retirement, personal finance and more - straight to your e-mail.
Profit and prosper with the best of expert advice - straight to your e-mail.
I received an expensive—and unexpected—gift from a friend. Should I reciprocate? Only if you were planning to give your friend a present anyway. If you weren't, "be gracious and say thank-you, but don't explain why you don't have a gift," says Swann. If you would like to give back in a way that doesn't feel forced, think of a way to treat your friend in the coming year—perhaps with a dinner invitation. If you were planning to give your friend a present but haven't done so yet, don't feel you have to match the value of your friend's gift dollar for dollar. Choose something within your budget that is useful or reflects your relationship.
My boss gives me a present every year. Should I return the gesture? There's no need to return the gesture if the end-of-year token is a sign of appreciation for your hard work; in that case, a thank-you will do. However, if you have a longstanding relationship and want to reciprocate, it's fine to buy something small and thoughtful. Choose a gift that fits your salary, not the boss's, and avoid anything personal, such as perfume or a tie.
Worried about how coworkers might perceive your present? You can avoid gossip by combining resources with colleagues to buy a group gift or by bringing something that the whole office can enjoy—a tray of banana bread, for example, and a smaller loaf for your boss.

Associate Editor, Kiplinger's Personal Finance
Miriam lived in Toronto, Canada, before joining Kiplinger's Personal Finance in November 2012. Prior to that, she freelanced as a fact-checker for several Canadian publications, including Reader's Digest Canada, Style at Home and Air Canada's enRoute. She received a BA from the University of Toronto with a major in English literature and completed a certificate in Magazine and Web Publishing at Ryerson University.