Guide to Scoring the Best Deals in 2017
You could be missing out on some of this year's top money-saving bargains. We're here to help.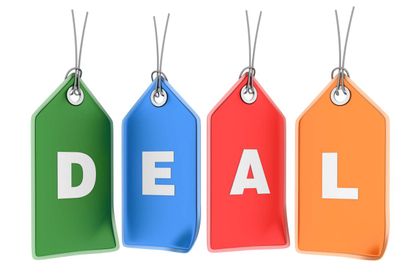 (Image credit: porcorex)
Follow our tips and save big on shopping, home, tech, travel -- and even ways to make money on your money. Take a look:
Best Time to Buy Big-Ticket Items
You could save a bundle on everything -- from a car to appliances and even a home -- if you make major purchases at times when prices are most likely to be at their lowest levels of the year.
Invest on the Cheap With Commission-Free ETFs
ETF providers are slashing expense ratios, and Charles Schwab leads the pack in the race to the bottom. The broker's 21 exchange-traded funds are among the cheapest available. Plus, if you're a Schwab brokerage customer, you can invest in the ETFs commission-free.
Subscribe to Kiplinger's Personal Finance
Be a smarter, better informed investor.
Save up to 74%
Sign up for Kiplinger's Free E-Newsletters
Profit and prosper with the best of expert advice on investing, taxes, retirement, personal finance and more - straight to your e-mail.
Profit and prosper with the best of expert advice - straight to your e-mail.
Get a Cash Bonus for Opening a New IRA
It often makes sense for job switchers and retirees to roll over their 401(k) to a traditional or Roth IRA. A handful of discount brokerages, including five of our top-ranked online brokers, compete for your retirement dollars that you've saved with another company by offering cash incentives that range from $100 to $2,500, depending on how much you invest. Consider these five.
Trim Your Mortgage Rate With a 'Nonbank'
When we shopped a handful of banks and direct lenders for a 30-year fixed-rate loan, we found that the direct lenders tended to beat big banks by an eighth to a quarter of a percentage point.
3 Tips to Update Your Bathroom for Less
The time of year, where you shop, and how you design can all affect your remodel costs. For example, you can get a better deal from contractors if you schedule the work when they're not busy, typically between November and January.
Top Tech Bargains of 2017 -- Laptops, Tablets, TVs, Data Plans
We asked Benjamin Glaser of DealNews.com where to find great tech values. Here are his top picks.
How to Save Big on Exotic Travel
Renting a castle or private island for a family or friends' reunion is more affordable than you might think.
Costco vs. Sam's Club: Which Warehouse Club Is Best for Your Wallet?
We checked how the popular warehouse clubs stack up in several categories -- from who has the better return policy to store credit card. Here's what we found.
Best Tools to Save on Online Shopping
To land the best price when you're shopping online, be sure to use all of the tools at your disposal. Here are several online shopping tools and price comparison sites we like.
Surprising Perks From Your Credit Card
It's likely you already carry a credit card that gives you access to freebies or special sports, theater or music events. Make sure you're not missing out on all the perks your card has to offer.
3 Ways to Save on Air Travel
Going the less expensive route will still get you there, but with money to spare. Use these strategies to lower the price of your next plane ticket.