11 Great Ways to Spend or Invest $10,000
If you have a stash of cash earning practically nothing, take a gander at the 11 ideas we present in this slide show.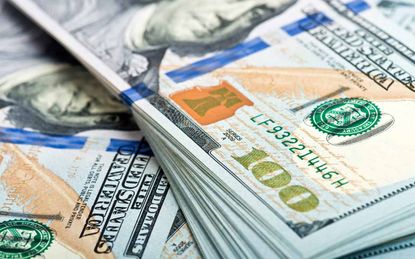 (Image credit: iStockphoto)
If you have a stash of cash earning practically nothing, take a gander at the 11 ideas we present in this slide show. We put our entire staff to work brainstorming and researching suggestions to unlock the power of your money. The ideas here are either timely or practical or worthy of a splurge. Take a look.
1/11
Buy the Dogs of the Dow
The success of the Dogs of the Dow strategy—buying equal dollar amounts of the 10 highest-yielding stocks in the Dow Jones industrial average—waxes and wanes with broad stock market trends. Lately, it has paid to chow down with the canines. The Dogs that made the list at the start of 2016 gained 15% on average in the subsequent 11 months, and that doesn't include an average dividend yield of nearly 4%.
Here's how to assemble a $10,000 portfolio of the current Dogs:
Swipe to scroll horizontally
* Data as of November 30, 2016
The portfolio's average yield: 3.6%. Of course, you'll have to pay brokerage commissions, too.
2/11
Build a CD Ladder
If you put chunks of money in certificates of deposit with varying term lengths, you can reinvest money each year as the CDs mature and capture the latest, highest rates. One allocation that would capture rising rates in 2017 and beyond: $2,500 in both a one- and a two-year CD, $2,000 in a three-year CD, and $1,500 in both a four- and a five-year CD. CDs from online bank Capital One 360, which have reasonable early-withdrawal penalties and no minimum-deposit requirement, recently offered attractive yields ranging from 1.25% for a one-year term to 2% for five years. To compare CDs available to you locally and nationally, visit DepositAcccounts.com.
3/11
Take the Family to the Links in Scotland
St. Andrews, home of the Royal and Ancient Golf Club and frequent host to the Open Championship, is golfing's mecca. Its Old Course, hard by the North Sea, is 18 challenging holes of legend and tradition. Trips to the U.K. are more affordable now that Brexit has made the dollar go further. In early May, a family of four can work in four days of golf while staying at the historic Macdonald Rusacks Hotel off the 18th hole (from $3,000 for two rooms). Round-trip airfares to Edinburgh were recently less than $1,000 each from Chicago on Aer Lingus. That leaves plenty in your budget for golfing and meals. Between rounds on the links, visit the University of St. Andrews, which at 600 years old is the third-oldest university in the English-speaking world.
4/11
Beat the Winter Blahs: South Pacific Sojourn
Take your significant other on a romantic tropical trip. Travelzoo.com suggests a seven-night trip to Fiji from Tahiti Legends. Cost: $4,399 per person, including airfare from Los Angeles. Accommodations and meals are all taken care of, as well as a few private outings, such as a horseback ride on the beach, a dinner under the stars, and lunch at a waterfall.
5/11
Pay Off Debt
Shaving $10,000 from a credit card or loan balance can make a big difference in the amount of interest you'll pay and the time it takes to retire the debt. Greg McBride, of Bankrate.com, crunched the numbers in three scenarios to illustrate how much you could save. Each example assumes that you pay down $10,000, the interest rate remains the same throughout the loan term and that all payments after the $10,000 one are the minimum.
Mortgage: You took out a $200,000, 30-year mortgage at 4.25% five years ago. You'd save $17,526 in interest and pay off the mortgage more than two years early.
Car loan: You took out a $30,000, five-year auto loan with a 4.3% rate one year ago. You'd save $1,461 in interest and eliminate the debt almost two years early.
Credit card: You racked up a $30,000 credit card balance with a 15.7% rate one year ago. With a minimum payment of 3% of the balance or $25, whichever is higher, you'd save $7,734 in interest and retire the debt almost three years earlier.
6/11
Pay Up for a Long-Term-Care Policy
Premiums for long-term-care insurance policies have been rising dramatically. But with a 10-pay policy, you pay premiums for 10 years and lock in benefits (premiums can rise during the decade you're paying). A healthy 55-year-old couple paying $10,000 per year for 10 years can each get a policy that pays out $221 per day for three years, with benefits rising by 3% per year, says John Ryan, of Ryan Insurance Strategy Consultants in Greenwood Village, Colo.
7/11
Support a Local Charity
Start a donor-advised fund. You can donate cash, stock or other investments to a donor-advised fund and take a charitable deduction in the year you make the donation. After that, you have unlimited time to decide which charities to support. You can open a donor-advised fund with many brokerage firms or community foundations; Fidelity and Schwab, for example, require a $5,000 minimum contribution to get started.
8/11
Help Your Grandkids: Pay Off Student Loans
By paying off your grandchildren's loans after they graduate, you won't affect their eligibility for financial aid. Even if the loans add up to much more than your gift, you can significantly reduce the monthly payment or enable your grandkids to pay off the debt much earlier.
9/11
Get Your Pilot's License
Reserve a seat in the cockpit with a private pilot's license, which costs between $7,000 and $10,000 to obtain, depending on how often you fly and where you live, according to the Aircraft Owners and Pilots Association. The cost covers more than the 40 hours of flight time required for the certificate, which includes flying with an instructor and on your own. You'll also need to pass a written exam and take a "check ride" with a Federal Aviation Administration examiner to get your wings. Visit AOPA's online flight school directory to find a school near you. Meet with several flight instructors before deciding.
10/11
Create Beautiful Closets
You can outfit four closets with systems custom-designed and installed by California Closets: an 8-by-8-foot, master-suite walk-in closet (about $6,200) and three 8-foot-wide, reach-in closets (about $1,030 apiece). Structural components are made of laminated composite wood available in four neutral colors. A company rep visits to consult and measure, but you must remove existing shelving and hanging bars and patch and paint walls prior to installation. You could do that yourself, or use the balance of your budget to hire a handyman.
11/11
Upgrade Your Kitchen
Add granite counters ($4,300 to $6,400), a subway tile backsplash ($970 to $1,860), a stainless steel undermount sink ($555 to $615) and a new faucet ($380 to $600). Top it off with a pendant light overhead ($260 to $390). Costs exclude demolition.