Donor-Advised Funds: Tax Break Now, Charity Later
You can fund it with cash, appreciated stock and funds, or other assets.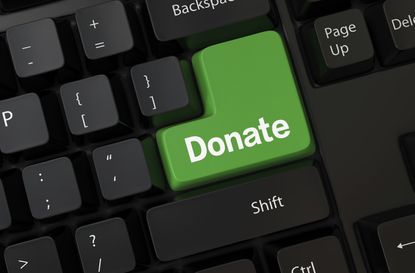 (Image credit: Getty Images/iStockphoto)
I understand that a donor-advised fund will give me more control over my charitable giving. How much money do I need to open one? Can I contribute stock to it, or do I have to write a check?
A donor-advised fund is a great way to get a charitable tax deduction now and have an unlimited amount of time to decide which charities to support. Several mutual fund companies, brokerage firms and community foundations offer donor-advised funds. The amount of money you need to open an account varies; it's $5,000 at Fidelity and Schwab, $10,000 with T. Rowe Price and $25,000 with Vanguard. Many community foundations require $10,000 to open a donor-advised fund, but some have lower thresholds (you can find community foundations by using the Community Foundation Locator).
You can contribute all kinds of assets to the donor-advised fund, including cash, mutual funds and stock. Some donor-advised funds even let you contribute real estate or shares of privately held companies. The donor-advised fund usually gives you a choice of several mutual funds or investment pools in which to invest the money until you select the charities to support. You can make grants of as little as $50 or as much as your total balance to almost any qualified charity.
Subscribe to Kiplinger's Personal Finance
Be a smarter, better informed investor.
Save up to 74%
Sign up for Kiplinger's Free E-Newsletters
Profit and prosper with the best of expert advice on investing, taxes, retirement, personal finance and more - straight to your e-mail.
Profit and prosper with the best of expert advice - straight to your e-mail.
A donor-advised fund can be a good way to donate appreciated stock or mutual funds and benefit from the tax break. You can transfer the stock quickly to the donor-advised fund when it reaches a target price, and you'll get to take a charitable deduction based on the stock's value when you make the transfer (and avoid having to pay capital gains taxes on the increase in value since you bought it). But you'll have an unlimited amount of time to decide which charities to support. Some families build up money in the fund over a few years, then work together with their children and grandchildren to choose the charities.
When choosing a donor-advised fund, compare the requirements to open an account as well as the fees. Most charge an annual administrative fee (0.60% of assets is typical) in addition to fees for the mutual funds or investing pools. Also compare the investing choices. You may be able to choose from several diversified asset-allocation pools, or you may be able to put together a portfolio of investing pools based on certain indexes or asset classes (such as U.S. equities, international equities and fixed income). The administrator may also provide access to resources to help you choose the charities, such as the GuideStar database and research reports, or a community foundation's specialized resources for local charities.

Contributing Editor, Kiplinger's Personal Finance
As the "Ask Kim" columnist for Kiplinger's Personal Finance, Lankford receives hundreds of personal finance questions from readers every month. She is the author of Rescue Your Financial Life (McGraw-Hill, 2003), The Insurance Maze: How You Can Save Money on Insurance -- and Still Get the Coverage You Need (Kaplan, 2006), Kiplinger's Ask Kim for Money Smart Solutions (Kaplan, 2007) and The Kiplinger/BBB Personal Finance Guide for Military Families. She is frequently featured as a financial expert on television and radio, including NBC's Today Show, CNN, CNBC and National Public Radio.