14 Great Ways to Spend or Invest $1,000
If you have a stash of cash earning practically nothing, take a gander at the 14 ideas we present in this slide show.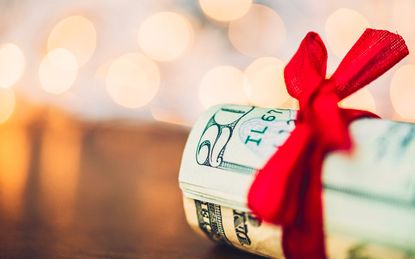 (Image credit: iStockphoto)
If you have a stash of cash earning practically nothing, take a gander at the 14 ideas we present in this slide show. We put our entire staff to work brainstorming and researching suggestions to unlock the power of your money. These ideas require only a small stack of bills, and all of them are either timely or practical or worthy of a splurge. Take a look.
1/14
Get Instant Diversification
For $1,000, you can own a little bit of everything with Vanguard Star Fund (symbol VGSTX), a collection of 11 actively managed, low-expense Vanguard funds. Star has roughly 60% of its assets in stocks and the rest in bonds. Within the eight stock funds, you'll find large- and small-company U.S. stocks; fast-growing companies and slower growers that trade at bargain prices; and nearly 20% in foreign stocks. Star also holds funds that invest in short-term, medium-term and long-term bonds. Star beat similar funds in nine of the past 10 calendar years.
2/14
Buy Inflation Protection
To hedge against rising rates and prices, invest in Treasury inflation-protected securities. TIPS, which are issued by Uncle Sam, pay a fixed rate of interest on a principal that is adjusted for inflation. When your bond matures, you receive the inflation-adjusted principal. You can buy TIPS, which are sold in $100 increments in maturities of five, 10 and 30 years, directly at TreasuryDirect.gov.
3/14
Fly Like a Celeb (for an Hour or Two)
A first-class suite on an international flight could cost more than your child's first year of college. But assuming you plan to travel from New Zealand to Australia anyway, you can get a dollop of luxury for less than $1,000 if you hop aboard the Auckland to Sydney, Melbourne or Brisbane leg of a longer Emirates airlines route to Australia. You can loll in a private compartment, drink at the onboard lounge and even take a mid-flight shower (hair dryer included).
4/14
Caribbean Beach Weekend
You can scoop up great deals to the Caribbean for a long weekend getaway this winter. We recently found a package to Riu Montego Bay in Jamaica on CheapCaribbean.com for $679 per person (four nights, airfare included), with travel through June. You can relax by the expansive pool with the "drink of the day" and eat jerk chicken from a local shack, or head to nearby Dunn's River Falls for zip-lining, hiking and snorkeling.
5/14
Learn Your Family History
Tracing your ancestry can be an overwhelming task, but with $1,000 you can get a lot of handholding. Start with a few introductory sessions through Legacy Family Tree Webinars ($45 a year) and download a course pack at Vigrgenealogy.com ($70 each) for deeper dives into, say, wartime records or Irish ancestry. Join a genealogical website such as Ancestry.com ($199 for six months of full access) to search massive stores of documents and connect with far-flung relatives. A professional researcher can analyze your work and guide you through the next steps, at $40 to $75 per hour, says Catherine Desmarais, owner of Stone House Historical Research. (Plan on spending $300 to $600.) Use the leftover funds to take a DNA test at Ancestry.com ($99), which has the largest database of testers, to discover your ethnic makeup.
6/14
Hire a Virtual Alfred
Having an assistant who handles menial tasks isn't just for the Bruce Waynes of the world anymore. Subscribers to FancyHands get a team of U.S.-based online "virtual assistants" who are available 24/7 to complete ad-hoc tasks that take 20 minutes or less. Common tasks include sending e-mails, scheduling appointments, making phone calls and doing quick research projects. Or give your assistants your shopping list; they can make purchases of up to $200 on your behalf. A yearlong subscription costs $800 and gets you 15 tasks per month. Whether you use the extra time to fight crime is entirely up to you.
7/14
Contribute to a Health Savings Account
If you have an eligible health insurance policy, you can invest the HSA money (see HSASearch.com) and let it grow tax-free for future eligible expenses (save your statements so you can claim the expense later). You can't make new HSA contributions after you enroll in Medicare, but you can use the money you've already saved tax-free for Medicare premiums plus out-of-pocket medical and drug costs.
8/14
Support a Local Charity
Although $1,000 is a drop in the bucket for major charities, it could make a huge difference to your local arts council, food bank or animal shelter. Most small charities aren't rated by watchdog groups such as Charity Navigator and CharityWatch, so check out the charity's website to see the financial information it provides potential donors, says Sandra Mini­utti, a spokeswoman for Charity Navigator. Ask the group for a copy of its Form 990, the annual report charities are required to provide to the IRS. You can find the report online free at Guidestar.org, but requesting a copy from the charity "is a good litmus test of how transparent they're willing to be," says Miniutti. Ask the organization for biographies of board members and top executives, says Daniel Borochoff, founder of CharityWatch.
9/14
Help Your Grandkids: Contribute to a Roth
If your grandchildren earn money, you can reward their hard work and seed their retirement by contributing to their Roth IRA or opening one for them. The contributions to each account may not exceed the amount they earned for the year, up to a maximum of $5,500 in 2017. They can withdraw the contributions tax- and penalty-free at any time, and after age 59½, they can withdraw both the contributions and the earnings tax- and penalty-free.
10/14
Splurge on a Tasting Experience
Drop $1,000 (for two) on one meal? We're talking about Michelin-starred restaurants, the crème de la crème of eateries. At the three-star Per Se in New York City, the nine-course tasting menu carries a fixed price of $325. Guests could recently sample slow-cooked Atlantic monkfish, poularde (a fattened young hen) and other succulent dishes. With leftover funds, a couple can splurge on a bottle of wine. At the revamped three-star Alinea in Chicago, the "Gallery" menu and participatory experience costs $295 to $345 a head. Along with 14 other guests, you nibble on 16 to 18 creative courses.
11/14
Get a Lighter Laptop
The Dell XPS 13 is a worthy competitor to the latest version of Apple's MacBook Pro. It weighs 2.9 pounds with a touch screen or 2.7 pounds without, and it squeezes a 13.3-inch display into a frame akin to those of 11-inch laptops. For $1,000, buy one with a seventh-generation Intel Core i5 processor, 8 gigabytes of memory and a 128GB solid-state hard drive. (For $1,300 you can upgrade to a higher-resolution, touch-enabled screen.)
12/14
Be a Locavore
Treat your family to locally grown produce or meat by buying shares in a farm, known as community supported agriculture (CSA) subscriptions. You can get a full-share or half-share size that you typically pick up weekly or biweekly. Prices vary, so $1,000 can go a little or a long way. For example, Delvin Farms, in College Grove, Tenn., charges $990 for its meat-share in the Nashville area. You get six deliveries of at least 20 pounds of beef, poultry, lamb and pork. Sage Mountain Farm, in Anza, Calif., offers a large, seasonal-produce CSA for a little more than $800 for 26 deliveries to San Diego and Temecula, Calif. Visit LocalHarvest.org to locate CSA subscriptions in your area.
13/14
Buy a New Mattress
For less than a grand you can replace your old mattress with one that's likely to be more comfortable and supportive and give you a better night's sleep. The Casper mattress (queen, $850), which gets top marks from reviewers, combines memory foam (for support and contouring of the body) with latex foam (for breathability and bounce). Like other manufacturers of "mattresses in a box," Casper sells and ships directly to you, eliminating the middleman's mark-up and annoying sales tactics. The company provides free shipping and a 100-night trial—plus free pickup and a full refund if you don't like it. In lieu of a traditional box spring, Casper strongly recommends buying a separate foundation ($250) for proper support of the mattress. Check the website for special offers (mattresses were recently $75 off).
14/14
Refresh a Bathroom
Hire a handyman to paint walls, ceiling and trim ($285 to $400 for a 40-square-foot room, according to Homewyse.com) and replace an outdated sink faucet set ($200 to $300) and vanity light fixture ($74 to $170). If you're paying at the low end of those ranges, you can replace the tub or shower faucet, too ($287), with your $1,000 budget.