15 Things Hotels Will Give You for Free
You're already paying for the room, so you might as well enjoy the freebies that come along with it.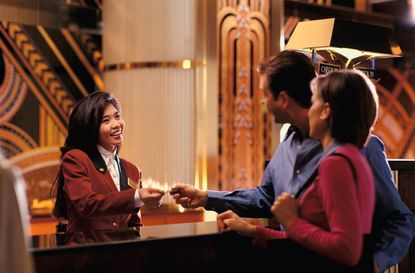 (Image credit: ©DreamPictures LLC)
Whether you're traveling for business or for pleasure, you're probably spending a lot. So why not get a little extra something for yourself at no cost? Many hotel freebies can be found in plain sight in your room. Others you might have to ask for, but they're there for the taking. A smile and a polite request can be all that's needed to enjoy them.
Just don't go overboard. Johnny Jet, a frequent traveler who runs travel website JohnnyJet.com (opens in new tab), says certain items are fine for guests to take home – think logo pens and tiny bottles of shampoo – but other items are off-limits.
"Anything that is clearly hotel property and would be considered stealing are things including lamps, artwork, TVs, radios, blankets, sheets, hangers, towels, etc., are definitely no-no's," says Jet. "If it's not common sense to you, then ask the front desk what is appropriate to take."
Subscribe to Kiplinger's Personal Finance
Be a smarter, better informed investor.
Save up to 74%
Sign up for Kiplinger's Free E-Newsletters
Profit and prosper with the best of Kiplinger's expert advice on investing, taxes, retirement, personal finance and more - straight to your e-mail.
Profit and prosper with the best of Kiplinger's expert advice - straight to your e-mail.
And remember, the hotel has your credit card on file.
"Oftentimes, guests fall in love with the luxurious bathrobes," says Jet. "But beware: If you take it home with you, most hotels will automatically charge your credit card for it – and it might be a few hundred dollars."
Have a look at some of our favorite hotel freebies:
Free bikes. Some hotels are getting hip to the growing interest in bike-sharing. Kimpton Hotels, for one, is making complimentary bikes available for guests to explore the area where they are staying. San Diego and Washington, D.C., are two cities on Kimpton's roster of hotels with bicycles to borrow free of charge.
Free bottled water. It's often on a desk or in the minibar, just make sure you read any tags attached to the bottle first. On a recent stay at a Marriott, there were two bottles in my room: One was labeled free; the other, $5. Ouch. Here's another tip: Check the fitness center. Even if you don't plan to work, it might be stocked with bottled water for the guests who do.
Free breakfast. For those of us who have traveled for business over the years, "free" and "breakfast" have become synonymous. However, I'm finding it increasingly rare. The best bets for complimentary breakfast are budget chains such as Hampton Inn, Residence Inn and Comfort Inn. A Priceline search found 28,550 hotels touting free breakfast.
Free butler service. OK, we admit this is an uncommon hotel perk, but stay at the Taj Boston, part of the Taj Resorts Hotels and Palaces luxury chain, and complimentary butlers will help you with… everything. A Fireplace Butler will tend your flames, a Technology Butler will assist with the in-room gadgets (and maybe your iPhone, too), and a Bath Butler will, well, you get the picture.
Free coffee and tea. Room service? No. In-your-room service. It's not unusual to find a coffeemaker in the room. Even if you'd rather head to Starbucks, why leave the packets of tea and coffee behind? They're meant for your consumption. Consume at will, at home.
Free fruit. Big bowls of apples in the lobby have become a common sight at many trendy hotels. But even some budget hotels are jumping on the healthy bandwagon. In your room, beware the minibar rip-off. Look for a price list before you partake.
Free happy hour. On several trips to Baltimore, we stayed at the boutique Hotel Monaco. The experience was buoyed by two hours of free wine and hors d'oeuvres every night. Money! Embassy Suites hosts "evening receptions," as they call it, with complimentary drinks and a wide array of hot snacks and veggies. Sheraton's Four Points chain offers two free local craft beers (opens in new tab) for each night of a stay.
[page break]
Free laundry bags. They're usually meant for the hotel laundry or to be shipped off to a local dry-cleaners if you're staying long and need a fresh pressing for your suit or dress. But, hello, a bag for your dirty laundry bags for the return home? Indeed. Note that we're talking about plastic laundry bags. Leave the fancy mesh and fabric laundry bags for the next guest.
Free newspapers. There was a time when a fresh copy of USA Today outside your door was a given, but hotels aren't handing them out as freely as they used to – if at all. You might have to head down to the lobby early enough to pick one up. Look for local newspapers, too, which can offer valuable information about what's going on around town. Staying at one of the Trump Hotels? If so you can get complimentary digital access (opens in new tab) to the Wall Street Journal and New York Times.
Free parking. This is an increasingly difficult perk to come by at hotels in big urban areas. Priceline turned up 33,731 locations with free parking, but in my travels, I've been finding even hotels in smaller cities are looking to cash in on your ride. At roadside and suburban hotels, parking is almost always free. At hotels that do charge, try asking the front desk to waive the parking fee. You never know.
Free pens and notepads. Never leave either alone in my presence for one second. I'm a serial snatcher of pens, pencils with cool logos on them, and notepads of any kind. These go directly into my pocket or luggage. Both always come in handy around the house.
Free room upgrade. I have to admit, I learned this one from a recent Kiplinger story – and successfully deployed this tactic on a recent spur-of-the-moment weekend getaway. Be very polite to the person checking you in. Ask if you could have a free room upgrade. When I smiled politely and asked, the clerk checked with her manager. We were switched to a room on a higher floor with a much better view than the room we were initially booked in at an Alexandria, Va., hotel.
Free shoeshine and sewing kits. When it's finally time to put a shine on your kicks, there's nothing like reaching for that free shoeshine kit you got from the hotel. Ditto with a sewing kit. My sewing skills have become rusty of late – I usually only need them when a button goes missing – but I know someone who is excellent at sewing. I can help by retrieving the free kit we got at the hotel.
Free toiletries. The soap, lotion, shampoo and conditioner you find in the hotel bathroom are yours for the taking. A call to the front desk might also score you a host of other grooming supplies including a toothbrush, toothpaste, razor and shaving cream. Kimpton Hotels will even send up dental floss, deodorant, mouthwash and hair spray free of charge (opens in new tab).
Free Wi-Fi. A Priceline.com search found 334,758 hotels worldwide that offer free Internet access. Know that some hotels, though, will try to gouge you. If you can't get a wireless signal in your room for free, try the hotel's lobby or business center, where Wi-Fi is often gratis for guests. Free Wi-Fi can also come as a perk of joining a hotel's loyalty program. If all else fails, request free access when checking in. Hey, it can't hurt.
Online Editor, Kiplinger.com
Bob is a Senior Online Editor at Kiplinger.com. He has more than 40 years of experience in online, print and visual journalism. Bob has worked as an award-winning writer and editor in the Washington, D.C., market as well as at news organizations in New York, Michigan and California. Bob joined Kiplinger in 2016, bringing a wealth of expertise covering retail, entertainment, and money-saving trends and topics. He was one of the first journalists at a daily news organization to aggressively cover retail as a specialty, and has been lauded in the retail industry for his expertise. Bob has also been an adjunct and associate professor of print, online and visual journalism at Syracuse University and Ithaca College. He has a master's degree from Syracuse University's S.I. Newhouse School of Public Communications and a bachelor's degree in communications and theater from Hope College.