Hitting My Stride In Retirement
We've visited nine national parks since we retired, and next year we're heading to Acadia in Maine.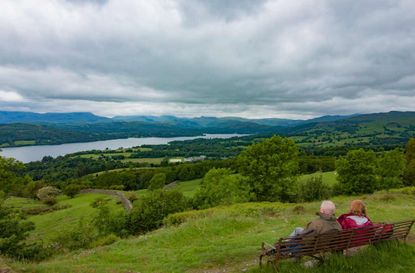 (Image credit: Ivan Yang)
Not long ago, I passed the two-year mark of my retirement as editor of Kiplinger's. That apparently is something of a milestone. A study by Age Wave and Bank of America Merrill Lynch (opens in new tab) found that "it can take two to three years to hit your stride in retirement." So how am I doing? I'd say I'm pretty much on track.
People often ask me if I miss being editor. My honest answer: Absolutely not. I thought I had a successful run, and I was happy to move on. But I've discovered that I apparently belong to a relatively small group of retirees (15%) that Age Wave identifies as "driven achievers," who continue working in some capacity because it gives them a sense of accomplishment. Writing this column, along with Money Smart Women (a topic I have covered since writing a book on the subject in 2003), gives me that sense, and it lets me stay in touch with dozens of readers, who generously share their own experiences.
Driven achiever that I am, I also find myself making to-do lists, and I need to check off a few items—even small things, such as sending e-mails or running errands—each day. The part-time work and the lists add structure to my week. But I'm grateful that I have plenty of unstructured time to do a lot of satisfying things I never would have been able to fit into my schedule if I were on the job full-time.
Subscribe to Kiplinger's Personal Finance
Be a smarter, better informed investor.
Save up to 74%
Sign up for Kiplinger's Free E-Newsletters
Profit and prosper with the best of Kiplinger's expert advice on investing, taxes, retirement, personal finance and more - straight to your e-mail.
Profit and prosper with the best of Kiplinger's expert advice - straight to your e-mail.
For one thing, my husband and I have stepped up our exercise program. We take cycling and yoga classes together, and I take a couple of other classes on my own—all regular activities that help anchor our days and keep us healthy.
Lord knows we certainly need to stay physically fit and mentally sharp to keep up with our grandchildren. We have four of them, ages 4 and younger, and one day a week we babysit for the two who are local. That leaves time to visit the other two, who live in Michigan, every month or so. We try not to let too much time go by between visits because the children grow so fast.
In fact, a lot of our increased travel time revolves around family—vacations with the kids and grandkids and visits to out-of-town siblings. But we've also visited nine national parks since we retired, and next year we're heading to Acadia in Maine with my husband's sister and her husband.
Once I tick off a couple of things on my to-do list each day, I give myself permission to spend time with a good book. With more opportunity for reading, I've focused on U.S. history, an interest I share with my youngest child, Peter. At Peter's suggestion, I'm reading The Autobiography of Benjamin Franklin. And I had time to read a recently published U.S. history textbook (Land of Hope, by Wilfred McClay) from cover to cover.
Big surprises. Before I left my job, I made a list of things I'd do in retirement, plus a schedule of what my week might look like: write, spend time with my grandchildren, exercise more, travel, volunteer, clean out the closets, remodel the bathrooms. Two-plus years in, I can check most of those boxes (as for volunteering, I'm involved with my church and I'm on the board of trustees at my undergraduate university). But I haven't made much headway with the closets, and the bathrooms are still a gleam in my eye.
In fact, one of my biggest surprises is that my week looks so little like I pictured it. Despite being retired, I sometimes feel pressed for time, and I still look forward to weekends. What isn't so surprising is that one of my greatest pleasures is the flexibility I have in deciding how to spend my days—even when it comes to simple things. There's nothing like the freedom to run errands at noon on a Tuesday, with little traffic, lots of parking and '60s music playing on the car radio.
What has surprised you most about retirement, and what are your greatest pleasures (or disappointments)? I'll be happy to write about as many as I can.
Editor-at-Large, Kiplinger's Personal Finance
Janet Bodnar is editor-at-large of Kiplinger's Personal Finance, a position she assumed after retiring as editor of the magazine after eight years at the helm. While editor, Bodnar was honored by Folio as one of its Top Women in Media. She is a nationally recognized expert on the subjects of women and money, children's and family finances, and financial literacy. She is the author of two books, Money Smart Women and Raising Money Smart Kids. As editor-at-large, she writes two popular columns for Kiplinger, "Money Smart Women" and "Living in Retirement." Bodnar is a graduate of St. Bonaventure University and is a member of its Board of Trustees. She received her master's degree from Columbia University, where she was also a Knight-Bagehot Fellow in Business and Economics Journalism.