Retirees, Be Prepared for a Natural Disaster
Compile an emergency kit, seek help from friends and family, and know evacuation routes away from danger.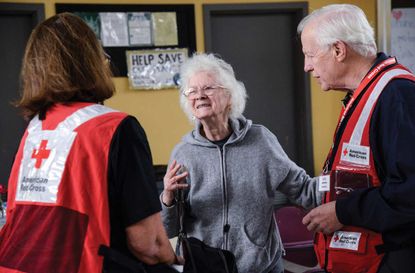 (Image credit: © The American National Red Cross 2018)
With severe flooding across the U.S. this year and hurricane season now under way, it's critical to have a plan at the ready if disaster strikes in your area. No one is invincible when it comes to natural disasters, but older adults can be particularly vulnerable.
After 12 residents in a Florida nursing home died because Hurricane Irma knocked out air conditioning at their residence in 2017, Florida now mandates all nursing homes be equipped with back-up generators. To date, however, only about one-third of nursing homes there have installed them, says Dave Bruns, communications manager for AARP Florida.
Across the U.S., accessing food, water, shelter and medical supplies during hurricanes has been particularly challenging to older people, according to a recent Government Accountability Office report. However, the Federal Emergency Management Agency has not thoroughly articulated the responsibilities of its staff assigned to help meet the needs of older disaster survivors, the report says.
Subscribe to Kiplinger's Personal Finance
Be a smarter, better informed investor.
Save up to 74%
Sign up for Kiplinger's Free E-Newsletters
Profit and prosper with the best of expert advice on investing, taxes, retirement, personal finance and more - straight to your e-mail.
Profit and prosper with the best of expert advice - straight to your e-mail.
Experts extol the value of seeking out help from neighbors and friends. "It's the people with social capital who fared well in the recent storms," says Jeff Johnson, state director of AARP Florida. Get to know your neighbors and keep in touch with them, says Jim Judge, of the American Red Cross Scientific Advisory Council.
Longtime residents of disaster-prone regions agree. "It's a good idea to check in with your neighbors to see who's staying and who's evacuating," says Glenda Margerum, 82, of Jacksonville, Fla. If you're uncertain where to turn, reach out to your local American Red Cross and communicate your needs as soon as possible, and preferably in advance, Judge says.
Build an Emergency Kit
Regardless of where you live and the degree of your mobility, it's important to assess your capacity to endure a disaster and its aftermath so that you can create a plan before disaster hits. Prepare yourself for the realities of limited electricity and debilitated infrastructure. Look into where evacuees can turn for medical care or emergency supplies of medications. If you are caring for an older adult who lives in a nursing home or other facility, ask about that facility's emergency evacuation plan. Consider obtaining a map of evacuation routes to keep in your car.
"Once you identify your local risks, it's a matter of building your emergency supplies," Judge says. Build a kit with several days' supply of nonperishable food, water and medications. Blood sugar monitoring equipment, hearing aids and batteries, an extra pair of eyeglasses, house keys and cash might find their way into this kit, too.
Those who suffer from chronic health problems need to plan with extra care. Information on medical conditions, allergies, medications and emergency contacts can be engraved on a medical ID bracelet. Many smartphones also allow you to create a medical ID. For instance, if you have an iPhone or Apple Watch, use Apple's Health app on the device to create a medical ID. Such wearable forms of identification ensure that your important information will be readily available. Consider asking your health care provider for printed copies of your medical records and list of all current medical problems.
"We're used to living a fairly comfortable life," Johnson says. "If you take away power, A.C., running water, phone, internet and TV service, it changes how we live. If we have health conditions or we're just not cut out for it emotionally, we need to think that through now and be prepared to leave."
Find more tips and resources at redcross.org/prepare. The American Red Cross Emergency app, which provides emergency alerts, is available for iPhones and Android devices.
Staff Writer, Kiplinger's Personal Finance
Emma Patch joined Kiplinger in 2020. She previously interned for Kiplinger's Retirement Report and before that, for a boutique investment firm in New York City. She served as editor-at-large and features editor for Middlebury College's student newspaper, The Campus. She specializes in travel, student debt and a number of other personal finance topics. Born in London, Emma grew up in Connecticut and now lives in Washington, D.C.