A Financial Planner's Guide to Open Enrollment
As you read up on your health insurance, life insurance and other options for 2019, here are five tips to help get the most out of your workplace benefits.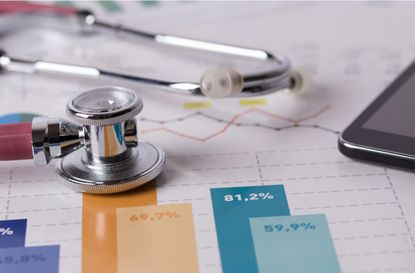 (Image credit: cnythzl)
It's that time of year: Open enrollment for workplace medical and health benefits begins soon for millions of workers across the country. It is an annual tradition of reading the email from HR, scanning to the part that lists the premium costs and hoping coverage stays the same or, for those optimistic enough, improves.
To help you think outside the box, here are five tips from my experience in helping clients navigate open enrollment:
1. Give Your Health Insurance a Checkup
Now is a good time to evaluate how you used your medical insurance last year. If your company gives you a choice of providers, you'll want to review whether the deductible level, choice of doctors and cost all still make sense. If you don't use your medical insurance as often as you thought, perhaps a higher-deductible plan can help keep the monthly costs down.
Subscribe to Kiplinger's Personal Finance
Be a smarter, better informed investor.
Save up to 74%
Sign up for Kiplinger's Free E-Newsletters
Profit and prosper with the best of expert advice on investing, taxes, retirement, personal finance and more - straight to your e-mail.
Profit and prosper with the best of expert advice - straight to your e-mail.
2. Get a Tax Break
If you have a high-deductible plan, ensure you are enrolled in the Health Savings Account (HSA). Otherwise, consider funding a Flexible Spending Account if your company offers it.
The rules are different for each — most notably an HSA has higher contribution limits and it allows you to carry over all the money not spent from year to year, while an FSA may allow workers to carry over up to $500, depending on their employer — but they both can help lower your taxable income. For instance, an employee who earns $100,000 salary and contributes $2,650 to an FSA or HSA during the year, is only taxed on $97,350 of income.
If you are over 55, there is a $1,000 catch-up contribution allowed for the HSA.
3. Look at Life Insurance Costs
Now is a good time to evaluate the cost of your group term insurance. Many folks seem to take for granted that they are getting the best rate because of a group discount. But that is not always the case.
I recently ran quotes for two individuals and found I could save them a few hundred bucks a year by buying their term insurance outside of the company. Better yet, when you own your life insurance outside of the company, you can lock in the premium cost, say for 10 or 20 years, something you can't do with group life insurance, as the premium can increase year to year. You should review spouse group term insurance vs. buying term insurance through an outside carrier as well.
4. Consider Disability Coverage
To the extent you need it, maintain your group short-term and long-term disability coverage, which is often the cheapest coverage you will find. However, group disability usually has limitations, such as a restrictive definition of disability or no portability, or worse no coverage for a partial disability, which is the most common form of a long-term disability.
You may want to see if your company offers supplemental disability in addition to the group, or price out a stand-alone policy with a private company.
5. Think Critically on Accidental Death Coverage
If you always opt in for the Accidental Death and Dismemberment Life Insurance (AD&D), you may want to reconsider. AD&D only covers very specific causes of death – think extreme accidents where you lose an eye or a limb. These are very rare, hence the premium is so cheap. You may want to consider allocating the premiums from the Accidental Death and Dismemberment toward buying more life insurance where the definitions of death are not as restrictive.
As you go through open enrollment, take the time to think through each choice. It may seem like a mindless ritual, and it can be tempting to let your coverages roll over from last year, but that may cost you. Getting a second opinion from a benefits consultant or experienced financial adviser can help validate your choices or uncover opportunities you were unaware of previously, all of which may make your benefits enrollment process a lot less tedious. Now that's a box worth checking.
Investment advisory and financial planning services are offered through Summit Financial LLC, an SEC Registered Investment Adviser, 4 Campus Drive, Parsippany, NJ 07054. Tel. 973-285-3600 Fax. 973-285-3666. This material is for your information and guidance and is not intended as legal or tax advice. Clients should make all decisions regarding the tax and legal implications of their investments and plans after consulting with their independent tax or legal advisers. Individual investor portfolios must be constructed based on the individual's financial resources, investment goals, risk tolerance, investment time horizon, tax situation and other relevant factors. Past performance is not a guarantee of future results. The views and opinions expressed in this article are solely those of the author and should not be attributed to Summit Financial LLC. Links to third-party websites are provided for your convenience and informational purposes only. Summit is not responsible for the information contained on third-party websites. The Summit financial planning design team admitted attorneys and/or CPAs, who act exclusively in a non-representative capacity with respect to Summit's clients. Neither they nor Summit provide tax or legal advice to clients. Any tax statements contained herein were not intended or written to be used, and cannot be used, for the purpose of avoiding U.S. federal, state or local taxes.
This article was written by and presents the views of our contributing adviser, not the Kiplinger editorial staff. You can check adviser records with the SEC or with FINRA.
CFP®, Summit Financial, LLC
Michael Aloi is a CERTIFIED FINANCIAL PLANNER™ Practitioner and Accredited Wealth Management Advisor℠ with Summit Financial, LLC. With 21 years of experience, Michael specializes in working with executives, professionals and retirees. Since he joined Summit Financial, LLC, Michael has built a process that emphasizes the integration of various facets of financial planning. Supported by a team of in-house estate and income tax specialists, Michael offers his clients coordinated solutions to scattered problems.