4 Tips for Creating Effective Content Marketing
There's a big difference between this and native advertising. Here's how to be successful. Rule No. 1: Leave the hard sell at the door.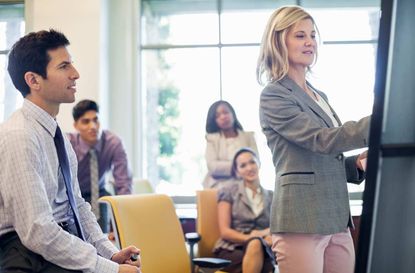 (Image credit: This content is subject to copyright.)
We started our growing Wealth Creation Channel on Kiplinger.com in June two years ago. Since then, I've edited literally hundreds of columns from financial advisers of all stripes—from RIAs to attorneys specializing in estate planning—aimed at helping our readers with expert advice while helping advisers make connections with possible clients.
At Kiplinger, we regard these columns as content marketing, not as advertising or as native advertising. There's a huge difference—one that continues to puzzle many contributors. Hopefully, I can help you understand better this growing opportunity to communicate directly with consumers and how it can help you, too.
Here the difference: Let's say you are the owner of a company that makes garage door openers. You write a 600-word article describing all the great features of your product, with a link to your sales page. That's native advertising. And chances are you'll have to pay for it to appear on any other platform other than your own Web site, because it is advertising, pure and simple.
Subscribe to Kiplinger's Personal Finance
Be a smarter, better informed investor.
Save up to 74%
Sign up for Kiplinger's Free E-Newsletters
Profit and prosper with the best of Kiplinger's expert advice on investing, taxes, retirement, personal finance and more - straight to your e-mail.
Profit and prosper with the best of Kiplinger's expert advice - straight to your e-mail.
But let's say instead that you write a 600-word article that goes something like this: As owner of a garage door company, I've been inside of a lot of garages. Here are the three things I've learned about how to keep your garage neat, safe, and organized.
That's content marketing—and if you do it well and can interest other publishers and content providers that your insights are interesting and valuable to their audiences, you can potentially reach hundreds of thousands, even millions, familiarizing them with you and your firm, for free.
Content marketing is just what its name says—content that satisfies customer needs or helps solve reader problems, while also marketing your name or your services. It's branding, really, designed to create a positive "user experience" for the reader. Your goal ultimately is to create trust with your reader, who receives valuable advice, context and analysis.
Leave the hard sell at the door, though. Content marketing works best when you put the audience's challenges front and center, not your desire to sign up new clients. It's the audience you're working for. If you succeed, they will recognize the value, remember you, and perhaps engage if they are interested for follow-up or even retaining your services.
Here are four tips on effective content marketing that hopefully will help you find success in this growing digital marketplace of ideas:
1. The More Value, the More Pageviews
At least once a week, we have to ask a financial adviser to recast a column so that "That's why you need a financial adviser" isn't the main conclusion. Some even go to "That's why you need me." Nope. That's advertising. Good content marketing starts with a valuable insight borne of experience in the field, or unique expertise, and then delivers the goods without the "hire me" pitch. For example, we see quite clearly from our readership analytics that the biggest concern among our Wealth Creation audience is whether their retirement savings will last their lifetimes, so they can both live comfortably and leave a legacy for their families. Advisers who can give them just one insight, that one piece of advice that you've found is most effective in achieving that goal, will have a content marketing column that is almost guaranteed to perform well.
2. Actionable Advice Is Always Best
Analyzing trends in actuarial tables, or exploring the history of the fiduciary vs. suitability rules, or parsing all the different kinds of trusts in estate planning may be a valuable refresher course for you, or even a fascinating whitepaper at your next adviser conference. But if you don't take it to the reader with the one or two or three things they should do to help or protect themselves and their loved ones, you don't have a content marketing piece.
3. Don't Gild Your Credentials. You Don't Have To
Often, advisers are moved to submit bios (we provide both short and long versions at the end of columns and on contributor bio pages, respectively) that are almost as long as a column, going into intricate detail about their professional accolades, commercial strategies, and mission-in-life goals. Save it for your Web site. The most effective tool you have with content marketing is the content itself. If people want to follow up, they will.
4. Don't Scare Off the Reader
Banish the phrase "this is really complicated" from your vocabulary, especially from the top of your content marketing piece. Those four words have stopped countless investors from reading what otherwise might truly help or benefit them. Nobody wants to know how complicated something is. They will flee immediately when faced with complexity. It's your job to make ideas and strategies understandable to everyone, from the sophisticated, affluent readers you'll find on Kiplinger.com, to young adults and novice investors who are starting to get serious about retirement planning. Help them—and help yourself.
New Media Director, Kiplinger.com
Harbrecht joined Kiplinger in March 2006 from BusinessWeek.com, where he served as senior and executive editor. Prior to that, he worked in the Washington bureau of the magazine, now BloombergBusinessweek, covering policy, politics and economics. He holds a BA degree from Binghamton University and an MA in journalism from the University of Missouri. He was 1998 President of the National Press Club and a 2010 Kiplinger fellow in social media study at Ohio State University.