Positive GDP Growth, at Last
Kiplinger's latest forecast for the GDP growth rate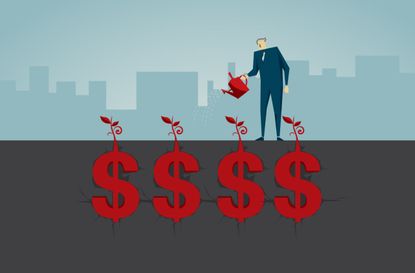 (Image credit: Getty Images)
Kiplinger's Economic Outlooks are written by the staff of our weekly Kiplinger Letter and are unavailable elsewhere. Click here for a free issue of The Kiplinger Letter or for more information.
If you already subscribe to the print edition of the Letter, click here to add e-mail delivery (opens in new tab) and the digital edition at no extra cost.
First readings on third quarter economic activity suggest positive GDP growth for the first time this year, at about 1.7%. Inflation-adjusted retail sales were up in July, thanks in part to Amazon Prime Day sales and the declining price of gasoline. Motor vehicle volume sales rose for the second month. Businesses continued adding to inventories. Manufacturing activity rose strongly in July after two months of declines. Motor vehicle production and that of its many suppliers surged.
Subscribe to Kiplinger's Personal Finance
Be a smarter, better informed investor.
Save up to 74%
Sign up for Kiplinger's Free E-Newsletters
Profit and prosper with the best of Kiplinger's expert advice on investing, taxes, retirement, personal finance and more - straight to your e-mail.
Profit and prosper with the best of Kiplinger's expert advice - straight to your e-mail.
The U.S. consumer and energy exports are supporting the economy right now. And consumers are being helped both by low unemployment and $2.1 trillion in extra savings built up during the pandemic. Inflation has caused a pullback in purchases of food and gasoline, though recent pump price declines have helped, and have also boosted consumer sentiment a bit. Also, initial unemployment claims have been trending upward (though slowly), and may be pointing toward a general slowing of the economy. Typically, an official recession will also include an upward move in the unemployment rate.
The Federal Reserve's mission to combat inflation by raising interest rates could still tip the economy into a mild and short recession sometime next year. The Fed is expected to raise interest rates by a half-percentage point again on Sept. 21, and by quarter-points in November and December. The Fed will temper its rate hikes as the economy slows down further, but will not give up on them entirely until inflation starts coming down a lot.
Besides the Fed, other forces will lead to an economic slowdown: Consumers may become more cautious in their spending because of recession fears, on top of normal cutting back in the face of higher prices. Businesses will likely delay buying equipment for expansion and trim their hiring plans. Slowing growth in Europe and China, plus the strong rise in the value of the U.S. dollar, will make the trade deficit problem worse.
Every cloud has a silver lining: The slowing economy will take the edge off the shortage of workers and the overheated housing and motor vehicle markets, allowing supply to catch up with demand.
On balance, GDP growth will likely slow to 1.7% in 2022 if growth in Q3 and Q4 are both positive, and slow further to 0.5% in 2023 if there is a mild recession. If a recession can be avoided, then growth in 2023 will likely be around 1.1%.
Source: Department of Commerce: GDP Data (opens in new tab)
Staff Economist, The Kiplinger Letter
David is both staff economist and reporter for The Kiplinger Letter, overseeing Kiplinger forecasts for the U.S. and world economies. Previously, he was senior principal economist in the Center for Forecasting and Modeling at IHS/GlobalInsight, and an economist in the Chief Economist's Office of the U.S. Department of Commerce. David has co-written weekly reports on economic conditions since 1992, and has forecasted GDP and its components since 1995, beating the Blue Chip Indicators forecasts two-thirds of the time. David is a Certified Business Economist as recognized by the National Association for Business Economics. He has two master's degrees and is ABD in economics from the University of North Carolina at Chapel Hill.