Where the Housing Market Is Headed in Late 2015
First-time home buyers will be a big driver of this market's recovery.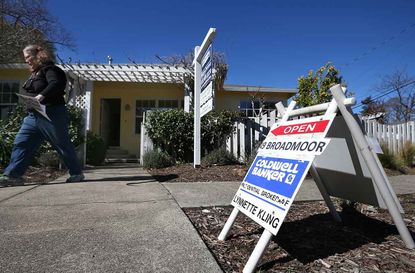 (Image credit: 2013 Getty Images)
The housing recovery will step up its pace heading into the second half of the year and beyond. That's good news for the economy overall, and especially so for the scores of home builders, craftsmen, suppliers of building materials and others who rely on this key industry for their livelihoods.
Through 2015, new-home sales will gain 22% from last year, when 440,000 such homes were sold. Existing-home sales will climb 7%, while new-home starts are poised to go up about 9%. In 2016, sales of new homes will rise 23% and sales of existing homes will top this year by 6%. We also see a 17% improvement in housing starts, with single-family homes accounting for the bulk of the gain: 25% growth vs. 2% for multifamily units.
Two groups of buyers are making a difference: First-time purchasers of existing homes, whose presence among all buyers rose to 32% in May from 29% last year. Their participation rate will tick up a notch by year-end and hit 35% by the end of 2016.
Subscribe to Kiplinger's Personal Finance
Be a smarter, better informed investor.
Save up to 74%
Sign up for Kiplinger's Free E-Newsletters
Profit and prosper with the best of Kiplinger's expert advice on investing, taxes, retirement, personal finance and more - straight to your e-mail.
Profit and prosper with the best of Kiplinger's expert advice - straight to your e-mail.
And people with less-than-stellar credit. More of them are able to secure home mortgage loans as lenders loosen credit terms. The percentage of Federal Housing Administration loans given to borrowers with credit scores of less than 640 is up from 8% in 2013 to 18% today. FHA loans also allow higher debt-to-income ratios — up to 45% — and are less strict than ones from private lenders with regard to the sources of down payment money. But both FHA and private lending guidelines will generally remain strict, according to Kenny Sylvester, a mortgage broker with Bank of America — no repeat of the easy-peasy lending ways prior to the recession.
Higher rents are coaxing many first-time home buyers into taking the plunge. The stronger job market and climbing incomes give people more confidence to buy, especially in and around large urban areas, where rents are increasing fastest.
Gradually rising mortgage interest rates also play a role. Many first-timers feel that now's the time to purchase a home to beat even higher rates down the road. We see the 30-year fixed mortgage rate rising from 4% now to 4.2% by year-end.
Note that many first-time buyers are a bit older than their predecessors in years past. The recently sagging job market, student loan debt and other factors had led many millennials to delay marriage and home buying. That's changing now.
Several builders are moving to accommodate buyers of entry-level homes. For example, Meritage Homes, based in Scottsdale, Ariz., is ramping up construction of starter homes priced in the low $200,000s. The company typically caters to more affluent buyers at an average selling price of nearly twice that amount. Pulte Homes, KB Home and D.R. Horton (the largest home construction company in the U.S.) also report seeing more neophytes entering the ranks of home buyers.
Staff Economist, The Kiplinger Letter
David is both staff economist and reporter for The Kiplinger Letter, overseeing Kiplinger forecasts for the U.S. and world economies. Previously, he was senior principal economist in the Center for Forecasting and Modeling at IHS/GlobalInsight, and an economist in the Chief Economist's Office of the U.S. Department of Commerce. David has co-written weekly reports on economic conditions since 1992, and has forecasted GDP and its components since 1995, beating the Blue Chip Indicators forecasts two-thirds of the time. David is a Certified Business Economist as recognized by the National Association for Business Economics. He has two master's degrees and is ABD in economics from the University of North Carolina at Chapel Hill.