The Cost of Owning a Hamster and 4 Other Small Household Pets
It seems simple enough to buy that cute bunny in the window or colorful fish in the aquarium, but small household pets still come with high costs and, often, a long-term commitment.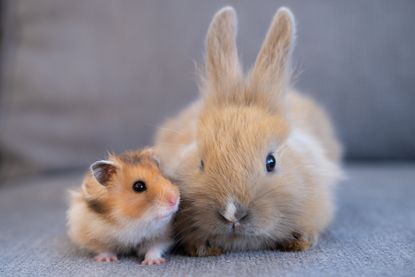 (Image credit: Getty)
It seems simple enough to buy that cute bunny in the window or colorful fish in the aquarium, but they still come with high costs and, often, a long-term commitment.
The best way to prepare financially for these little guys is to talk to a vet beforehand, says Dr. Laurie Hess, owner of the Veterinary Center for Birds and Exotics in Bedford Hills, New York. Hess says that many people with small pets don't think of health care at all until their pets get sick. By that time, however, the problem may have progressed to the point where care has become too expensive for the owner to justify.
"Often, the species I treat don't have the same emotional or financial value as a cat or dog might have," says Hess. "You want to give your pet a good life, so it's important to consider this ahead of time."
We've researched the ownership costs for five popular small household pets. Click through our slide show to see if you're prepared to foot the bill for a rabbit, hamster, bird, snake or fish.
Sources: ASPCA, MyHouseRabbit.com, PetKeen.com, CostHelper.com, ExoticPetVet.com, PetPlace.com, ReptileCare.com, PetSnake.com, AvianExoticsVet.com
1/6
Rabbit
First-year cost: $900-$1,400
Annual cost: $300-$800 on average
Total lifetime cost (avg. lifespan: 10-12 years): $3,600-$8,600
Preventive care is the best way to keep bunnies on a budget. Get them spayed or neutered to reduce the risk of cancer and urinary tract infections, two diseases that can require expensive medical care later. The procedure usually costs about $160, but it can be cheaper at an animal shelter.
According to PetKeen, other initial expenses include a hutch ($150 to $200), playpen ($70), hay feeder ($50 to $75), toys ($20) and grooming tools ($25). The purchase price of a rabbit is usually around $50 but, as with other animals, adopting is often a cheaper option.
Diet is another important component in keeping medical costs down. The average cost for rabbit food is around $40 a month; you'll want to serve the right balance of hay, fresh vegetables and high-fiber pellets to regulate their digestive systems, preventing potentially life-threatening emergencies. To cut costs, try starting a garden in your backyard that both you and your bunny can enjoy.
Because rabbits' teeth grow continuously, the high-fiber pellets are critical for grinding teeth down. If a rabbit's choppers get too long, he won't be able to eat, leading to a high vet bill.
It's recommended to take your bunny for an annual check-up, which usually costs between $20 to $50. You'll also want to budget for your rabbit's dental care, vaccinations, treatment for parasites and any medical emergencies that may occur.
The last annual expense is a big one -- at least $250 a year for litter and bedding.
2/6
Hamster
First-year cost: $455-$760
Annual cost: $400–$600
Total lifetime cost (avg. lifespan of Syrian hamster: 2-3 years): $855-$1,960
With these little guys, supplies will be your greatest expense, with an estimated cost of $170 each year for bedding and cage liners. To save money, use newspaper or plain, unscented toilet paper. Food averages about $50 to $80 a year for basic hamster mix from a pet store. Vet costs can stay low; just be sure to keep some type of chew-toy in Hammie's cage, because like rabbits, hamsters' teeth never stop growing. If they get too long, the hamster won't be able to eat and will require medical care.
Initially, you will also need to purchase a cage ($10-$50) and toys, such as a hamster wheel ($20). Large cages with tubes and tunnels often cost more and are harder to clean, so make your own obstacle course instead with old toilet-paper rolls. As for the actual hamster, he will usually only cost $5 to $20.
3/6
Small Bird
First-year cost: $465
Annual cost: $250 (plus unforeseen vet costs)
Total lifetime cost (avg. lifespan of parakeet: 15-18 years): $3,750-$4,500
A pet bird doesn't have to cost a lot, but medical expenses can quickly escalate if you're not familiar with how to care for it. To avert such crises, take your bird to a vet who is familiar with the species, and learn about common diseases that occur and the best ways to prevent them or catch them early. For example, female birds often lay infertile eggs without mating that can become soft, causing them to bind to the bird, resulting in what could be a life-threatening emergency. Hess recommends a seed-only diet and plenty of natural sunlight.
Other first-year costs include the cage ($50) and the purchase price, which ranges from $15 to $40 for a parakeet. After the first year, annual costs include food ($35), toys and entertainment ($50), and routine vet check-ups ($25 to $150). Lifespan varies depending on the species, but parakeets tend to live between 15 and 18 years if given proper veterinary care.
4/6
Snakes
First-year cost: $435–$1,500 per year (depending on breed of snake)
Annual cost: $310–$740 per year
Total lifetime cost (avg. lifespan of snake: 15-20 years): $4,775-$14,495
Reptiles may be some of the least-understood small pets. As you can see, the price of a snake can vary greatly depending on breed. Ribbon snakes can cost between $15 to $25, California Kingsnakes between $60 to $300 and Ball Pythons anywhere from $40 to $1,500.
Snakes have particularly high set-up costs because they must live under very specific conditions. Proper heating and lighting are vital to reptiles' health, and you'll need to purchase an under-tank heater and heat lamp for your pet snake. Glass aquariums are also part of the initial cost; you'll need to purchase a 45- to 75-gallon tank with a screen top. Finally, with food and water bowls, a thermometer, climbing branches and fake foliage, you could be spending anywhere from $110 to $475.
In the beginning, also be sure to take your new pet to a veterinarian who specializes in reptiles. Many reptiles must be de-wormed, while others can carry gastrointestinal parasites that can be easily eliminated before they're passed on to humans. Your vet can also talk to you about the environmental and dietary needs essential to keeping your reptile healthy.
Annual costs include food ($120–$240), regular vet visits ($40–$100) and proper health care ($120–$300). You're snake's habitat will also need recurring maintenance, including new UV light bulbs. Heating and lighting fixtures will also take a toll on your electric bill.
5/6
Fish
First-year cost: $230
Annual cost: $20
Total lifetime cost (avg. lifespan of goldfish: 3-10 years): $270-$410
Unless you're looking to go the exotic route with ornate saltwater species and plants, the cheapest pet to own is probably a fish. The set-up will definitely be the most expensive part, with a basic 20-gallon aquarium kit costing close to $125. Some electricity will be used to run the light and filtration system, so expect a slight increase in your electric bill. Unlike with other pets, food will cost only about $20 each year. A freshwater fish could cost you anywhere from $1 to $25, depending on the species.
6/6
Erin pairs personal experience with research and is passionate about sharing personal finance advice with others. Previously, she was a freelancer focusing on the credit card side of finance, but has branched out since then to cover other aspects of personal finance. Erin is well-versed in traditional media with reporting, interviewing and research, as well as using graphic design and video and audio storytelling to share with her readers.