How Much Did Things Cost in the 1980s?
We look back at prices on everyday items, from gas and stamps to milk and eggs, in 1985, the midpoint of the decade, and compare them to today's prices.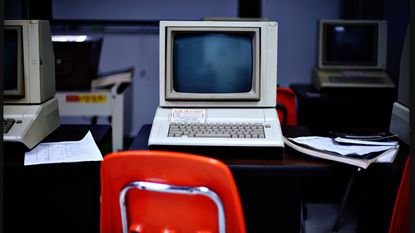 (Image credit: Getty Images)
The year: 1985. Reaganomics was in full swing, runaway inflation was finally easing, and the Dow Jones industrial average rose a whopping 27.7% to 1,546.67. It was the halfway point of the Decade of Greed.
But did the go-go economy and sizzling stock market mean everything cost more in the 1980s? Not necessarily.
We compared the prices of several everyday items in 1985 to today's prices to get a sense of how they've fared over the past three-plus decades -- both on an actual basis and on an inflation-adjusted basis. What we found might surprise you.
1/10
Rubik's Cube
Nothing screams "I love the '80s!" more than a Rubik's Cube. When the colorful brain teaser hit the U.S. market in the early 1980s, it originally retailed for $1.99 ($6.34 at the inflation-adjusted price), reports TheChive.com. The price quickly rose as its popularity grew, but by the mid-'80s the Rubik's Cube fad had tapered off.
The Rubik's Cube has experienced a renaissance, with die-hard fans participating in puzzle-solving competitions today. Now, you can buy an updated version of the classic cube for $10 -- that's five times the original price.
2/10
Postage Stamp
If you needed to pay a household bill or correspond with a faraway friend whom you couldn't afford to call long-distance on your rotary phone (remember those?), snail mail was likely your only option. You could send a letter with a first-class postage stamp for 22 cents in 1985. With inflation, that's the equivalent of 52 cents today. That's just a couple of pennies more than the 50 cents you'll pay for a single first-class stamp in 2018.
In other words, on an inflation-adjusted basis you're paying about the same now for a stamp as you did more than three decades ago.
3/10
Movie Ticket
A trip to the movie theater in 1985, perhaps to see "The Breakfast Club" or "Back to the Future," cost $3.55 per ticket, on average, according to the National Association of Theatre Owners. Nowadays, you'll have a difficult time finding anything at the concession stand -- let alone an actual movie ticket -- for $3.55.
When you factor in inflation, the $3.55 spent on a movie ticket in 1985 has the same buying power as $8 today. That's still not enough to catch a flick now. The average ticket price is up to $8.97. Keep in mind that if you decide to see a film in a specialty format, such as IMAX3D, you'll easily pay twice that amount.
4/10
McDonald's Big Mac Meal
The fast food chain celebrated its 30th anniversary in 1985 and was in the midst of a burger war with rivals Wendy's and Burger King. As a result, McDonald's launched "Value Packs" that same year, which included a large fry, large drink and choice of a signature sandwich: a Big Mac, a Quarter Pounder with Cheese or a Filet-o-Fish. The Big Mac Value Pack, precursor to today's Extra Value Meal, sold for $2.59 in 1985, which amounts to $6.09 in 2018. Even adjusted for inflation that's still not enough to buy the large Big Mac Extra Value Meal today, which sells for $8.
5/10
Newspaper
The newspaper business has changed drastically since the 1980s due, of course, to the rise of the internet. Steadily declining subscription and ad revenue, as well as decreasing newsstand sales, has forced some publishers to transitioning to online-only operations, while others have gone out of business. Those that do still publish print editions have significantly increased the price of their daily editions.
For example, the New York Times sold on newsstands for pocket change -- just 40 cents per copy -- in 1985. That's the equivalent of 94 cents in 2018. Yet today, you've got to shell out $3 per copy Monday through Saturday; $6 for Sunday's paper. The Los Angeles Times, which sold for a quarter in 1985 (equivalent of about 60 cents today with inflation), now goes for $2.75 per weekday copy and $3.66 on Sundays.
6/10
Gallon of Gasoline
Prices at the pump fluctuated throughout the 1980s. The decade's average price peaked in 1981 at $1.31 per gallon for regular leaded gasoline, according to Energy.gov. (Regular unleaded gasoline didn't become standard until 1990.)
However, midway through the decade in 1985 gas prices dropped to an average of $1.12 per gallon. When you factor in inflation over the last 30-plus years, that amounts to $2.63 today, which is about on par with the current average price of gas at $2.77 per gallon, AAA reports.
7/10
Milk
A half-gallon of milk cost $1.09 circa 1985, according to the U.S. Bureau of Labor Statistics. That price jumps to $2.56 when adjusted for inflation. Back then, the marketing machine behind the "Milk: It Does a Body Good" TV campaign was in overdrive. You couldn't sit through an entire episode of your favorite television program without one of those ads getting screen time.
Today, the price of milk is considerably cheaper on an inflation-adjusted basis than it was in the 1980s, even though the cost has nearly doubled on an actual basis to $1.96 for a half-gallon. Drink up.
8/10
A Dozen Eggs
One dozen eggs cost about a dollar circa 1985, according to the U.S. Department of Agriculture, making the inflation-adjusted price $2.39. Today's average price for a dozen eggs is $1.38, meaning eggs are much cheaper now than they were in the 1980s, once inflation gets factored in.
However, many consumers these days are opting for a healthier lifestyle and may seek out organic food choices, which tend to be more expensive. For example, a carton of one dozen organic large grade A brown eggs costs $3.48 at Walmart.
9/10
New Home
The 1980s was a decade of slow growth for the housing market. Home values rose just 8% overall compared to a 43% gain during the 1970s, according to the U.S. Census Bureau. By early 1985, the average sale price for a new home was $96,200. That's the same buying power as about $226,000 today. The current average sale price for a new home is $376,700, Census reports, though the average home size has grown from 1,785 square feet to 2,650 square feet.
We looked at listings on Realtor.com to gauge how much home you'd be able to get for $226,000. In many major metropolitan areas, the answer is not much. In Washington, D.C., a 400-square-foot, studio-style condo was listed for $239,000. In Chicago, a one-bedroom condo listed at 830 square feet with two assigned parking spaces was going for $227,500.
10/10
Personal Computer
Personal computers had been available to consumers since the late 1970s, but by 1985 it was still uncommon to see a PC in the typical home. Blame the bulky designs and hefty price tags. Apple's iconic Macintosh PC retailed for $2,500 ($6,081 in today's dollars). Dell's Turbo PC -- the tech company's first computer -- was considered a steal at the time because of its $795 price tag ($1,867 today, adjusted for inflation).
Now, desktop computers are much sleeker in design and more affordable for the everyday consumer. Apple's iMac desktop computer starts at $1,300, while Dell's Inspiron 22 3000 All-in-One desktop system can be had for as little as $400.
Online Editor, Kiplinger.com
Browne Taylor joined Kiplinger in 2011 and is a channel editor for Kiplinger.com covering living and family finance topics. She previously worked at the Washington Post as a Web producer in the Style section and prior to that covered the Jobs, Cars and Real Estate sections. She earned a BA in journalism from Howard University in Washington, D.C.