8 Cheaper Alternatives to Expensive Gifts
If you have champagne taste on a beer budget, you know all too well the struggle to keep your spending in check, especially around the holidays.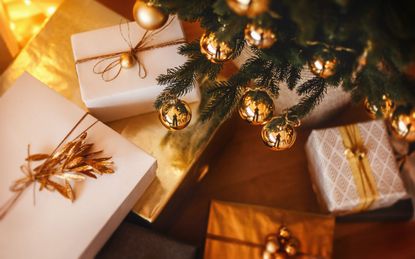 (Image credit: Getty Images)
If you have champagne taste on a beer budget, you know all too well the struggle to keep your spending in check, especially around the holidays. It's tempting to go big on expensive gifts you can't really afford, either for yourself or for the loved ones on your shopping list, rationalizing that a higher price tag guarantees a better product.
However, that may not be the case for every costly item you have your eye on, no matter the reputation of the manufacturer. With determination and a little guidance from us, you can find affordable alternatives to the priciest gifts you're considering that offer similar quality for a whole lot less money.
To point you in the right direction, we asked several smart shopping experts to weigh in on a wide range of expensive gift ideas, from the latest electronics to a foodie favorite of carnivores. Here's what they had to say.
Prices verified as of Dec. 10.
1/8
Coffee Makers
If you need coffee to start the day, then owning your own coffee brewing machine is a convenient way to get your caffeine fix. Pop in a coffee pod and, seconds later, out comes a perfect cup. There are plenty of at-home brewing systems available, but some of the best are made by Nespresso, says Financial Grownup podcast host Bobbi Rebell. Prices on Nespresso coffee machines range from $150 to $600. Nepresso's coffee pods are pricey, too. A 30-pack of its dark roast pods go for $33. By comparison, a 30- pack of K-Cup dark roast coffee pods costs $20 -- nearly 40% less.
Coffee fans with a bit of patience who don't want to fork over hundreds of dollars for a fancy coffee machine should consider buying a manual French press coffee maker instead, Rebell says. Simply add ground coffee and hot water to the pot, steep for a few minutes, then press down the plunger to trap the grounds at the bottom of the pot to prevent them from winding up in your cup. Amazon.com lists French press coffee makers in a variety of sizes, styles and finishes that are priced between $7 and $130. Rebell recommends the Secura stainless steel French press coffee maker, which retails for $30 for a 34-ounce version and has a 5-star rating (out of five stars) on Amazon.
2/8
Wireless Headphones
Work in an open office environment where you get easily distracted? Like to zone out to good music at the gym? You may want to invest in a quality pair of headphones for yourself or for that special someone instead of buying inferior versions that you're constantly replacing. Features such as noise cancelling and Alexa voice control make Bose's QuietComfort 35 Series II wireless headphones the gold standard -- but at $350 a pair, shoppers on a budget may be priced out, says Coupons.com savings expert Jeanette Pavini.
A budget-friendly alternative to Bose? Check out Cowin's E7 active noise cancelling headphones, which cost just $66 yet offer similar features, recommends Pavini. Despite being about 80% cheaper than the Bose pair, Cowin headphones also drown out outside noise, have a 30-hour battery life, are fast-charging and come equipped with Bluetooth capabilities. They have a 4.5-star rating on Amazon with customers who've purchased the headphones praising their comfort and audio quality.
3/8
Apple iPhones
There's always plenty of fanfare surrounding Apple's product releases. The tech company didn't disappoint with the unveiling of its latest iPhone XS model earlier this year. The water- and dust-resistant smartphone comes with facial recognition, the powerful A12 Bionic processing chip, dual cameras with wide-angle and telephoto capabilities, and a wireless charger, among other advanced features. But starting at $999, it's expensive enough to make even the most brand-loyal Apple customer think twice about upgrading.
Luckily, those brand-loyalists don't have to search far for a cheaper alternative. Apple also released its iPhone XR model, which starts at $749. The iPhone XR is similar in appearance to the XS and shares many of the same features including facial recognition, the same A12 chip and wireless charging. The big differences, other than price: the XR only has one camera, and it's slightly larger and heavier than the XS. The XR also has an LCD screen, while the XS has a more advanced OLED screen, which offers better resolution. But if you're making the upgrade from an older iPhone, say a 6 or 7, by no means will you feel like you're settling with the XR. CNET.com gave the iPhone XR a 4.5 out of 5-star rating, noting that it offers many of the same features as the XS for 25% less.
4/8
Mobile Phone Plans
Now that you (or the lucky recipient on your gift list) have a new smartphone, you'll need a wireless plan to go with it. If you sign a contract with a major wireless carrier such as Verizon or AT&T, expect to pay up to $90 per month for calls, texts and data, says Lisa Rowan, ThePennyHoarder.com's personal finance expert. You'll also be locked into a long-term contact -– two years is common –- and you'll likely face a hefty termination fee if you opt out of the contract early.
Instead, consider switching to a prepaid mobile phone plan, advises Rowan. With prepaid plans, there's no long-term commitment. You pay upfront each month for a designated number of talk minutes, texts and/or data. In the past, these plans were notorious for only working with low-end mobile devices and offering spotty network coverage, says Rowan, but the reputable providers now offer smartphone compatibility and operate on better networks. For example, Cricket Wireless operates on AT&T's network and MetroPCS runs on T-Mobile's network. Cricket's cheapest plan costs $25 a month (talk and text only), and its priciest prepaid plan is $60 a month for unlimited talk, text and data. That's a third less than a comparable plan from a major wireless carrier, says Rowan.
5/8
4K UHD TVs
Samsung is known for producing quality electronics. The company ranked sixth on Interbrand's list of the 100 Best Global Brands of 2018. With that longstanding reputation comes a relatively hefty price tag. Even on sale, Samsung's 65-inch Class NU8000 Premium Smart 4K UHD TV costs $1,200 (originally $1,700), says David Mercer, a shopping expert for RankTracer.com, a price comparison and deal website.
If you're in the market for a 4K UHD TV, but can't afford to shell out $1,000-plus, there are options. Among the more affordable 4K UHD televisions, Mercer recommends TCL's 55-inch Class 4-Series 4K UHD Roku Smart LED TV, which is on sale for just $350 at Best Buy -- about 70% less than the Samsung. Yes, the TCL TV is smaller, but it comes with several of the same features as the Samsung set. This includes ultra-high-definition (UHD) picture quality with 2160p resolution, double the previous standard of 1080p; compatibility with high dynamic range (HDR) movies and TV shows; and access to several streaming services (wireless capabilities and integration of streaming apps are what make "smart" TVs smart). It's worth noting that the TCL set received a "Good" Editor's Rating from PCMag.com -- "Excellent" is the highest possible rating -- the same rating as the Samsung set.
6/8
Cosmetics
Thinking about stuffing certain stockings with lipstick, blush and mascara? Makeup junkies know how easy it is to spend $100 or more on a handful of high-end beauty products at a major department store or at a specialty retailer. If you're looking to cut costs on makeup, take a fresh look at the cosmetics aisle of your local drugstore or big-box retailer, says ThePennyHoarder.com's Rowan, where quality and selection have improved. The savings at, say, Walgreens or Target versus Sephora or Ulta can run as high as 70%.
In fact, ThePennyHoarder.com recently did a product comparison of several low- and high-end beauty items available at MAC, Sephora and Walmart. Here's one example of what they found: Their tester, who was an avid user of Benefit's "They're Real!" lengthening and volumizing mascara ($25 at Sephora), determined that CoverGirl's Clump Crusher by LashBlast waterproof mascara ($7.40 at Walmart) outperformed the premium version when it came to application and wear.
Rowan notes that if you're hesitant to ditch those luxury beauty and skincare products for drugstore versions, because you aren't sure of the quality, go to YouTube. There are plenty of real-life beauty vloggers -- not models in magazines -- who test and review hundreds of products and share their honest opinions, she says.
7/8
Mattresses
There are few greater gifts to yourself than the gift of a good night's sleep. So when it comes time to upgrade your slumber situation, the best thing to do is head to a department store or specialty retailer showroom to test-drive a few mattresses, right? Not necessarily. While it's convenient to stretch out on a floor sample before buying, you could be missing out on significant savings on the exact same mattress by ignoring online-only retailers, ThePennyHoarder.com's Rowan says.
We looked at an identical queen-size mattress available in-store at Macy's and online at Wayfair.com to compare the price. Here's what we found: At Macy's, the Serta iComfort by Blue Fusion 500 14-inch hybrid extra firm mattress was on sale for $1,880. At Wayfair.com, that same mattress cost $1,599 -- 15% less.
If you're concerned about not being able to return an unwanted mattress you bought online, don't be. Most online-only retailers offer a lengthy trial period for mattresses, often as long as 100 nights. One final bit of advice: Mattresses are among the worst things to buy during the holidays. Wait until the big sales that happen Memorial Day weekend and Labor Day weekend for the biggest discounts on mattresses.
8/8
Filet Mignon
For many meat lovers, filet mignon is considered the best of the best when it comes to steak. As such, you're going to pay top dollar for this premium cut of beef known for its tenderness, says Coupon.com's Pavini.
At a Washington, D.C.-area, Safeway supermarket, filet mignon was selling for $24 a pound. At Omaha Steaks, a mail-order butcher that's a popular source of beefy holiday gifts, 4-ounce filet mignons go for $8.96 apiece, the equivalent of nearly $36 a pound. But that price is only good if you order 24 steaks at a time. Only want two 4-ounce filet mignons? Omaha Steaks' price jumps up to $20 per filet mignon, or the equivalent of $80 a pound.
A cheaper (but equally delicious) alternative? Pavini recommends opting for a ribeye cut, instead. It's about half the price of filet mignon at the supermarket and oftentimes has more flavor thanks to more fat, she notes. A one-pound package of ribeye steak cost $11.50 at that same Safeway, versus the $24 price tag for a pound of filet mignon.
Online Editor, Kiplinger.com
Browne Taylor joined Kiplinger in 2011 and is a channel editor for Kiplinger.com covering living and family finance topics. She previously worked at the Washington Post as a Web producer in the Style section and prior to that covered the Jobs, Cars and Real Estate sections. She earned a BA in journalism from Howard University in Washington, D.C.