8 Changes to Watch Out for During Medicare Open Enrollment for 2019
Getting ready to enroll in a Medicare Advantage or Medicare Part D plan for 2019?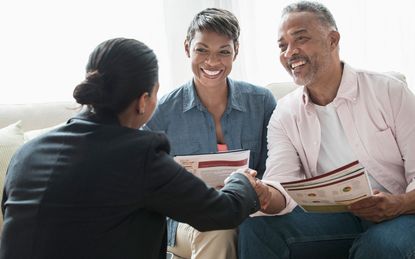 (Image credit: Getty Images)
Getting ready to enroll in a Medicare Advantage or Medicare Part D plan for 2019? You may have more plans to choose from, the premiums may be lower, and some Medicare Advantage plans are adding benefits. That's why this open enrollment period is a particularly good time to shop for coverage even if you've been happy with your current plan.
Open enrollment for Part D and Medicare Advantage runs from October 15 to December 7 for coverage starting January 1, 2019. Here are eight changes to be on the watch for this enrollment season.
1/8
More Medicare Advantage Plan Choices
There will be approximately 600 new Medicare Advantage plans in the U.S. in 2019, according to the Centers for Medicare and Medicaid Services, with a variety of options depending on your location. More than 91% of people with Medicare will have access to 10 or more Medicare Advantage plans in their area (some insurers offer several different Medicare Advantage plans in one area). For example, Aetna is expanding its Medicare Advantage plans into six new states and 358 counties.
You may have more Part D plan options, too. Mutual of Omaha, which has offered popular Medicare supplement plans for years, is entering the Part D business for 2019 plans.
2/8
Average Part D Premiums Going Down
The average premium for Part D plans is decreasing by $1 per month in 2019, to $32.50, according to the Centers for Medicare and Medicaid Services.
But don't just look at premiums alone. Some plans with low premiums might have higher co-pays for your drugs or require you to pay a lot more unless you use certain preferred pharmacies. It's important to compare each plan's total costs. The Medicare Plan Finder lets you type in your zip code, drugs and dosages and estimates your total costs throughout the year for premiums plus co-payments for your drugs. See How to Find the Best Medicare Drug Plan for You in 2019 for a step-by-step guide to using the Medicare Plan Finder.
3/8
More Plans With Preferred Pharmacies
Part D plans with preferred pharmacies tend to have low premiums and low co-payments if you use certain pharmacy chains, but charge a lot more if you get your drugs anywhere else. The Humana Walmart plan, one of the first to adopt a preferred pharmacy, charges premiums as low as $22.20 per month in some areas and low co-pays at Walmart, Sam's Club and through Humana's mail-order pharmacy. Humana also offers other Part D plans without the preferred pharmacy.
If you like to use a certain pharmacy, see if it's a preferred pharmacy under any plans. Walgreens, for example, is a preferred pharmacy in the AARP UnitedHealthcare plan, Cigna plans and many BlueCross BlueShield plans. See the Walgreens Medicare page for a list of plans where Walgreens is the preferred pharmacy.
4/8
Pay Less in the Doughnut Hole
The doughnut hole—the coverage gap in which you must pay more out-of-pocket for your drugs—will close in 2019, a year earlier than originally scheduled. Even so, you'll need to pay a portion of your drug costs. After the total cost of your drugs reaches $3,820, you'll pay up to 25% of the cost of brand-name drugs (37% of the cost of generics) until you spend $5,100. Then you'll pay 5% of the drug costs after that.
You can see a monthly breakdown of your share of the drug costs under each plan with the Medicare Plan Finder. Click on the "drug costs & coverage" tab when you compare plan details.
5/8
Average Medicare Advantage Premiums Decreasing
The premiums for Medicare Advantage will run an average of $28 per month in 2019, down from $29.81 in 2018. And more Medicare Advantage plans next year will have zero premiums. (You still have to pay the Medicare Part B premium, which will be $135.50 per month for most people in 2019.)
Be aware, lower-premium policies may have smaller provider networks, so make sure the doctors and hospitals you want to use are covered. In some cases, you may have several plan options with the same network but different premiums and cost sharing. "If you have a higher premium, you may have lower co-pays, or if you're in good health, you may want to elect a plan with lower premiums and higher co-pays," says Agnes Strandberg, a senior vice president with Kaiser Permanente Medicare, which usually offers at least two versions of its plans in most states.
You can compare the costs and coverage for each Medicare Advantage plan in your area using the Medicare Plan Finder. See How to Find the Best Medicare Advantage Plan for You in 2019 for step-by-step instructions for comparing plans.
6/8
Less Coverage for Out-of-Network Care
Some Medicare Advantage plans charge higher co-payments if you use out-of-network providers, and a growing number of others won't cover care outside the network except for emergencies (often some of the lowest-cost plans).
Yet some plans are providing more options that may cost more but expand the network coverage. Aetna, for example, is expanding its Explorer PPO plan, which will be offered in 28 states in 2019 and will give people nationwide coverage while traveling. Ask the insurer whether the doctors and hospitals you'd like to use are included in its network for the specific plan. (Some insurers offer a few plans in one area with different networks.)
7/8
Medicare Advantage Plans Adding New Benefits
Medicare Advantage plans often offer additional benefits that aren't available through traditional Medicare, such as vision and dental care and fitness club memberships. And new regulations let them expand their benefits starting in 2019 (expect to see even more new benefits in 2020).
UnitedHealthcare will offer over-the-counter drug benefits in some plans, providing a preloaded plan debit card that you can use at Walgreens, as well as virtual visits with providers and transportation to and from doctor's appointments under some plans. Some Aetna plans provide transportation benefits and meals after a hospital discharge. And some plans may start to offer new benefits such as adult day programs and in-home assistance, although more of these benefits are likely to begin in 2020 after insurers have more time to implement the new regulations.
8/8
More Flexibility to Switch
In the past, if you were unhappy with your Medicare Advantage plan, you had from January 1 through February 14 to drop out of it and switch to traditional Medicare and a Part D plan. But you couldn't change from one Medicare Advantage plan to another (unless you qualified for a special enrollment period, such as if you moved out of your plan's service area).
But now you will have from January 1 to March 31 to switch to a different Medicare Advantage plan if the one you chose doesn't end up being a good fit.

Contributing Editor, Kiplinger's Personal Finance
As the "Ask Kim" columnist for Kiplinger's Personal Finance, Lankford receives hundreds of personal finance questions from readers every month. She is the author of Rescue Your Financial Life (McGraw-Hill, 2003), The Insurance Maze: How You Can Save Money on Insurance -- and Still Get the Coverage You Need (Kaplan, 2006), Kiplinger's Ask Kim for Money Smart Solutions (Kaplan, 2007) and The Kiplinger/BBB Personal Finance Guide for Military Families. She is frequently featured as a financial expert on television and radio, including NBC's Today Show, CNN, CNBC and National Public Radio.