Best Banks for Retirees, 2019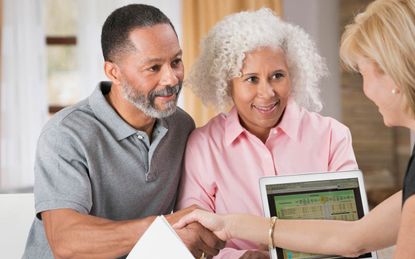 (Image credit: Getty Images)
Retirees can find a lot to like about these accounts and institutions—low or no minimums, free checks and paper statements, and ample access to financial advice and investment options, to name a few.
Here's a look at our top picks for senior-friendly banks.
1/3
BEST: TD Bank
Why it won: TD's checking option for customers 60 and older is an attractive choice compared with other big banks' accounts for this age group.
Standout account: 60 Plus Checking (opens in new tab) comes with complimentary services well-aimed at retirees. The six-month Choice Promotional CD (opens in new tab) recently offered a 2% rate on a deposit of at least $100,000 or 1.65% on $50,000 (you must have an active personal checking account).
Where it is: More than 1,200 branches in 15 eastern and southern states (and Washington, D.C.).
With 60 Plus Checking—keep a $250 minimum daily balance to waive the $10 monthly fee—you get free standard checks, money orders, cashier's checks and paper statements. Plus, anyone with a personal checking account is eligible for a 0.25 percentage point discount on a TD (opens in new tab) home-equity line of credit or personal loan. The 60 Plus Checking account pays a 0.05% interest rate, and TD charges $3 each time you use an out-of-network ATM. The Simple Savings (opens in new tab) account yields just 0.05%, but it's free for those who are 62 or older or who are younger than 18 (otherwise, keep a $300 balance to skip a $5 monthly fee). Rates are for customers in Orlando, Fla.
TD offers private banking (opens in new tab) for those with at least $750,000 to invest. As a private client, you'll get a dedicated relationship manager and investment adviser, as well as access to advice on retirement, philanthropic and estate planning. IRAs, brokerage accounts and other investment options are available through TD Ameritrade.
2/3
RUNNER-UP: Fidelity Investments
Why it won: Retirees who don't mind banking online can combine a compelling checking option with a breadth of investment and advisory services from Fidelity.
Standout account: The no-fee Cash Management account holds a lot of appeal for retirees looking to earn respectable interest on big balances. Fidelity also offers brokered CDs with a $1,000 minimum deposit.
The Cash Management account comes with a debit card and free checks, and it yields 0.79% on the entire balance of $100,000 or more, or 0.37% on smaller balances. It provides up to $1.25 million in Federal Deposit Insurance Corp. coverage against bank failure—five times the standard $250,000 limit—thanks to a program that "sweeps" your cash into one or more partner banks' accounts. Out-of-network surcharges are refunded for most ATMs worldwide, and paper statements are free. You don't need to have other Fidelity (opens in new tab) accounts to use Cash Management, but you can connect it to a Fidelity brokerage account for free overdraft transfers.
You can also park some savings in one of Fidelity's money market mutual funds, which invest in low-risk securities but don't provide FDIC coverage. Recently, Fidelity Money Market Fund (symbol SPRXX) yielded 2.2%. On brokered CDs, which are FDIC-insured and issued by banks for Fidelity, yields recently ranged from as much as 2.2% on a newly issued one-year CD to as much as 2.55% on a new five-year CD (you can also buy and sell brokered CDs in the secondary market). Fidelity offers wealth-management services (minimum $250,000 in managed assets), as well as a robo adviser, Fidelity Go (opens in new tab).
3/3
Contributing Editor, Kiplinger's Personal Finance
Lisa has spent more than15 years with Kiplinger's Personal Finance and heads up the magazine's annual rankings of the best banks, best rewards credit cards, and financial-services firms with the best customer service. She reports on a variety of other topics, too, from retirement to health care to money concerns for millennials. She has shared her expertise as a guest on the Today Show, CNN, Fox, NPR, Cheddar and many other media outlets around the nation. Lisa graduated from Ball State University and received the school's "Graduate of the Last Decade" award in 2014. A military spouse, she has moved around the U.S. and currently lives in the Philadelphia area with her husband and two sons.