14 Tech Products Taking a Bite out of Apple
For years, Apple (symbol AAPL) has been king of the consumer technology world with its innovative products and loyal customer base.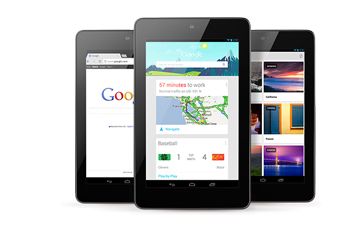 For years, Apple (symbol AAPL) has been king of the consumer technology world with its innovative products and loyal customer base. Consumers once traded in their PCs for Macs in droves, while iPhone sales soared across the globe. Meanwhile, the iPad set the bar for tablet style and simplicity — the ultimate in sophistication.
But Apple's fortunes have taken a hit of late. Tepid product sales have disappointed investors and sent Apple's stock tumbling. Meanwhile, rivals are pushing back, releasing sleek new products with technology strong enough to compete against their Apple counterparts. From smart phones and tablets to ultrabooks and all-in-ones, here are 14 gadgets poised to give Apple a run for the money:
1/10
Samsung Galaxy S4
Apple Competition: iPhone 5Price: TBA*Sure, Apple won $1.05 billion in its fierce court battle against Samsung (SSNLF) over patents last year. But Samsung has been fighting back, this time with its highly anticipated Galaxy S4 smartphone. The device boasts a 5-inch Full HD screen, 25% larger than the iPhone 5 Retina display. The S4 camera has 13.0 megapixels, five megapixels more than its Apple counterpart. The Galaxy S4 integrates the Samsung "S" experience, which features a language translator, voice-controlled drive mode, and a health tracker that monitors daily exercise and calorie intake. Optional accessories including a wireless charging pad and a body scale that sends your weight it to the S4 via Bluetooth. *Samsung has not yet released a price for the phone.
2/10
Windows Phone
Apple Competition: iPhone 5
Price: $100 with contract
Microsoft (MSFT) reinvented itself in 2012 with the launch of the Windows 8 operating system. Along with that overhaul came revamped models of the Windows Phone, most notably the Nokia Lumia 920 and the HTC 8X. These smart phones have built-in wireless charging (for the version of the 920 available through AT&T and for the 8X available through Verizon) — a feature not found in any Apple product.
The Lumia 920 has a 4.5-inch HD+ display, along with an 8.7-megapixel camera featuring a high-end Carl Zeiss lens. The slightly thinner and lighter HTC 8X has a 4.3-inch HD display and features a high-definition sound system powered by Beats Audio. The touch screens on both devices are protected by scratch-resistant Corning Gorilla Glass.
3/10
Google Nexus Series
Apple Competition: iPhone 5, iPad mini, iPadPrice: $199 - $499It takes just one look at this trio to see how far the search-engine behemoth has gone to take on Apple. The standard 8GB Google Nexus 4 smart phone was sold out online in December, despite having 75% less storage capacity than the 32GB iPhone 5 that sells for the same price of $299. Why? More consumers getting their hands on Android, the operating system developed by Google (GOOG) that runs on more than two-thirds of mobile phones worldwide. The Nexus 7 tablet rivals the iPad mini with its 7-inch HD screen and competitive pricing — you can buy the 16GB Wi-Fi model for $199, while the similar iPad mini costs $329.
As a direct competitor to the iPad, the Nexus 10 tablet comes with a full 10-inch high-pixel display and lets you video chat with up to nine friends at once with Google+ Hangouts. All three devices let you buy music, videos and books in Google Play, which is similar to Apple iTunes. They also come loaded with Google apps, such as Gmail, Chrome and Google Maps.
4/10
Microsoft Surface
Apple Competition: iPad, MacBook AirPrice: $499 - $699This tablet has been one of the most eagerly anticipated new products from the colossus of Redmond. It's just one of several new "convertibles" — devices that can double as tablets and laptops thanks to detachable keyboards. Critics argue this feature detracts from the product's quality, but consumers seem to find the idea intriguing. And you get twice as much storage as on an iPad for the same price.
The basic model with the 10-inch screen starts at $499. The convertible option with the "Touch" keyboard cover costs $599 with 32GB of storage and $699 with 64GB. The Surface convertible costs less than three of the six available iPad models. The high-end convertible costs less than the cheapest MacBook Air, which sells for $999.
Drawbacks? With 2GB of RAM, the Surface has just half the memory of a standard MacBook Air — but it still boasts the same 64GB of storage. Intended for light computing, the Surface runs on a fast Nvidia chip and comes loaded with Windows apps, such as Microsoft Office and SkyDrive.
5/10
Samsung ATIV Smart PC
Apple Competition: iPad, MacBook AirPrice: $750 - $900
Continuing its battle against Apple, Samsung has released its own version of a convertible to attract potential iPad and MacBook Air buyers. This is a sleek tablet and laptop in one. The ATIV Smart PC runs Windows 8, has an 11.6-inch HD touch screen and a 1.8-GHz Intel processor. That compares with a 1.7-GHz Intel processor on the 11.6-inch MacBook Air.
You can use the ATIV tablet on its own or with the keyboard, but you have to buy both. Still, the high-end model is $100 less than the entry-level MacBook Air — and it has a similar 64GB hard drive along with front and rear cameras for video chatting and taking pictures.
The "S Pen" feature also lets you "write" on the tablet, which magnetically attaches to the sturdy clamshell keyboard. You can upgrade to a 4G/LTE model from AT&T for an extra $150. That total of $899 for a data-enabled convertible costs just $70 more than the most expensive iPad.
6/10
Vizio Laptop Series
Apple Competition: MacBook Air, MacBook ProPrice: $849 - $1,199Known for its stunning HDTVs, Vizio leveraged its technology to enter the computer market with a line of PC gems in 2012. The Thin + Light Ultrabook and Notebook are made with a smooth finish and glossy black frames, bearing a striking resemblance to the MacBook Pro. At $849, the 14-inch Thin + Light is a steal compared with the 13.3-inch MacBook Air that sells for $1,199.
Both have an Intel Core i5 processor (1.7 GHz for the Vizio and 1.8 GHz for the Apple), 4GB of memory and a 128GB hard drive. If you need a faster processor to run heavy-duty jobs, such as video editing and graphic design, the 15.6-inch Vizio Notebook is a great option. You'll get a 2.3-GHz Intel Core i7 processor, 8GB of memory and a 1TB hard drive, all for $1,129. Compare that with a 15.4-inch MacBook Pro with similar specs, for $2,099. Shoppers save 46% by choosing the Vizio Notebook over its Apple equivalent.
7/10
Acer Aspire S7 Ultrabook
Apple Competition: MacBook Air, MacBook ProPrice: $1,200 - $1,650
Acer (ACID.IL) is famous for its travel-size netbooks, but the company recently unleashed a series of ultrabooks that could rival both the MacBook Air and the MacBook Pro. Each Acer Aspire S7 has a full-HD touch screen for the ultimate Windows 8 experience, along with an illuminated keyboard. The S7 can open 180 degrees and lay flat, so two or more people can use it at the same time. Like its Apple counterparts, the 11.6-inch S7 has a sleek aluminum unibody. The 13.3-inch S7 is finished with gleaming white Gorilla Glass. Both models have Dolby Home Theater audio and Intel HD Graphics 4000, the same graphics processor found in every Apple laptop.
The top-of-the-line Aspire S7 offers a 1.9- GHz Intel Core i7 processor. With a price of $1,650, it costs slightly more than a high-end MacBook Air (with a 1.8-GHz Intel Core i5 processor). But it is competitively priced compared with a 13.3-inch MacBook Pro with Retina display, which costs anywhere from $1,699 to more than $1,999. While the Pro has a more powerful processor, the S7 will appeal to consumers looking for a functional yet well-designed laptop.
8/10
Sony Vaio Desktop PC
Apple Competition: iMacPrice: $880 - $1,500The marketers at Microsoft are calling the surge of fresh Windows products a "new era of PCs." The desktop PC, with its bulky tower, had been in desperate need of a makeover for years. It has finally gotten one, thanks to Windows 8. At $880, the standard Sony (SNE) Vaio Mobile Touch Desktop comes with a 20-inch IPS display, a 1.8-GHz Intel Core i3 processor, 4GB of memory, Dolby Home Theater audio, and a built-in battery for cord-free use. The downside: It weighs 11.5 pounds, rather hefty for a "mobile" computer.
Its big brother, the Vaio Touch Desktop PC/TV, has a 24-inch full-HD screen, 2.4-GHz Intel Core i7 processor, 2TB of memory, S-Master surround sound audio, and a TV tuner along with two-way HDMI inputs on the high-end model for $1,500. It also comes loaded with Sony Creative Software, which is similar to Apple's preinstalled iMovie and GarageBand apps.
Both desktops have touch-screen technology and wireless keyboards and come with ArtRage Studio software, which lets users create and touch up digital artwork — perhaps Sony's way of attracting some of the designers and creative types who tend to gravitate toward Apple for their work.
9/10
Vizio All-in-One Touch PC
Apple Competition: iMacPrice: $999 - $1,539We all remember the Apple ads deeming PCs as boring and obsolete. Vizio's line of beautiful desktops proves that the new generation of PCs is anything but that. Bearing a striking resemblance to the iMac, the minimal design of the Vizio All-in-One Touch PC has already attracted a following. The $999 24-inch model sold out on Vizio.com by the end of 2012, soon after its summer debut. It comes with a 2.4-GHz Intel Core i3 processor, 4GB of memory and a 500GB hard drive. At $1,539, the 27-inch model comes with a quad 2.4-GHz Intel Core i7 processor, 4GB of memory and 1TB of storage.Each Vizio desktop comes with a stunning full-HD touch screen, dual HDMI inputs for watching TV and movies, SRS surround sound audio, a wireless keyboard, a remote control and sleek touchpad, similar to Apple's Magic Trackpad.
10/10
Reporter, Kiplinger's Personal Finance
Tan joined Kiplinger in June 2012 from Bloomberg News, where she was a reporting intern covering mergers and acquisitions and IPOs in New York. Prior to that, she worked as a production intern at CNN in Washington, D.C., where she assisted with political research and live broadcasts. She also covered financial regulation, including the Dodd-Frank Act, as a reporter for the Medill News Service. Before that, she wrote about economics and commodities in Chicago. She has written for the New York Times, MarketWatch, Businessweek.com, United Press International and the San Francisco Chronicle. She holds a BBA in finance from the University of Michigan and an MS in journalism from Northwestern University.