10 Ways to Make Your Smart Phone Pay for Itself
Twenty years ago, telephones were simple – and relatively cheap, with the average U.S.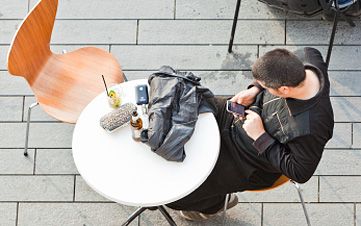 (Image credit: Thinkstock)
Twenty years ago, telephones were simple – and relatively cheap, with the average U.S. household spending $57 monthly on landline telephone service. These days, nearly half of all American adults are packing smart phones, with initial price tags of as much as $200 for a new phone every couple of years and monthly service plans costing $100 - $200, sometimes even more.
But your smart phone doesn't have to be a budget-buster. In fact, it might save you a lot of money. This jack-of-all-trades is quickly replacing costly standalone devices such as MP3 players, digital cameras and GPS. It also can be used as a diet tracker, a pedometer and much more. Here are ten ways your smart phone can pay for itself:
1/11
1. As a Source of On-the-Fly Discounts and Deals
Estimated Savings:
It's up to you.
A smart phone is a bargain hunter's best friend.
Save money on every trip to the grocery store without clipping a single coupon. With apps like Coupon Sherpa and The Coupons App, you can quickly review available coupons from your favorite grocer, check off the ones you intend to use, and see the discounts applied at checkout when you swipe your loyalty card (see Lower Your Grocery Costs).
At other stores, make sure you're getting the best deal by using smart-phone apps to compare prices. For example, with Amazon's Price Check, you can scan a product's barcode to compare prices at Amazon.com and its numerous merchants. Other comparison apps, such as Gas Buddy, identify your current location and find gas stations in your area with the cheapest fuel prices, while banking tools such as MasterCard's ATM Hunter can search for your bank's closest ATM, helping you avoid unnecessary ATM fees.
Location-based services such as FourSquare are also great ways to discover discounts. By "checking in" at certain restaurants or stores, you can "unlock" rewards or special deals.
2/11
2. As a Day Planner/Calendar
Estimated Savings:
$10 - $35 for a paper planner (plus annual refills)
Forget about lugging around a daily planner and pen – and the associated hassle of manually logging annual dates and regular appointments in each new year's calendar. Most smart phones come with a basic, built-in calendar and scheduling tool, and you can download more-sophisticated planning apps free. You can set alarms to remind you of engagements in advance, color-code different appointments and tasks, and synch it up with your office calendar.
Perhaps the biggest advantage of using your phone as a day planner is that you'll almost always have it with you. Whether you're at the doctor's office or at a business lunch, you can quickly make note of a new engagement or check the time of your next meeting.
3/11
3. As a Portable GPS
Estimated Savings:
$100 - $250 for a portable GPS navigator
Whether you're out on the road or hitting the trails, it's easy to use your smart phone to get around. With Google Maps integrated in Android devices and free navigation apps available on other smart phones, there is less of a need for traditional GPS, particularly if you're just looking to get from Point A to Point B.
4/11
4. As a Portable Music Player
Estimated Savings:
$50 - $400 for an iPod from the Apple Store
Smart phones are a great place to store your music. With storage limits of up to 64GB, some phones can actually hold more songs than a standalone iPod or MP3 player. For example, you could spend $199 on an 8G iPod Touch that holds approximately 2,000 songs, or you could store that same number of songs on a 16G iPhone 4s (also $199) and still have 8GB of storage space left over.
With a smart phone as your music player, you can stream music from the Internet using apps such as Pandora or YouTube. Via apps such as iCloud or Google Music, your smart phone also has the ability to access the music library on your computer, which means it'll take up less storage space on your phone.
5/11
5. As a Camera
Estimated Savings:
$70 - $150 for a basic point-and-shoot digital camera
With your phone almost always in hand, never miss a single Kodak moment.
Although photos taken by a mobile phone traditionally have been grainy and out of focus, the latest smart-phone cameras should satisfy most casual photographers. With resolutions of up to 8 megapixels and wider apertures, smart-phone cameras are "cannibalizing the point-and-shoot market to a certain degree," says Zach Honig, a senior associate editor at Engadget.
Instantly share photos with friends and family by uploading the images from your smart phone to Facebook or sending them in an e-mail. Built-in editing software and free apps such as Instagram let you edit and customize photos on the fly.One thing to consider: if you want to print good-quality photos, Honig says you'll need to step up to a traditional digital camera.
6/11
6. As a Video Camera
Estimated Savings:
$150 - $300 for a full HD camcorder
Traditional video cameras can be heavy and difficult to lug around, and you have to worry about carrying an extra tape or SD card.
Sure, your smart phone's video camera won't match the high-quality video of a dedicated filming device, but the technology is always improving. Many phones already allow you to record high-definition video.And with a smart phone, you can instantly upload a video to YouTube or save it to the cloud, allowing you to delete it from your phone before it starts taking up too much memory.
7/11
7. As a Home Phone
Estimated Savings:
$360/year on landline phone service
If you're already paying for a smart-phone service plan, why add an extra $30 to $40 a month for an additional line?
The cheapest calling plan for smart phones from both Verizon and AT&T is $39.99 for 450 minutes (long-distance included). In Washington, D.C., for instance, a landline from RCN costs $30 a month. Add the charges for any long-distance calls and it's easy to see how ditching the landline can save you money.
Another advantage to using your smart phone as your primary calling device is the ease with which you can make international calls. With free apps such as Skype and Google Talk, you don't even need a computer or Internet connection to talk with friends and family outside of the country (assuming you have a decent data plan).
If you decide to lose your landline, first make sure you get decent cell reception around your house. You wouldn't want to find yourself in an emergency and unable to make a phone call.
8/11
8. As an Alarm Clock
Estimated Savings:
$10 - $30 for an alarm clock radio
In many ways, mobile phones are more reliable alarm clocks than their traditional counterparts. Not only can you set multiple alarms on the same device, but you can program the alarms to go off on a regular schedule, for example at 7 A.M. Monday through Friday. They're also great for traveling, especially considering how confusing it can be to set the alarm clocks at most hotels.
There are also some great apps that can optimize the alarm clock on your smart phone. For example, the Winter Wake-Up app tracks the weather while you're asleep, and if bad weather sets in overnight, it will wake you up earlier so you have extra time for your morning commute.
Just be sure to charge your phone every night: Your smart phone's alarm can't sound if your battery is dead.
9/11
9. As a Modem
Estimated Savings:
$90 - $200+/year on home Internet service
Sharing the wireless Internet connection on your smart phone with a laptop or desktop computer, known as tethering, can save you money, but only if don't go online at home very often, or only do so for basic activities such as sending e-mail and surfing the Web.
For example, on AT&T's 5GB and Mobile Hotspot plan, you could send and receive more than 400 e-mails and view 100 web pages every day, and still stay under your monthly data limit. At $600 per year ($50/month), that plan may seem expensive compared to the $480/year you would pay for Comcast's cheapest home Internet service in Washington, D.C ($29.99 for the first six months, $44.99 for months 7-12), but it's still almost $100 cheaper than paying for AT&T's cheapest data plan ($240/year for a limited 300MB/month) AND home Internet (about $450/year). Bump that up to $30 for 3GB/month, and you would save more than $200/year by ditching your home Internet.
While some online activities, such as surfing the Web or checking e-mail, won't eat up too much data, it would be nearly impossible to regularly stream video via your phone without paying an arm and a leg. And unless you have a 4G connection, you'll likely have to wait a long time for the video to fully load. So if you regularly stream more than 30 minutes or so of low-quality video each day, you'll probably want to stick with your home Internet provider.
If you're tethering, be sure to set up alerts on your phone to let you know if you're approaching your data limit.
10/11
10. As a Portable Gaming Device
Estimated Savings:
$50 - $250 for a handheld game console
For the casual gamer on the move, smart phones are quickly becoming the device of choice. Since 2009, Android and iOS went from controlling just 19% of the U.S. portable game software market to owning a majority of the market (58%) by 2011.
Mobile devices offer countless free games, including popular apps such as Angry Birds and Fruit Ninja. According to one recent study, smartphone users dedicate 39 percent of their time to games.
Sony has even released its own "PlayStation Certified" Android phone, complete with "real" gaming controls and access to a growing number of "PS-like" games available via "PlayStation Mobile." While these games typically cost $3 to $15 apiece, that's still cheaper than what you might pay for a game on a dedicated handheld gaming device. Sony has announced plans to make PlayStation Mobile available on more Android devices in the future.
11/11