9 Smart Ways to Invest or Spend $100,000
Finding yourself with an extra stash of cash—whether it's a bonus, a gift, an inheritance or simply savings that have languished in a low-interest account— is a nice problem to have.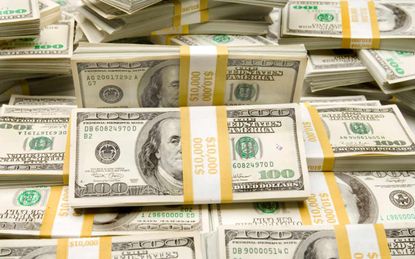 (Image credit: Thinkstock)
Finding yourself with an extra stash of cash—whether it's a bonus, a gift, an inheritance or simply savings that have languished in a low-interest account— is a nice problem to have. And you may have your own priorities for what to do with it: Pay off credit cards, add to your emergency fund, put it in an IRA or pay off your mortgage. If none of those things excite you, consider our ideas for how to put $100,000 to work.
Our suggestions range from investing in a rental property for additional income to buying a high-tech car to getting a master's degree to boost your earning potential. Take a look.
1/9
Buy a Rental for Income
Becoming a landlord isn't the no-brainer investment it was a few years ago, but you can still count on income for years to come if you choose a property wisely. Look for positive cash flow every month. According to one formula, if rent minus all expenses, including a management fee (typically 8% to 10% of monthly rent) and contribution to a reserve fund (equal to about three to six months' expenses for vacancies, repairs and maintenance), generates $250 to $500 each month, the transaction is a go.
Home-price appreciation and tax breaks for depreciation can sweeten the deal. The property doesn't have to be in your hometown. Look in cities such as Birmingham, Ala., or Columbus, Ohio, where you can buy a single-family home or townhouse for $100,000 or less. You can also search for bank-owned properties (REOs) sold at a discount at RealtyTrac.com (opens in new tab).
2/9
Stretch for Yield With Bonds
Interest from municipal bonds is usually exempt from federal income tax. Buy two of each of these bonds and get a tax-free yield of 2.3%: Maryland 2.5% coupon ($10,445), yielding 1.1% to maturity in November 2017. Alaska 3.0% coupon ($10,638), yielding 1.2% to maturity in August 2019. Illinois 5.0% coupon ($10,929), yielding 3.2% to maturity in August 2021. Utah 5.0% coupon ($12,234), yielding 1.8% to call in July 2022. Illinois 4.0% coupon ($9,945), yielding 2.0% to call in August 2022.
3/9
Amp Up Your Car
With a hundred grand, you can buy one of the highest-tech cars on the road: the Tesla Model S (opens in new tab). The 85 kWh all-wheel-drive version costs $86,200. Add options such as smart air suspension ($2,500), a 90 kWh battery upgrade to increase your range to about 286 miles ($3,000) and a home charger ($600 to $3,200 including installation, depending on tax incentives in your state). You're eligible for a $7,500 tax credit when you file your tax return.
4/9
Go on a Cruise
If you have $100,000 and six months to spare, go big with a world cruise. Oceania's Insignia (opens in new tab) will sail around the globe in 180 days, from Miami to Miami, between January 6 and July 6, 2017, including stops in Central America, the South Pacific, Asia, the Middle East, the Mediterranean and Canada. A couple could book an ocean-view cabin for less than $100,000, including airfare to Miami.
5/9
Remodel Your Home for Aging in Place
Add a first-floor master suite. Enjoy your retreat now and avoid climbing stairs in later years. Remodeling magazine's 2015 Cost vs. Value Report (opens in new tab) gives a national average cost of $111,245 to build a 24-by-16-foot bedroom suite that includes a walk-in closet and bathroom with double-bowl vanity, whirlpool tub and tiled shower.
6/9
Get a Master's Degree to Boost Your Earning Power
Average tuition in a master's degree program in arts or sciences at a private college or university is about $40,000 a year, which leaves enough for room, board, health insurance and textbooks. The most lucrative master's degrees are in petroleum engineering and computer science, as well as MBAs in strategy and finance/real estate, according to a survey by PayScale.com.
Early-career salaries for graduates range from $78,900 to $96,500. (If you're a resident, you can get your MBA at some highly regarded state schools for less than $100,000.) In health care, the highest median annual salary is for a nurse anesthetist (with an M.S.), at $139,000 a year for the first five years.
7/9
Buy into a Minor-League Baseball Team
Be a major dude and buy a piece of a minor-league team. Minor-league teams start at about $5 million, but you could buy a share of an ownership group for about $100,000. For example, you may be able to buy a 1% ownership share in a single-A team for about $96,000, says Larry Grimes, president of the Sports Advisory Group, which represents clients in the purchase and sale of professional sports teams. (See "teams for sale" at www.thesportsadvisorygroup.com (opens in new tab).)
And note that it could take three to six months to sell the shares, says Grimes. Don't expect to have any control over management or coaching decisions. But you may get some perks, such as seats to all games and dibs on the owners' box.
8/9
Endow a Wing
You probably can't build a new field house at your alma mater for $100,000, but that may be enough to get your name on a building. For example, in Apex, N.C., local businessman John Rodgers donated $100,000 toward the construction of a downtown skate park that will bear his family's name. A large gift will lower your income taxes, but in general, your charitable deductions in one year can't exceed 50% of your adjusted gross income. The limit is 30% for donations of appreciated assets and contributions to private foundations.
9/9
Start a Family Foundation
For $100,000 you can endow a scholarship fund that will help deserving students attend your alma mater. Each institution has its own rules, and many offer programs targeted to specific types of students. For example, Washington and Lee University's Loan Repayment Fund helps law school graduates repay their loans so they can pursue a career in public-interest law. Your school's development department can provide you with the paperwork. If you want to help students in a specific geographic area or those with special needs, use the community foundation locator to find one that has experience managing such scholarships.
SEE ALSO: Easy Ways to Give to Charity