14 Smart Ways to Spend or Invest $10,000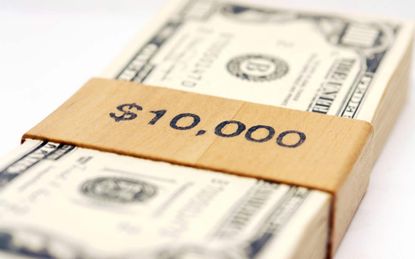 (Image credit: Thinkstock)
Finding yourself with an extra stash of cash—whether it's a bonus, a gift, an inheritance or simply savings that have languished in a low-interest account— is a nice problem to have.
And you may have your own priorities for what to do with it: Pay off credit cards, add to your emergency fund, put it in an IRA or pay off your mortgage. If none of those things excite you, consider our ideas for how to put $10,000 to work.
Our suggestions range from investing in blue-chip dividend stocks to touring Cuba to remodeling your home for aging in place. Take a look.
Also, check out these great ways to use $1,000 or $100,000
1/15
Assemble an ETF Portfolio With Free Trades
A number of discount brokers offer dozens of exchange-traded funds that you can buy and sell without incurring commissions. With ten grand, ease into these commission-free ETFs at TD Ameritrade: 12 shares of iShares Core S&P 500 (IVV, $210), 22 shares of iShares Core S&P Small-Cap (IJR, $116), 21 shares of iShares iBoxx $ Investment Grade Corporate Bond (LQD, $116) and 53 shares of SPDR Dow Jones Global Real Estate (RWO, $47).
Vanguard's brokerage arm offers only its own ETFs without commission, but they're some of the lowest-cost ETFs available. To get a sliver of nearly 10,000 global stocks in a pair of low-cost funds, buy 47 shares of Vanguard Total Stock Market (VTI, $107) and 108 shares of Vanguard Total International Stock (VXUS, $46)
SEE ALSO: The Kiplinger ETF 20
2/15
Build a Portfolio of Blue-Chip Dividend Stocks
We think these are the eight most attractive payers (for yield or payout growth) in the Dow Jones industrial average. For more on our thinking, see 8 Best Dividend Stocks of the Dow. Apple (AAPL, $118; yield, 1.8%), General Electric (GE, $30, 3.1%), Home Depot (HD, $133, 1.8%), Johnson & Johnson (JNJ, $101, 3.0%), McDonald's (MCD, $114, 3.1%), Microsoft (MSFT, $54, 2.6%), United Health (UNH, $112, 1.8%), Verizon Communications (VZ, $45, 5.0%). Buy 33 shares of GE, 22 apiece of Microsoft and Verizon, and 12 each of the rest for a total cost of just a bit over $10,000.
3/15
Stretch for Yield With Bonds
Buy two of each of these corporate bonds to produce a package that yields 2.0%: Citigroup 4.45% coupon ($1,033), yielding 1.4% to maturity in January 2017. American Express 1.55% coupon ($996), yielding 1.7% to maturity in May 2018. Capital One National Association 2.4% coupon ($1,014), yielding 2.0% to maturity in September 2019. Morgan Stanley 2.65% coupon ($1,010), yielding 2.4% to maturity in January 2020. Philip Morris International 2.9% coupon ($1,015), yielding 2.6% to maturity in November 2021.
4/15
Create an HDR TV Home Entertainment System
High dynamic range, or HDR, is all the rage in TVs because eye-popping colors and crisp details bring images to life in a way that standard video doesn't. For less than $10,000, you can get an HDR-compatible TV and surround-sound audio to match, says Francis Hall, project manager at Graffiti Audio-Video in Washington, D.C. He recommends the 65-inch LG EF9500 Flat OLED 4K ($5,000) because OLED display technology offers the best picture quality at the highest possible resolution when combined with HDR.
Add stunning sound with wireless audio devices from Sonos (opens in new tab), which you can control using a smartphone and your home Wi-Fi: Components include a playbar ($700), subwoofer ($700), two Play:1 speakers for surround sound ($200 each), and a bridge ($50) that connects to your Internet router and provides a wireless link to all of the components. A master remote control with RF (radio frequency) costs about $500 with programming. Use your leftover funds for installation; figure on another $600 to $750.
5/15
Amp Up Your Car
Devote a $10,000 budget to decking out a luxury car, such as the 2016 Mercedes-Benz E350 (opens in new tab) (sticker price: $54,025). Options include the Premium 1 package ($4,180), with a rearview camera, power-folding mirrors, navigation system, surround sound, and heated and ventilated front seats. Add the driver-assistance package ($2,800), which includes automatic braking plus steering, blind-spot and lane-keeping assist. Top it off with the lighting package ($1,500), with headlamps that can illuminate curves and corners.
SEE ALSO: Winter Car Maintenance Tips
6/15
Tour Cuba
Even though travel restrictions to Cuba have eased, Americans can't roam freely around the island just yet. But if you sign up for a "people to people" tour, which is one of 12 authorized reasons to visit Cuba, you can experience Cuban culture before the country fully opens to American tourists. Christopher P. Baker, a Cuba expert and author of the guidebook "Moon Cuba," recommends choosing a tour that employs a U.S. expert versed in Cuba, rather than a Cuban guide.
The National Geographic Expeditions nine-day program (opens in new tab) weaves encounters with coffee farmers and local artists into tours of colonial cities, a nature reserve and landmarks such as Ernest Hemingway's former home near Havana. The expedition starts at $5,995 per person, double occupancy, with an additional $550 for round-trip charter airfare from Miami. Reserve the remainder of your budget for transportation to Miami and Cuban souvenirs—you can bring back up to $400 worth of goods, including $100 in rum and cigars.
7/15
Go on a Cruise
Uniworld's new Ganges River cruise in India starts at $8,024 per person. You'll spend a few days exploring New Delhi and the Taj Mahal before embarking on an eight-day cruise that takes in temples, mosques and the Hare Krishna Complex (airfare not included).
8/15
Upgrade Your Deck
Resurface your deck or porch with composite decking made of wood and plastic, and it will look good and wear well for years with just an occasional washing. You can replace 400 square feet of decking with a new railing in top-of-the-line Trex Transcend for $10,000 (including labor).
9/15
Remodel Your Home for Aging in Place
Get rid of your step-in bathtub and replace it with a custom-built curbless shower in porcelain tile with glass doors, a built-in seat for comfort, a pressure-balanced shower valve for safety and a movable hand shower on a bar for convenience.
10/15
Test-Drive a Retirement Destination
To get a real sense of a place where you're considering relocating, plan an extended stay for a month or more. Avoid expensive hotels and make it easy by renting a fully outfitted vacation home directly from the owner via vacation-home rental Web sites such as HomeAway.com (opens in new tab), VacationHomeRentals.com (opens in new tab) and VRBO.com (opens in new tab).
The average price for a vacation rental home on HomeAway.com is about $1,500 per week. Four weeks at $6,000 leaves plenty of money for transportation and sampling the local cuisine and golf courses. A stay during the shoulder season or off season will cost less and giveyou a taste of life as the locals live it after the tourists and snowbirds have gone home.
11/15
Preparing in Advance for Your Funeral
Given that you can't take it with you, why not spend $10,000 or so throwing your own funeral? Prepaying for your funeral lets you choose the type of service you want and avoids leaving the shopping to your loved ones during an emotional time. Shopping is key: A recent report by the Federal Consumers Alliance and the Consumer Federation of America showed that prices for identical funeral services and products, such as vaults or caskets, vary widely even within the same area.
For instance, a funeral in Atlanta ranges from $3,700 to $11,050 for the same services; in Orange County, Calif., the cost ranges from $3,854 to $10,075. (The national median for a full-service funeral is $7,181, not including cemetery costs or extras, such as flowers or music, according to a 2015 report by the National Funeral Directors Association.) Federal law requires that funeral homes give you a written price list for their products and services; they must also give you price information over the phone if you ask for it.
If you decide to pay up front for your funeral, find out how that money is protected. (For more information, go to www.consumer.ftc.gov (opens in new tab).)
12/15
Watch a Professional Baseball Team During Spring Training
Use spring break to see the pro baseball players at spring training in March and early April. The Cactus League, which includes all of the West Coast teams and most midwestern teams, plays all its games less than an hour from Phoenix. The Grapefruit League teams are scattered throughout Florida, but you can fly into Tampa and catch the Yankees, Phillies and Blue Jays, or drive about an hour from Tampa for the Tigers, Pirates and Orioles. Tickets cost $40 or less, but why not splurge on a special vacation while you're there? Most teams offer spring training travel packages, either at Florida beachfront hotels or Arizona resorts.
Cubs fans, for example, can spend six nights at the Westin Kierland Resort & Spa, about 20 minutes from the team's new Mesa, Ariz., ballpark; the package includes a rental car, two tickets to four games, a special postgame dinner for two with select players and team personnel, and Cubs merchandise, all for less than $4,200. Add airfare for two from Chicago for about $1,000 and you'll still have plenty of money for gourmet meals, golf and spa treatments. (See www.mlb.com/springtraining (opens in new tab) and www.springtrainingonline.com (opens in new tab).)
13/15
Contribute to a State-Sponsored 529 College-Savings Plan
For $10,000, you can help a grandchild, godchild, niece or nephew get a head start on a college education. As long as the money is used for qualified college expenses, withdrawals are tax-free—and 33 states and the District of Columbia offer deductions or other tax breaks for contributions to a 529 plan.
If you make the contribution when the child is a year old, she'll have more than $27,600 by the time she's 18, assuming an average annual return of 6%. Some 529 plan providers, such as Fidelity Investments, provide an online gift page, where friends and family members can contribute to a 529 plan set up by the child's parents. Or you can set up your own 529 plan and name the child as beneficiary.
USE OUR TOOL: Find the Best 529 Plan for You
14/15
Start a Family Foundation
Donor-advised funds allow you to contribute to a pooled investment account and decide where to give later. With a larger pool of charitable dollars, it's easy to get several generations involved in selecting charities to support. The minimum to set up a donor-advised fund at Fidelity Charitable and Schwab Charitable is $5,000.
15/15
Take a Fabulous Family Vacation
For ten grand, a family of four could soak up the sun in Tahiti with a special Kids Fly Free promotion from Tahiti.com (opens in new tab), in which a child age 11 or younger travels free with an adult paying full fare. The Huahine Family Escape package (opens in new tab) recently started at $6,650 for two adults and two kids, with travel through December 2016. The family gets five nights in a garden bun­galow, a snorkeling excursion, a 4x4 EcoTour to a royal village and free meals for the kids. Alternatively, a couple could take a luxurious African safari for ten grand; Travelzoo (opens in new tab) recently offered several South African specials via Lion World Travel (opens in new tab), in which each person pays about $4,000 to $5,000, airfare included, for seven or more nights. Depending on the package, you might spot wildlife on a drive, on a bush walk or by hot-air balloon.