The Lowdown on Funeral Costs
It pays to know what charges to expect when planning a funeral for yourself or a loved one.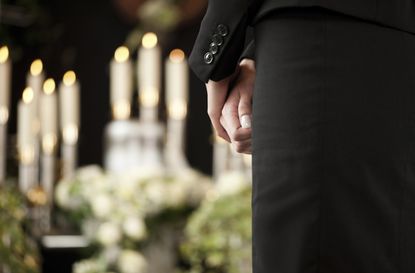 (Image credit: Getty Images/iStockphoto)
Let's face it: Most people don't plan their own funerals. The planning gets compressed into a few days by those they leave behind, who aren't in a frame of mind to go shopping around for the lowest possible price. And because it's not something most people do very often, few would know what to do, anyway.
As a result, we fall back on familiar choices: the "Catholic" funeral home, or the "Polish" funeral home, or, if we've been in one place long enough, the place our family has always used. This could serve you perfectly well, but you can't go wrong by being a knowledgeable buyer of funeral services.
The charges
How much should a funeral cost? We can cite national averages but no rules of thumb. Some funeral homes are busy all the time, others aren't. It seems reasonable to expect that the busier homes would cost less because they can spread their fixed costs over a larger number of funerals. By the same token, the trend to national chains of funeral homes should be creating economies of scale in purchasing and management structure that should benefit consumers.
Subscribe to Kiplinger's Personal Finance
Be a smarter, better informed investor.
Save up to 74%
Sign up for Kiplinger's Free E-Newsletters
Profit and prosper with the best of expert advice on investing, taxes, retirement, personal finance and more - straight to your e-mail.
Profit and prosper with the best of expert advice - straight to your e-mail.
Not so. Because so few people shop around for the best deal, funeral homes have little incentive to offer it. As you venture out into the marketplace, here are the costs you can expect.
The professional service fee. It can range from as little as $695 to as much as nearly $3,000, and you have to pay it -- it's "nondeclinable." Some are higher than others, but the important thing to remember is that your total cost will be this fee plus the cost of the other services that are described below. If you want a simple burial or cremation, choose the home with a low up-front fee. That way you won't subsidize services you don't use. If you want a more elaborate funeral, you'll have to look at the cost of the whole package before judging the up-front fee.
The casket. You're not looking forward to spending time in a casket showroom, but this is where a lot of your money will be spent or saved. An 18-gauge-steel casket, a common choice, costs an average of about $2,300. A 20-gauge casket, which is lighter weight, sells for a lot less. Because markups of 300% over the wholesale price aren't uncommon, it pays to look around a bit.
Embalming. This procedure is usually mandatory for open-casket viewing, when it may be accompanied by charges for hairdressing and cosmetics. Otherwise, embalming isn't generally required unless the body is going to be transported across state lines.
The funeral service. If the ceremony is at the funeral home, you'll be charged for use of the chapel and any necessary staff. Thus, it's usually less expensive to have the funeral service at a church rather than a funeral-home chapel.
Transfer of the remains. This is the fee for picking up the body and taking it to the funeral home.
Hearse and driver.
Forwarding fees. These come into play if someone dies a long distance from where the burial will be. In this case, you'll be dealing with two funeral homes -- one on each end of the journey. The first home charges a "forwarding" fee, for embalming and transportation. The mortuary that handles the funeral will charge its usual fees.
Cremation. Some Americans choose cremation instead of burial. Because cremations can be so much simpler, they tend to cost a lot less. This isn't necessarily good for the funeral business, which would like you to spend a lot more. Thus, you'll be offered elaborate and expensive urns, even cremation jewelry, such as a pendant that holds the ashes of a loved one. Be careful or before you know it, you'll be spending almost as much as you would for a traditional burial service.
You can get a reading on funeral-home prices in your area from one of the more than 150 memorial societies in the U.S. and Canada. Many regularly survey local funeral-home prices and distribute the results. Some even negotiate discounted prices with certain funeral homes. If you contact a funeral home directly, you're entitled to receive a general price list disclosing the professional service fee and charges for all services provided.
The Cost of Burial
For a realistic idea of what a funeral costs, you must include burial fees that will vary depending on the type of burial-in-ground burial, interment in a lawn crypt, or entombment in a mausoleum.
The plot. The cost ranges from little or nothing in a community or church cemetery to in the thousands at a for-profit cemetery.
Digging the grave. You'll pay to open and close the grave, and the cost will vary depending on the time and day. A burial between 9 am and 3 pm on weekdays is the cheapest. Burial after 3 pm could cost twice as much, and a weekend funeral could cost three times the weekday morning rate.
Reinforcing the grave. Most cemeteries require a concrete vault or grave liner to prevent the ground from settling. You may have no choice about this, but you needn't buy an expensive one. It does nothing for your loved one, and no one will see it. A simple concrete grave liner will do.
The headstone. If you're determined to get a first-class funeral, spend the money on the headstone, rather than on the casket. For the best price, buy the stone directly from the monument company.
Crypt in mausoleum (single). The cost will vary depending on the location of the crypt in the mausoleum building. Savings come primarily from what you won't have to buy -- plot, sealer, burial vault, headstone, and grave opening and closing fees.