7 Good Stocks Yielding 5% or More
The dividend yield of the U.S.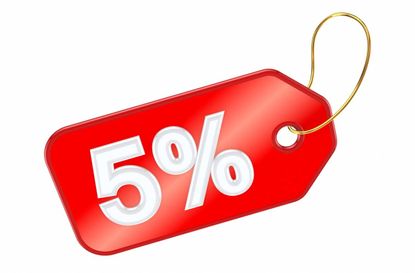 (Image credit: Thinkstock)
The dividend yield of the U.S. stock market today is 2.0%. But plenty of companies pay a lot more. We wondered if we could find attractive stocks that yield at least 5%—two and a half times the overall market's yield.
We found seven, but before we identify them, here's a brief explanation of why a high yield may not always be all it's cracked up to be. Yield is basically a stock's annual dividend rate divided by its share price. So if a stock pays a 50-cent-per-share quarterly dividend, the annual rate is $2 per share. If the stock trades for $50, the yield is $2 divided by $50, or 4.0%.
SEE ALSO: 12 Stocks to Earn Dividends Every Month
A dividend yield can climb if a company boosts its payout. The yield can also rise if the share price falls. In fact, an ultra-high yield due to a plunging stock price may signal that a company is in trouble and that it may have to cut, or even eliminate, the dividend. But a high yield can spell opportunity when a troubled company is on the cusp of a rebound. Find those businesses that are about to snap back and you stand to benefit not only from a hefty payout but from stock-price appreciation, too.
The following seven stocks fit that bill, with yields of 5% or more. Just as important, each of the companies generates enough free cash flow—the cash profits left after the capital expenditures needed to maintain a business—or soon will produce enough free cash to cover the payouts, reducing the chance of a dividend cut.
Stocks are listed in alphabetical order. All prices, yields and returns are as of November 12. Price-earnings ratios are based on estimated 2016 earnings.
Contributing Writer, Kiplinger's Personal Finance
Carolyn Bigda has been writing about personal finance for more than nine years. Previously, she wrote for Money, and is a regular contributor to the Chicago Tribune.