10 Great Colleges Where Your Kid Can Graduate in 4 Years or Less
A strong four-year grad rate is perhaps the single best measure of a college's quality and affordability.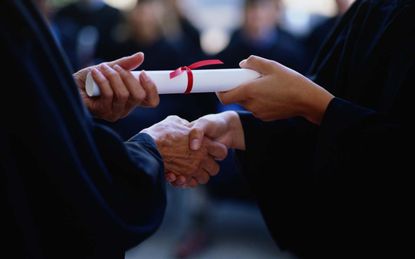 (Image credit: Thinkstock)
A strong four-year grad rate is perhaps the single best measure of a college's quality and affordability. Not only does it demonstrate a college's ability to provide the resources and support that students need to complete their coursework in four years, but it also means that students and parents are spared a fifth or sixth year of college costs. Students can start building a career and earning money instead of paying tuition and potentially racking up more debt.
Of the 300 public and private colleges on our best values list, these 10 schools post the highest four-year graduation rates. Sharing the top honor are Carleton College and Georgetown University, both of which have a graduation rate of 91%. By comparison, the national average for both public and private schools even after six years is only 59%, according to the most recent data from the U.S. Department of Education.
Four private universities and six private liberal arts colleges make it into our top 10 list. (The University of Virginia tops all public schools, with a graduation rate of 87.4%—about two percentage points lower than the 10th school on our list, Harvey Mudd College.) Not surprisingly, these 10 schools have consistently ranked high on our best-value list, thanks in part for their high freshmen-retention rates (the lowest rate in our top 10 is 94%), low student-faculty ratios (ranging from 6 to 1 to 11 to 1) and small classes—all indicators of a supportive academic environment. For most of our top 10 schools, a high percentage of students also live on campus, forging a close-knit community where students can interact with their peers and professors. Take a look.
Reporter, Kiplinger's Personal Finance
Dandan joined Kiplinger in June 2015. She fact-checks and writes articles for Kiplinger's Personal Finance magazine and Kiplinger.com. Previously, she interned at The New York Times in Shanghai and CCTV-AMERICA in D.C. She earned an MA in journalism from the University of Missouri.