8 Everyday Things That Refuse to Die
Ever reached in your pocket and wondered why you're still carrying around pennies?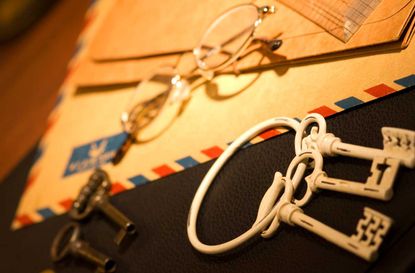 (Image credit: Thinkstock)
Ever reached in your pocket and wondered why you're still carrying around pennies? Why have phone booths disappeared but not parking meters? Welcome to the world of the hangers-on in everyday life, the persistent products and services that seem to resist change. Here are eight, with the backstories of why technology and social change haven't killed them off—yet. Have a look:
1/8
Parking Meters
Along with the pay phone and a cup of coffee, the parking meter was once one of the main reasons people carried around coins. The pay phone is gone, and a regular coffee now costs two bucks a cup, but meters are still standing on their stanchions, awaiting your quarters, in cities and towns across America.
New technologies are nibbling at the meter base: Many municipalities have installed machines (usually one per block) that let parkers buy a slip of paper to display on their windshield. Systems such as MobileNOW and Pango, which allow parkers to pay for parking by cell phone, are being enabled all over the country. Some experts see a future where the GPS in your car will link up with a municipal parking network, let you know where a spot is available nearby, and allow you to pay for it, all at once.
But don't wave good-bye to Rita the meter maid yet; parking meters still have decades left on many streets and lots. For one thing, meter makers have introduced innovations of their own, such as new tops that accept credit cards, are powered by the sun and can relay through wireless connections to parking authorities how often spots are being used.
Plus, there's a familiarity factor, says Casey Jones, a former chairman of the International Parking Institute. A city that has used meters in one place is likely to stick with that technology even when adding new metered spaces.
2/8
The Cassette Tape
In the beginning, there was the LP record. When the compact disc arrived, many forecast the LP's demise. It never happened; there's still a vigorous niche market for vinyl, even in the era of streamed downloads.
In between those two technologies came the cassette. Remember those rattly little plastic boxes full of tape? They were designed for dictation but pressed into service to deliver music to millions, particularly during the 1980s, when they were the only way to take tunes with you, whether in a Walkman, boombox or in your car's tape deck.
They're still around, actually. And not just as a last-gasp way to hear music when borrowing Granny's Buick Century. New music is being released on cassettes, kept alive by punk rockers, lo-fi artists and their labels. Sale numbers are generally small — a few hundred here and there for many promoters, although Burger Records, a Fullerton, Calif.-based label, estimates that it has sold upward of 300,000 tapes over the last eight years.
Cassette culture today thrives on the medium's low production cost—at least compared with vinyl records. And being able to hold music right in your hand can also be a revelation to younger generations, for whom music is something you get online. "It's just something great to walk away from a show with," says Matt Stuttler, a St. Louis musician, publisher and producer who puts out cassettes under the label Eat Tapes. "A stack of cassettes is a reminder of specific shows, and they're a whole lot cooler to look at than a few loose scraps of download cards."
See Also: 3 Cars You Can Drive Forever
3/8
Ethanol-based Flex Fuel
You may have seen E85 fuel at the pump—it's the one with the yellow nozzle. Perhaps you've been tempted by a price per gallon that's lower, sometimes much lower, than unleaded. Maybe you've even bought some, if you owned one of the millions of cars in North America capable of running on "flex fuel."
E85, a blend of mostly ethanol (a type of alcohol) with a just a splash of gasoline, is one of a number of efforts by farmers (and the federal government, among others) to get you burning more corn in your car. (Oil companies are opposed—it's one of those classic Washington battles).
Here's the hitch: Running your car on E85 usually means a 15% to 30% mileage penalty, since ethanol produces less energy than petroleum gasoline. If the price discount isn't bigger than the loss of fuel mileage, you're probably spending more. The plummeting price of petroleum is making it harder and harder to find a discount that makes economic sense.
So why does E85 continue to sell? Enough folks like the up-front discount but aren't doing the math. The National Association of Convenience Stores dug deep into the prospects for E85 in a study last year. Among their conclusions: "Consumers are focused on the absolute price differential, not the percent change, and that price discount need not be equal to the energy differential."
Or, as one analyst of the renewable fuels market gently put it, "The consumer is a strange animal."
4/8
The Penny
A penny for your thoughts isn't much of a bargain these days. Not only is a penny worth less than ever thanks to inflation, but the cost of minting each Lincoln has been more than its face value for almost a decade.
Canada, Australia, New Zealand and other countries have deep-sixed their smallest coin, but the U.S. penny endures, as the U.S. Mint continues to churn out millions per year to replace the coins vanishing into change jars, vacuum cleaner bags and your car's floorboards.
Noted economists and the editorial pages of major national newspapers and journals continue to call for the penny's retirement. Even President Obama has said he's open to that. But it has been years since anyone in Congress made a bid to kill the penny. One reason: While penny opponents are a diverse bunch, one group that's deeply interested in its continuance is the zinc industry (a penny is actually 97.5% zinc and only 2.5% copper). And yes, Washington has a penny lobby, in the form of Americans for Common Cents (which is largely funded by zinc manufacturers).
But it's not just lobbyists. As an article in the Harvard Political Review put it, Americans' "general apathy and resistance to change" is also keeping the penny around.
5/8
The Fax Machine
Ask not for whom the fax machine whirrs—it whirrs for thee. With e-mail, file-sharing, cloud services, collaborative office applications and more, who's still using fax machines?
Folks (such as lawyers and real estate agents) who want your actual signature, for starters. Then there are offices communicating with far-flung branches that don't have broadband, as well as mom-and-pop businesses. Finally, there are "non-technical users," which Ross Rubin, principal analyst at Reticle Research, defines as people for whom sticking a sheet of paper in the fax and dialing a phone number is easier than scanning that document and attaching it to an e-mail.
The Consumer Electronics Association stopped measuring the sales of stand-alone fax machines in 2013, but that year, it estimated that 456,000 of them sold at about $100 each. That spells tweet-tweedle-tweet sounds for some time to come. What will eventually do in the fax (which is now over 50 years old)? Rubin thinks the smartphone will finish the job that e-mail started, with apps that let you sign documents using the phone's touch screen and your finger.
6/8
The Paper Check
We now have credit cards, debit cards, prepaid cards, PayPal, ApplePay, Venmo, Bitcoin and who knows what else. But the woman ahead of you in the grocery store checkout line just pulled out her checkbook!
Electronic means have displaced checks as the primary alternative to cash, particularly among businesses paying consumers (automatic deposit for paychecks, for example.) But Americans cling to their checkbooks, more than in other developed nations.
Just as there are early adopters of new ways to pay, there are resisters. For businesses, the ability to delay payment for a day or two while the check is in the mail is an opportunity to make money on the interest—the "float."
And for consumers? "Old habits die hard," says Gareth Lodge, a senior analyst with Celent, a research consultancy. Plus, he notes, "some of the alternatives aren't really alternatives. Can you imagine your grandmother using PayPal? Can you use Venmo to pay your utility provider? Can you use Bitcoins at Walgreens? All of them will take checks."
7/8
The Yellow Pages
Marketing experts have been predicting the imminent death of yellow pages directories for a decade now. But the books seem to keep landing on your driveway/in your mailroom/on your doorstep, right? They're thinner and often dominated by ads for personal injury attorneys, but still they come.
What's going on? The digital delivery systems that were supposed to replace the printed book are still quite fragmented and confusing to many. Plus, not everyone has a smartphone or laptop at hand when the pipes are leaking and a plumber is needed fast. Finally, there's deep loyalty among small service-based businesses for whom the yellow pages have historically performed very well.
Someday, yellow books will go out of print. "No one's really arguing about the trend anymore," says Charles Laughlin, senior vice president at BIA/Kelsey, an analytical firm that follows the industry. Laughlin forecasts annual double-digit declines in ad-page revenues. Still, he adds, "it's not gone yet. [The Yellow Pages] is resilient, and its value is somewhat understated."
8/8
The CB Radio
The citizens band radio (CB) was one of the biggest fads of the 1970s, when millions of people around the country hopped onto the airwaves while driving to chat with truckers and others about road conditions (and traffic enforcement). Movies and TV shows such as "Smokey and the Bandit," "BJ and the Bear" and "Convoy" glorified the medium.
The dilettantes faded away, of course, and a number of technologies have taken bites out of CB's relevance: GPS navigation, big trucking companies' satellite networks and, of course, the cell phone.
But you can still pick up a CB radio online (or better yet, at a truck stop) and join the chatter on channel 19. The technology is still popular with truckers, who face considerable cell phone dead zones as they travel across the country. And preppers—people who are making plans to survive a breakdown in society—are buying them along with batteries and freeze-dried food. Unlike a cell phone, the CB radio requires no towers or network that could go down if the you-know-what hits the fan.
Senior Online Editor, Kiplinger.com
In his current role as Senior Online Editor, David edits and writes a wide range of content for Kiplinger.com. With more than 20 years of experience with Kiplinger, he has worked on and written for a range of its publications, including The Kiplinger Letter and Kiplinger's Personal Finance magazine. He is a co-host of Your Money's Worth, Kiplinger's podcast and has helped develop the Economic Forecasts feature.