8 Products That Soon May Cost More Due to Trump's Tariffs
The 25% tariff that the United States imposed on July 16 on $34 billion of imports from China (with $16 billion more to come, likely in August) touches nearly every corner of American consumers' lives.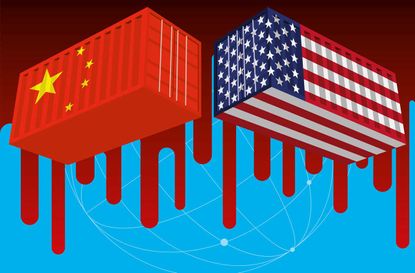 (Image credit: Getty Images)
The 25% tariff that the United States imposed on July 16 on $34 billion of imports from China (with $16 billion more to come, likely in August) touches nearly every corner of American consumers' lives. Why? Because it's effectively a tax that represents a cost to U.S. producers, wholesalers and retailers. Sooner or later, it gets passed on to consumers in the form of higher sticker prices for everything from an X-ray to a new car. The only real question is how quickly it happens.
Companies that import their products have limited choices: absorb the extra cost of the tariff, increase selling prices immediately, shift production to other countries or do some combination of the three.
Initially, expect a relatively limited impact on consumers because companies will hold the line on prices while they monitor what action competitors take. Plus, the Trump administration excluded some higher-volume goods when it was drawing up lists of Chinese products to target with tariffs. For example, it left off some high-profile consumer goods such as flat-screen TVs, so they shouldn't go up in price.
Don't expect the pain of higher prices to be over quickly. There's another round of tariffs — 10% this time — coming on thousands more imported items from China. They won't take effect for another two months. But when they do, they'll affect a huge range of goods that consumers and retailers buy and use on a near-daily basis, from automobile tires, spark plugs and windshield wipers to handbags, batteries and furniture. So brace for successive rounds of price rises on a steadily growing range of imported goods, for much of the rest of the year.
Here are eight product categories that soon may put a bigger dent in your budget:
1/8
Cars
Anything made with steel and aluminum will cost more because of the 25% tariff on imported steel and the 10% tariff on aluminum.
Relatively few cars are imported from China, but General Motors does import the Buick Envision crossover from there. GM will likely raise the consumer price but isn't yet saying by how much.
It will cost more to keep your car in top shape. A tariff of 10% is being added to Chinese-made parts, so expect to see auto parts stores impose an increase of about 10% for a new battery or spark plugs. Automobile dealers will pay more, too, so they'll pass that on to car owners and tack some extra on top of it.
The most significant impact on car prices will occur if President Trump follows through on threats to impose 20%-25% tariffs on European Union-made vehicles because of the EU's 10% tariff on American-made cars. A U.S. tariff would likely cause prices for imported brands such as Mercedes-Benz to go up by about $5,800, according to industry estimates.
Ford Motor Co. now substitutes greater amounts of aluminum for steel in its best-selling F-150 pickup, aiming for less weight and increased rust resistance, but don't expect its sticker price to soar. Like all the automakers, Ford likely has aluminum stockpiled and prices negotiated well into the future. The longer a trade war lasts, though, the more inevitable it is that a price increase will show up on dealers' lots.
2/8
Beer, Soda, Soup… and Candy, Too
Most aluminum used to make beverage cans is imported, and so is much of the tinplate steel in items like soup cans. The Beer Institute warns that the 10% aluminum tariff amounts to a $347-million tax. That likely means beer prices will go up, at least modestly, by something like 20-25 cents on a case of 24 cans. A similar scheme with soup and soda…a few cents per can.
Beermakers have raised much more vocal opposition to the tariffs than food producers — possibly because summer is a peak sales period.
Don't forget that popular confectionery items like candy bars could also be affected. The Hershey Co. wraps its candy kisses in aluminum foil, for example, so soon enough you may pay another nickel on a candy bar.
3/8
Meat and Produce
For farmers, the tariffs are going to hurt…on multiple levels.
China is a significant producer of farm machinery, from dairy equipment to poultry incubators, which will go up in cost by something close to the 25% tariff. More significant, China's retaliation for U.S. tariffs included penalizing imports of U.S. food crops, notably soybeans. Since China is the destination for more than half of the U.S. soybean crop, it means they are less competitive in China's markets, and therefore sales are likely to fall off.
So American farmers are pinched on both ends — the products that they buy from China will go up in price, and their crops will likely be less in demand in Chinese markets. The U.S. Farm Bureau strongly opposed tariffs because of the adverse impact they already are having on commodity futures prices, an extra blow when farmers are facing the prospect of higher interest rates.
In the longer term, expect a modest hit to your grocery bill because farm operators will have to try to recover some of their lost income and rising costs. But it won't happen immediately, and there may even be temporarily lower prices for a few items. For example, Mexico is imposing a 20% retaliatory tariff on U.S. pork exports, and that is likely to mean that sales to Mexico will suffer. If more pork stays in U.S. markets, prices will fall to move it. It's a temporary gain, though, because the net result will almost certainly be reduced U.S. production — followed by rising prices on store shelves.
4/8
Health Care
Many types of Chinese-made medical equipment have been targeted by the Trump administration for tariffs, including CT scanners, EKG machines and X-ray tubes. The result: Not only will purchase costs to American buyers go up, but potentially so will medical costs for U.S. consumers.
This is one area where the Trump administration compromised, however, by scaling back its original plans for the range of imports it is penalizing. Still, prices for pacemakers, ultrasound equipment and other gear will rise, and so will prices for associated services, likely by an amount close to the 25% tariff.
Several U.S. companies have factories in China that make orthopedic devices, such as those used in hip replacements. Those products shipped from China to the United States would face tariffs, which would likely end up pushing American recipients' costs up (though it is hard to gauge by how much).
5/8
Washing Machines
Last January, the Trump administration targeted South Korean-made washing machines for tariffs of 20% to 50%, and what has happened to their prices may be a guideline for products now being targeted for 25% penalties. Since the start of the year, an imported washing machine costs about 20% more than it did previously. Sellers have passed on a good chunk of the extra cost to consumers, but they've also absorbed a portion of it.
6/8
Solar Panels
It's a similar story for the solar industry, an early target for trade protection.
Tariff increases for Chinese-made solar panels — 30% in 2017 and lower rates over several more years — now add $500 to $1,000 to costs for a typical home installation project, which generally run around $16,000-$20,000, according to the Solar Energy Industries Association.
7/8
Small Appliances
Unlike flat-screen TVs, items such as water coolers, minifridges, thermostats and air purifiers are on the tariffs list, and buyers should expect to see their prices go up as soon as this month — by as much as 25% if businesses pass on the full cost.
8/8
Shoes
Need some new sneakers? You're in luck — for the moment. The shoe industry was exempted from the latest round of tariffs, though that doesn't necessarily leave industry participants breathing easy. China is the largest producer of footwear imported into the United States, so if the trade war escalates to include another round of tariffs, look out.
A likely reason for the exemption: The majority of the tariffs are aimed at higher-value-added industries in which China is considered to be pushing for dominance. Footwear is more labor-intensive, and in any case, major participants like Nike are increasingly shifting production to lower-cost Asian nations, including Vietnam.