10 Must-Read 2019 Forecasts from the Kiplinger Letter
What's ahead for 2019? The Kiplinger Letter has 10 key forecasts.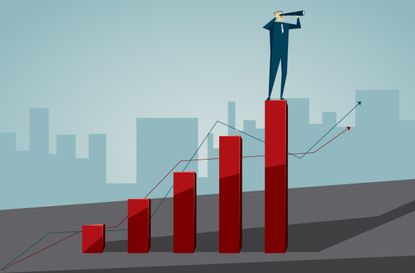 (Image credit: Thinkstock)
The Kiplinger Letter's annual outlook reveals what to expect from the U.S. economy, the Trump administration, tax reform efforts, energy prices, the stock market and more.
In what promises to be an eventful 2019, here are 10 big trends and stories to watch.
1/10
The Economy: Growth Will Slow
The U.S. economy will keep growing. But the pace is clearly starting to slacken as the boost from last year's tax cuts starts to fade and the slowing global economy weighs on the U.S.
Figure on GDP growth of 2.5% or so, a noticeable step down from 2018's 2.9% rate. And the economy could flag by year-end. Don't be surprised if growth in the fourth quarter slips below 2%. With so few workers to hire, firms will be hard-pressed to increase their output much unless they can figure out how to get more efficient with their existing workforces, a challenge lately. Look for the jobless rate to fall to a slender 3.4%.
2/10
Interest Rates: Two More Hikes in 2019
We expect the Federal Reserve to raise rates twice over the course of 2019, taking the bank prime rate to 6% by December.
Long-term rates are a different story, though. They may rise in the middle of the year before pulling back by the end of 2019 to near 3%, not much higher than now. Investors who are worried about an economic slowdown or recession in 2020 or 2021 (a reasonable concern, in our opinion) will buy up Treasuries as a safe haven, which will keep yields fairly low. Rate hikes and slowing growth will keep inflation muted at 2.3% in 2019.
PODCAST: Interest Rates ... and YOU!
3/10
At the Fed: Powell to Remain
Federal Reserve Chairman Jerome Powell isn't going anywhere, despite rumblings that President Donald Trump is unhappy with the Fed's rate hikes and would like to replace him.
White House officials know that axing Powell would send markets into turmoil. They've been busy lately signaling that Trump won't try to oust him. There'll be several new faces at the Fed, but no real change in its policy.
4/10
Stocks: The Bears Are Grumbling
The stock market will remain jumpy, and gains will be hard to come by. With corporate earnings set to grow by just 7%, after 23% last year, stock investors will have less reason to bid up shares.
And they'll have plenty of cause for anxiety, from uncertainty on the trade front to the risk of a messy divorce between Britain and the European Union. Meanwhile, the rise of computerized trading could result in amplified market rallies and routs. Late December's volatility provided an early preview. Markets may claw a bit higher in 2019. But the downside risks are growing.
5/10
Housing: Gains for New Home Sales, But Not Existing Homes
2019 will be a mixed bag for the housing market. Sales of new homes should grow by a modest 2% as builders react to slowing home demand. However, sales of existing homes figure to dip — rising prices and mortgage rates are bad newsfor would-be buyers, who are finding themselves increasingly priced out of the market. Expect inventories to stay lean and home prices to rise 3%, versus 2018's 5.2%.
6/10
Congress: More Republicans Will Bail
Look for another mass Republican exodus from Capitol Hill this Congress. The 115th Congress set a record for GOP retirements and resignations from the House. Now in the minority, members have even less incentive to stick around.
GOP elation over taking full control of Washington in 2017 quickly turned into public infighting. Republicans' inability to reach internal consensus stalled action on every major issue, save tax cuts, prompting many to seek other offices. Discomfort with President Trump drove many moderates to early retirement. Those dynamics won't change before 2021. Traditional Republicans will leave the Senate, Tennessee's Lamar Alexander being the first.
7/10
On the Hill: Even Less Pushback for Trump
Trump will find more allies among remaining and new GOP lawmakers. The number of his critics has dramatically decreased, some replaced by vocal supporters, particularly in the Senate. Many newcomers embraced him on the campaign trail.
The House's new top Republican, Kevin McCarthy (R-CA), is a staunch Trump ally, unlike his predecessor, empowering Trump loyalists whom ex-Speaker Paul Ryan sidelined as much as possible. Though fewer in number, Republicans will be more unified this Congress.
8/10
Trump's Foreign Policy: "I Alone"
Trump will keep his own counsel even more as he replaces top officials willing to counter him with ones who share his positions, especially on trade and defense.
Despite the protests of his national security team, Trump ordered the withdrawal of all U.S. troops stationed in Syria and half of those in Afghanistan. It's possible that others the president listens to will talk him down; Sen. Lindsey Graham (R-SC) is encouraging Trump to at least delay the announced withdrawal. And the Pentagon could slow-walk orders with which the military brass and civilian leaders disagree. But Trump read even the midterm results as license to defy most conventional wisdom.
9/10
Banking: New Contenders Seek Entry
2019 could see an all-mobile financial service provider become a bank. The Office of the Comptroller of the Currency started taking applications last summer for national bank charters intended for financial technology, or fintech, companies. But states are suing to block the OCC.
In the meantime, a Silicon Valley start-up, Varo Money, has applied for a regular bank charter. It must clear two more hurdles before becoming the first app-based bank: Federal Deposit Insurance Corp. coverage and acceptance into the Federal Reserve system, the latter being the biggest barrier. Two other mobile-based firms have sought state-based industrial bank charters: Lender SoFi and payment processor Square applied to Utah, though SoFi withdrew. Both would accept deposits. (The special OCC charter is open to nondepository firms.)
The U.S. has granted only 11 new banking charters of any kind since 2009. If any of the fintechs succeed, it could ignite bank expansion after years of contraction.
10/10
Cybersecurity: New Threats to the Connected Home
Smart speakers will become hackers' top targets. The virtual assistants, led by Amazon, have invaded American living rooms.
At about two-thirds market share, the e-commerce giant's Alexa device is most common. In 2018, 74 million Americans used some type of web-connected voice gizmo as an alarm clock, stock ticker or radio. The devices' ubiquity and access to other systems make them attractive bait. Their newness also means they undoubtedly have unknown exploitable weaknesses.
Attackers will try to steal data — but they also want to hijack other smart-home gadgets, which they can use to launch denial-of-service attacks on any website, for example. Hackers flood an official site with traffic until it crashes or has to be taken offline. They then demand ransom in exchange for backing off. Criminals will write malware to target smart-home tech, using Alexa as a gateway into any wired device in a household.
Manufacturers will race to plug holes, eradicate bugs and shore up defenses. Smartphones will also come under attack. Hackers will try to pick the locks on smart homes through them. Expect mobile phishing: fake social media messages, e-mails and texts luring people into sharing their home network and device passwords, letting hackers turn off everything from home security alarm systems to thermostats.