11 Key Political and Economic Forecasts for 2018
Forecasting the future is no easy task.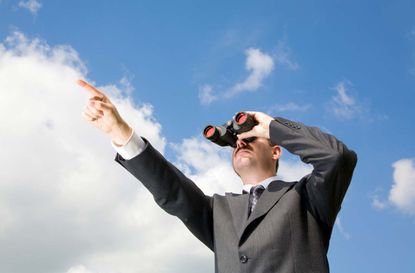 (Image credit: Thinkstock)
Forecasting the future is no easy task. Kiplinger reporters and editors dig deep, leaning on experts in academia and the private sector. We tap our sources in government to understand how regulations will affect emerging technology. Moreover, we look at past and present trends and apply careful, considered judgment to forecast and analyze coming developments.
To help with your decisionmaking in 2018, here are 11 major developments to look for in the new year
1/11
A Good Year for the Economy
We see 2.9% GDP growth in 2018, the best pace since 2015. Business investment, rising inventories and brisk home building will be the biggest drivers. Lofty stock and home prices will have consumers feeling good about their finances and ready to spend, and tax cuts will spur some additional spending, as well.
Some economic headwinds remain, though, Chief among them: Constrained government spending, which won't add much to GDP growth this year, and a continuing slowdown in auto sales, which peaked in 2016 after notching seven straight years of gains. And higher interest rates, which will crimp borrowing.
2/11
A Smooth Transition at the Federal Reserve
Despite lots of new faces at the Federal Reserve, we see no real change in monetary policy. In addition to Jerome Powell, who will take over as Fed chairman in February from Janet Yellen, there will be a new vice chairman and a new president of the Federal Reserve Bank of New York, the second- and third-highest slots at the central bank, by midyear.
Inflation will remain largely contained, with prices logging a gain of 2.1% over the course of 2018, driven largely by increases in services, such as medical care.
3/11
More Jobs Will Go Wanting
Businesses can expect worsening labor shortages. Already down to 4.1%, the jobless rate will fall even further, to 3.8%. And it won't be just skilled workers who are in short supply. Even relatively low-skill work in retail, food service and such will go begging. Part-timers will be scarce, too, as many of them find full-time jobs.
Scarcer workers points to bigger pay raises in 2018. By the end of the year, wages will be rising by an average clip of 3%, versus the current average rate of 2.5%.
4/11
The Bull Market Will Continue
2018 should see further stock market gains, though not as hefty as in 2017, when the Standard & Poor's 500-stock index notched a 22% rise. This year, investors should expect more-modest increases, accompanied by more volatility than last year. Overseas stocks stand to outpace U.S. shares. Accelerating global growth bodes well for European companies and emerging-market economies, such as India. Bond investors should stick to shorter-maturity issues amid rising interest rates.
5/11
So Long, Speaker Ryan
Speaker of the House Paul Ryan (R-WI) will resign his seat by year-end. Ryan never wanted to be speaker in the first place and hasn't enjoyed it. Partisan rancor has made legislating difficult, and the polarization only stands to grow stronger after the 2018 midterm elections. The GOP either will be left with a slimmer majority, making Ryan's job of corralling votes even harder, or it'll end up in the minority if the Democrats win enough seats to put Nancy Pelosi (D-CA) in charge.
Either way, Ryan will quit after being reelected in November, triggering a special election to replace him. The Republican most likely to become speaker if the GOP holds the majority: Rep. Steve Scalise of Louisiana. Scalise is a savvy politician and well-respected among Republicans. His near-assassination on a baseball field last June will make him the sentimental favorite to be elevated from his current role as House majority whip.
6/11
Bitcoin and Other Cryptocurrencies Get Their Wings Trimmed
2018 is the year that governments plan to crack down on cryptocurrencies. The dizzying price gains of bitcoin and other currencies have caught the attention of investors large and small. Now, regulators are warning about their inherent risks, or are banning them. China has been the most aggressive so far. In 2018, a number of European countries and South Korea will follow suit. (Uncle Sam is moving slowly.)
The rules will vary by country. Some nations aim to discourage their citizens from using digital currencies entirely, while others want to create legal frameworks that protect investors and combat fraud without stifling technical innovations.
7/11
More Sabre Rattling from North Korea
Expect North Korea to stage another provocative missile or nuclear test, or both. Although Pyongyang says it is already a full-fledged nuclear power, experts in the U.S. think the regime needs to further fine-tune its missiles and warheads. The North has been talking with South Korea lately in a bid to improve relations. It's a hopeful sign but odds are Pyongyang will revert to threats as the year progresses. War is unlikely. But when tensions escalate, so do the risks of an incident.
8/11
Russia Will Tone It Down
After a year in which Russia became the bogeyman of U.S. politics, expect the Kremlin to adopt a less aggressive posture toward the U.S. Moscow's attempts to meddle in the 2016 presidential election have backfired, because the scrutiny of them has led Congress to toughen sanctions on Russia. The White House has also taken a harder line on Russia, especially with its move to send potent weaponry to Ukraine as it faces a Russia-backed insurgency. As a result, Moscow won't try much monkey business in the 2018 midterms.
Russian President Vladimir Putin has little choice. His government is underfunded and his foreign adventures in Ukraine and the Middle East have incurred high costs, both in money and in troop casualties. Most Russians still back Putin, the longest-tenured Russian ruler since Stalin, but they are tired of the drain his aggressive foreign policy is putting on an already weak economy. Putin needs to shore up domestic support before his inevitable reelection later this year. He'll be certain to rig the vote to ensure he wins a fourth term, even as he looks around for an eventual successor he can hand over power to.
U.S.-Russia relations won't thaw much, though. Putin will continue his aid to regimes unfriendly to Washington, such as Syria and North Korea. Russian jets will no doubt continue buzzing close to American planes in places like Syria. And Russia may threaten eastern Europe if the U.S. sends more forces there.
9/11
Virtual Reality Takes Hold
Look for a surge in business uses for augmented reality during 2018. A big reason: A new headset from start-up Magic Leap. It will soon be ready for software developers, giving techies a first taste of the future of advanced lenses that overlay digital animations and images onto real-world settings. Magic Leap has new tech that promises to wow users of its first-edition headset.
Meanwhile, Microsoft is likely to announce updates to its impressive HoloLens AR goggles. Businesses are already kicking the tires on AR goggles. Vuzix AR glasses, for instance, are helping warehouse workers find and pack items more efficiently.
10/11
New Speed, Coverage from 5G
Expect commercial 5G cell networks to start connecting customers. Verizon will offer its first 5G wireless service in a few markets, using wireless signals that travel short distances to beam superfast broadband to up to 30 million homes outside its fiber-optic network. That will save Verizon a bundle on installation costs.
AT&T, meanwhile, is continuing to test wireless 5G antennas mounted on power lines. Early 5G applications will pave the way for broad rollouts by 2020 or so, promising a major increase in speed and data capacity for wireless users everywhere.
11/11
An Entirely New Look for Sports TV
A radical redesign of sports TV broadcasts will be a hit with young fans. The NBA is leading the way by recently starting to use the online gaming site Twitch to change the look of games. Viewers will be in control of the action with new apps that sport interactive features, real-time data, social media feeds and much more.
Eventually, fans will pick their favorite play-by-play announcer, pause the action for different angles of slow-motion replay, and track player news and health data. The NBA is starting with minor league games. But regular games are coming soon. The "gamification" of televised sports will give a jolt to flagging ratings and help renew interest for young and old fans alike. Pressure will quickly build for other sports leagues to follow the NBA and give viewers more bells and whistles.