5 Ways You Might Be Slacking at the Office
Substandard performance rarely happens by accident.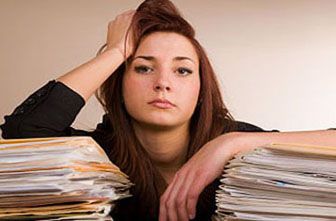 Substandard performance rarely happens by accident. Employees usually decide when and how to slack off or withhold their best efforts.
In some cases, workers underperform for not-so-obvious reasons, such as lacking technical skills or health ailments. Whatever the causes, what's most important is how the manager responds.
Here are five common characteristics of underperforming workers and how managers can help lead them to a more productive path.
1/6
1: The Apathetic Worker
Employees who lack a connection to their work leave clues. The attentive manager quickly notices these clues and takes action to re-engage the worker.
Examples of an apathetic worker can include: 1) An idea maven who begins to offer fewer suggestions to improve the operation. 2) A beyond-the-call-of-duty worker who shows less willingness to take on extra assignments. 3) A vocal worker who suddenly starts to clam up at meetings.
Managers, take note: Remain attentive to changes in baseline behavior. If you're on the lookout for even slight declines in an employee's enthusiasm, you can intervene and learn more before it's too late.
2/6
2: The Employee Who Lacks Core Skills
When filling a job opening, a manager may overlook the importance of a newcomer's actual skill level, in an effort to quickly fill the position.
Prevent misunderstandings about a worker's job expectations by defining the required skill set with clarity and precision. If a manager is too vague, newcomers may wind up ill equipped to manage the workload because they're mismatched to perform the job.
Managers, take note: Direct employees to the appropriate resources to help fill in training gaps: 1) Provide self-study modules or online training. 2) Create a mentoring relationship among your staff. 3) Encourage and fund formal learning opportunities for employees.
3/6
3: The Disconnected Worker
Employees are more likely to reach their potential when they know that they make a difference. However, when they feel isolated or conclude their efforts are just "busy work," they'll give themselves permission to slack off.
Managers, take note: Communicate the significance of employees' contributions through both words and deeds.
In addition to singing their praises, managers should couple comments with actions: Generate a spreadsheet that shows cost savings as a result of your employees' initiatives, updating them on your unit's financial results. Doing this enables workers to see evidence of their impact.
4/6
4: The Employee With No Accountability
It can happen in an instant. Employees who perform adequately and work hard to meet standards suddenly realize no one is minding the store. Whether or not they deliver a solid performance, no one will notice.
Workers are less likely to hit peak productivity, if they know they can propose ideas without following through.
Managers, take note: Here's how to help get employees back on track. 1) Clarify job expectations. 2) Make sure the employee understands those expectations. 3) Measure performance on a regular basis. 4) Explain consequences for not following through. 5) After a performance review, follow-up with the employee by showing interest in their work and offering constructive input.
5/6
5: The Worker Distracted by Personal Problems
Employees who are preoccupied with problems in their personal lives may lose focus and concentration. As a manager, one cannot diagnose psychological issues that may afflict their workers.
The manager-employee relationship comes with certain boundaries -- and this is one that shouldn't be crossed.
Instead, managers should use a three-part strategy to help guide a troubled worker: 1) Resist diagnosing problems or giving advice. 2) Refer the person to the appropriate resources and counseling. 3) Conclude by addressing the consequences of continued underperformance and the need to improve within a set timeframe.
6/6