SIMPLE IRA Contribution Limits for 2022
The maximum amount workers at small businesses can contribute to a SIMPLE IRA increased by $500 for 2022.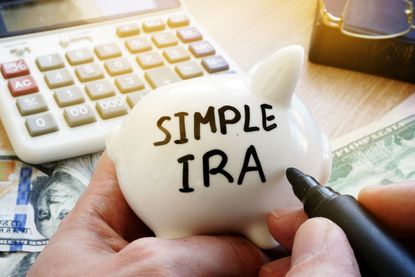 (Image credit: Getty Images)
A SIMPLE IRA is a retirement plan designed for self-employed people and small businesses with 100 or fewer employees. It's a cheaper (and easier) plan for an employer to set up compared to a traditional 401(k). However, the amount a worker can save in a SIMPLE IRA is less than a 401(k).
2022 SIMPLE IRA Contribution Limits
For 2022, the annual contribution limit for SIMPLE IRAs is $14,000, up from $13,500 in 2021. Workers age 50 or older can make additional catch-up contributions of $3,000, for a total of $17,000. The contribution limits are the same if you're self-employed.
By comparison, workers younger than 50 can salt away as much as $20,500 in a traditional 401(k) for 2022, plus another $6,500 if they're 50-plus.
Subscribe to Kiplinger's Personal Finance
Be a smarter, better informed investor.
Save up to 74%
Sign up for Kiplinger's Free E-Newsletters
Profit and prosper with the best of expert advice on investing, taxes, retirement, personal finance and more - straight to your e-mail.
Profit and prosper with the best of expert advice - straight to your e-mail.
Employee contributions to a SIMPLE IRA are made on a pretax basis, which lowers taxable income. The invested money grows tax-sheltered until you withdraw it in retirement, when those distributions are taxed as ordinary income.
If you pull money out before age 59 1/2, you face a 10% early-withdrawal penalty on top of taxes. The withdrawal penalty increases to 25% for SIMPLE IRAs if money is pulled out within two years of signing up for the plan.
Employer Contributions to SIMPLE IRAs
Workers participating in a SIMPLE IRA will always get a helping hand saving for retirement because employers must make some form of a contribution to employees' accounts. An employer can choose to either make a dollar-for-dollar match of up to 3% of a worker's pay or contribute a flat 2% of compensation, whether the employee contributes or not. If your employer matches dollar-for-dollar up to 3% of pay, make sure you're contributing at least enough to qualify for the full match. If an employer contributes the flat 2% amount, the calculation for those nonelective contributions cannot be based on more than $305,000 of the employee's salary in 2022, up from $290,000 in 2021. Self-employed people are allowed to contribute both their own and the employer's share to a SIMPLE IRA.
The money your employer contributes is vested immediately, which means those contributions are yours from the start and you get to take them with you when you leave no matter how long you've worked for the company. By contrast, other employer retirement savings plans, such as 401(k)s and 403(b)s, may require that you work for that employer for a set period, such as three or four years, to be fully vested.
SIMPLE IRAs offer a much broader selection of investments than most employer-sponsored retirement savings plans. In a SIMPLE IRA, workers can not only choose from thousands of mutual funds and exchange-traded funds but also hold individual stocks and bonds. The best investment is one that fits your long-term goals at the right price.
Is There a Roth SIMPLE IRA?
Unlike some other employer-sponsored retirement savings plans, a SIMPLE IRA doesn't offer a Roth option, which would allow workers to invest after-tax dollars in the plan in exchange for tax-free withdrawals in retirement. But that may be changing. As part of the proposed Securing a Strong Retirement Act, Congress is considering establishing a Roth SIMPLE IRA so that employees at small businesses could enjoy the perks of a Roth plan. Nicknamed the SECURE Act 2.0 (after the first SECURE Act, which stands for Setting Every Community Up for Retirement Enhancement, became law in 2019), the bill enjoys bipartisan support and has a good chance of passing later this year.
How SIMPLE IRA Savers Can Build a Bigger Nest Egg
SIMPLE IRA participants are allowed to contribute to an individual IRA at the same time, enabling retirement savers to maximize their contributions on two fronts. If you're already stashing away the maximum contribution allowed in your SIMPLE IRA—$14,000 for employees younger than 50 or $17,000 for 50-plus workers—but want to save even more for retirement, consider opening a separate traditional IRA or Roth IRA. Self-employed people may also fund a traditional IRA or Roth at the same time but not a SEP IRA.
For 2022, individuals younger than 50 can contribute up to $6,000 to a traditional IRA or Roth IRA. Retirement savers age 50 and up can make an additional $1,000 catch-up contribution. Roth IRAs have income limits. The maximum amount you can contribute to a Roth IRA for 2022 begins to phase out once modified adjusted gross income hits $129,000 for single filers and $204,000 those who are married and filing jointly. There's no tax deduction for Roth IRA contributions. Contributions to a traditional IRA for 2022 are tax-deductible, though this benefit will phase out if you also contribute to a 401(k) plan at work and reach a certain income threshold. The tax deduction phases out for single filers who have a modified gross income between $68,000 and $78,000.
If an IRA contributor is covered by a work retirement plan, joint filers must earn $109,000 or less to claim the full tax deduction. The deduction is fully phased out once you make $129,000 or more. If an IRA contributor is not covered by a retirement plan at work, then the deduction is phased out between $204,000 and $214,000 for joint filers.
Senior Retirement Editor, Kiplinger.com
Jackie Stewart is the senior retirement editor for Kiplinger.com and the senior editor for Kiplinger's Retirement Report.