A Plan for Rover After You're Gone
An owner's illness or death is a common reason for a pet being given up. However, here are some steps you can take to ensure your beloved companion is cared for if something happens to you.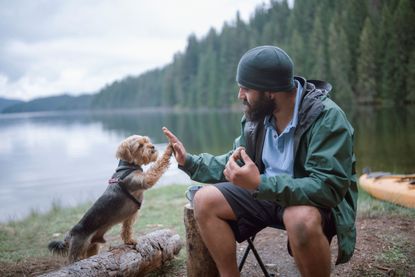 (Image credit: Getty Images)
Pets are cherished family members, but it's the rare owner who considers what will happen to a four-legged friend if the worst occurs. An owner's illness or death remains one of the top 10 reasons pets are relinquished, according to the National Council on Pet Population Study and Policy.
For your pet to be cared for financially and physically after you're gone, your estate plan needs to include those arrangements. "Talk to your attorney, evaluate your state's laws, and assess your resources," says Steven Maughan, vice president of planned gifts and estates at the Humane Society of the United States. Many of the same estate-planning tools you'd use to take care of your human dependents can also protect your pets.
1/3
Wills
Take your will, for example. It could list a trusted caretaker for your pet, along with an alternative if your first choice falls through. You should set aside money in your will for your pet's care with an explanation of how the funds should be spent. For the amount needed, multiply the annual cost of care for your pet by its life expectancy and include extra funds for unexpected medical expenses. You may want to add a separate document, called a letter of instruction, describing your pet's routine, food and medication.
Even with those provisions, however, the caretaker is not legally obligated to follow your instructions, spend the money as you intended or send the pet to another caretaker that you've named. Once the money is distributed to the caretaker, it's an honor system.
Another downside of wills is that they require a costly and lengthy legal process. "A will is a ticket to probate court," says Rebecca Wrock, an estate-planning attorney at the law firm Varnum in Ann Arbor, Mich. "Everything is public record, and all heirs of the deceased are notified of proceedings so there is more opportunity for a gift to the pet to be contested." The average probate process in the U.S. costs about 10% of the estate, according to LegalZoom.
Probate can also take months, sometimes years. Without a designated emergency caregiver during that time, your pet could be rehomed or taken to a shelter and euthanized, says Anne Trinkle, executive director of Animal Alliance of New Jersey & Planned Pethood Spay/Neuter Clinic in Lambertville.
2/3
Trusts
A pet trust, however, bypasses probate and provides more legal protections. Depending on your state's laws, you could set up either a revocable pet trust, which can be changed or canceled during your lifetime, or an irrevocable pet trust that can't be reversed. A pet trust can be completely separate or part of an existing trust that encompasses your other assets. The national average cost of a living trust ranges between $1,100 to $1500, compared with $10 to $600 for a simple will, according to LegalZoom.
Along with appointing a trustee to manage the trust's finances, you name your pet's caretaker (who could also serve as the trustee), any alternative caretakers, as well as an optional trust protector for added oversight of the trustee given that the beneficiary -- your pet -- can't defend its own rights. Unlike a will, the caretaker has a fiduciary duty to follow your letter of instruction if you include one.
3/3
Legacy Arrangements
If you can't find a willing caretaker, ask an an organization, an animal retirement home, veterinary school, animal sanctuary or rescue group if it will care for your pet after you're gone. Some may require payment for your pet's care. If not, include a donation to the organization in your will. Michael Ettinger, president of Ettinger Law Firm in New York, likes private animal sanctuaries. In one case, a client's dog was taken in by a pet hotel, which played back-to-back videos of the owner to comfort the grieving dog.
No matter which option you choose, make sure your pet's future caretaker agrees to take on that role. "We've received calls from people stunned that they were designated as a pet's caretaker," Trinkle says, so discuss the arrangement in advance. "And obviously, they have to be pet lovers."