Tech Support Fraud Targets Seniors
Get a message offering help with a computer problem you didn't think you had? It's probably a scammer looking for your money and personal information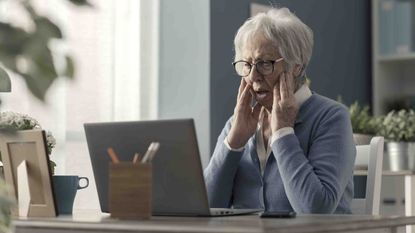 (Image credit: Getty Images)
Through pop-up windows on computer screens, emails, text messages and phone calls, scammers target seniors by pretending to be tech support, there to help solve invented "problems" with their electronic devices. These criminals can then gain access to their victims' private data and bilk them out of money.
Big money, in fact. Tech support fraud is the most reported fraud among victims over 60 years old, according to the FBI. In 2021, that agency's Internet Crime Complaint Center, also known as IC3, received 13,900 tech support fraud complaints from older victims who lost a total of $238 million. Older victims account for 58% of the total reports of tech support fraud to the IC3 Center and 68% of the total losses.
Overall, scams that target older adults have "risen at an alarming rate, while the loss amounts are even more staggering," according to the IC3's Elder Fraud Report 2021. " In 2021, over 92,000 victims over the age of 60 reported losses of $1.7 billion to the IC3. This represents a 74 percent increase in losses over those reported in 2020."
Subscribe to Kiplinger's Personal Finance
Be a smarter, better informed investor.
Save up to 74%
Sign up for Kiplinger's Free E-Newsletters
Profit and prosper with the best of expert advice on investing, taxes, retirement, personal finance and more - straight to your e-mail.
Profit and prosper with the best of expert advice - straight to your e-mail.
Genevieve Waterman, director of economic security at the National Council on Aging, said seniors make attractive targets for thieves who "have this kind of myth that every single older adult has a ton of money in retirement savings."
Also, seniors may also be isolated, Waterman said, a vulnerability the pandemic has further exacerbated. Like a lot of other people, they have transitioned to virtual communications, but without the benefit of workplace training in how to safely use the technology.
Tech support scammers impersonate well-known tech companies offering help with non-existent technology issues or fraudulently demanding renewal payment for software or security subscriptions. In 2021, there was an increase in complaints reporting the impersonation of customer support, such as financial and banking institutions, utility companies, or virtual currency exchanges.
Many older adults use older computers that may not have current security upgrades, Waterman said, making them easier to target in tech-support scams. Or, they may not be able to afford the fees associated with some virus protection services.
Scammers, she said, use sophisticated techniques to engender panic in their victims and present themselves as someone to trust. "The scammers are constantly evolving, constantly creating a script to outwit you."
90-Year-Old Widow Loses $20,000
Phyllis Weisberg, a 90-year-old widow, was using her computer one day when a pop-up ad purporting to be a Microsoft warning appeared. It told her to call a phone number. She called. "They were there to help me," Weisberg recalled. "They were the scam department of Microsoft."
The first thing, she says, is they warned her not to discuss this on the telephone "because these 'bad guys' could get in and hear all the conversations that were on the phone."
They provided her an address in a foreign country and instructions to send money by wire, a process she had never used before. Following the instructions given to her on the phone, she went to her local bank branch to send the money. For questions the bank employees asked – such as where the money was going – she had answers supplied by the scammers: It was for a "real estate venture," she told the bank
"I had all the answers programmed for me so I would give the right answers to him," Weisberg said in a video interview for the National Council on Aging and the security company Avast. Ultimately, Weisberg was scammed out of $20,000. "My first reaction was total embarrassment that I would do anything that stupid," she said. "Actually, it took me quite awhile to get over this that I was not the only one who was being taken like this. And all I can do is warn other people and hope that this will help one person to avoid doing this. It would be a blessing to me to do it."
How Tech Support Scams Work
Sending wires like Weisberg did is just one method scammers use. They have also instructed victims to buy prepaid gift cards or send cash through overnight or express services.
With remote access to victims' electronic devices and their private data, scammers can also steal money and personal information without the victim having to do anything beyond that initial compromise of their own accounts. Sometimes, they offer to clean computers or sell their victims a long-term technical support service. They may spread viruses and charge hundreds of dollars for free programs, according to a report by the U.S. Senate Special Committee on Aging.
A more blunt approach is for scammers to use pop-up windows to hack into victims' computers, lock them out and demand a ransom for control of the computer. Or, the hack may come more traditionally, through email. A recent version noted by the Consumer Financial Protection Bureau is an email saying your Zoom account has been suspended or that you missed a meeting. Clicking on the link will install malware, allowing scammers access to your computer.
Two Men Accused of Stealing Millions
In May, the federal government indicted two brothers-in-law from California on charges they bilked elderly Pennsylvanians of millions of dollars through a scheme in which they contacted potential victims on their computers through pop-up messages falsely appearing to be from reputable technology companies.
The Department of Justice said the two men tricked victims into believing their financial accounts had been compromised and that their funds needed to be moved. They then gained control over the victims' computers and personal funds.
The Justice Department said the conspirators used stolen personally identifiable information from other victims to open financial accounts and create email addresses to receive and move the proceeds of the fraud. They used the stolen funds to buy cryptocurrency and moved money through multiple accounts. The indictment says one victim lost more than $1.2 million in retirement accounts.
How to Protect Yourself From Tech Support Scams
In short, according to the National Council on Aging, the best way to avoid becoming a victim of a tech support scam is to be cautious of unexpected communications and never share your personal information unless it's in a situation where you have taken the intiative: You chose to contact the bank, government agency, etc. If a caller claims to be from a well-known company, hang up and verify the company's phone number before calling it directly. Don't be afraid to be impolite and hang up on someone who contacted you.
The FBI, the Federal Trade Commission, the National Council on Aging and Microsoft offer the following instructions and information:
Legitimate customer, security or tech support companies won't contact you by phone, email or text to tell you there's a problem with your computer.
Legitimate pop-up warnings from real tech companies won't tell you to call a phone number.
Install ad-blocking software to reduce pop-ups and online advertising that spreads malware, also known as malvertizing. Ensure your computer anti-virus, security, and malware protection is up to date.
Resist the pressure to act quickly. Criminals will urge the victim to act fast to protect their device or account.
Do not give unknown, unverified people remote access to devices or accounts.
If you get a call offering a refund for something, do not give them your bank account, credit card or other payment information.
Keep your computer up to date, which means updating your browser and operating system regularly.
Don't click on any links in website pop-ups or emails. To visit a website, type the web address directly into the browser window yourself.
Configure your cell phone to block unknown callers (contact your phone carrier to find out how).
If you think you've been victimized by a tech support scammer:
If you gave a scammer remote access to your computer, update your security software, run a scan and act on any problems it identifies.
If you gave your user name and password to a tech support scammer, change your password. If you use that password for other accounts or sites, change it there and create a new, strong password.
If you paid a tech support scammer with a gift card, call the company that issued the card immediately, tell them what happened and see if you can get a refund.
Report tech support scammers to the FTC at ReportFraud.ftc.gov.
Senior Retirement Editor, Kiplinger.com
Elaine Silvestrini has had an extensive career as a newspaper and online journalist, primarily covering legal issues at the Tampa Tribune and the Asbury Park Press in New Jersey. In more recent years, she's written for several marketing, legal and financial websites, including Annuity.org and LegalExaminer.com, and the newsletters Auto Insurance Report and Property Insurance Report.