Sweetheart Swindlers: "I Love You; Send Money"
Be wary of falling in love online. And parting with your money.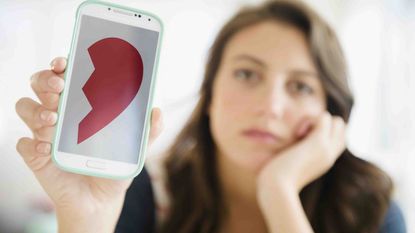 (Image credit: Getty Images)
If you think you've met the love of your life, but you've never seen them in person, there's a good chance you may be the victim of a dating scam. Whatever you do, do not send this person any money. No matter how much they say they need it. Or promise to repay you and offer proof that they can. Nothing! Doesn't matter how small the amount. Just ask Kate. Who's Kate? Well, she'll tell you her story.
Thieves armed with convincing, compelling stories are exploiting the fact that so many of us are isolated and looking for connections. A lot of us are socializing online which enables fraudsters to carry out their schemes with phony social media profiles and bogus websites, according to Deborah Royster, assistant director for the Office for Older Americans at the Consumer Finance Protection Bureau.
Victims, believing they are in relationships, are tricked into sending money, personal and financial information, or items of value to fraudsters who prey on the victims' "heartstrings".
Subscribe to Kiplinger's Personal Finance
Be a smarter, better informed investor.
Save up to 74%
Sign up for Kiplinger's Free E-Newsletters
Profit and prosper with the best of expert advice on investing, taxes, retirement, personal finance and more - straight to your e-mail.
Profit and prosper with the best of expert advice - straight to your e-mail.
Kate Meets "Tony" and Loses $39,000
So here's the experience of widow Kate Kleinert, of Glenolden, PA., who testified before the U.S. Senate Special Committee on Aging in September about accepting a friend request from "Tony" on Facebook. "He told me he was interested in the same things he saw on my Facebook page, like dogs and gardening, and I thought that was wonderful," Kleinert said.
"Tony" claimed to be a surgeon working in Iraq with the United Nations who had two children. His "kids'' contacted her by email and called her mom. Kleinert, who had always wanted to be a mother, was over the moon.
The first request for money came from the "daughter," who told Kleinert she needed feminine supplies but was too embarrassed to ask her father. Kleinert sent a gift card. "From then, there was always some kind of emergency or some urgent need for money," she said. She went through what was left of her husband's life insurance money and her savings. "I was living on my credit cards and he was getting what I took from Social Security and my pension."
To prove he would pay her back, he sent her passwords to his bank account so she could see a balance of more than $2 million. Then he said he had vacation and was going to fly to meet her. "I was so excited," she said. "I got all dressed up, my hair was done and my nails were done."
But he never arrived. She got a call from a man who said he was Tony's lawyer. Someone had put drugs in Tony's bag; he was somehow in jail in Oklahoma and needed $20,000 for bail. By the time she stopped sending money, she had sent Tony $39,000 and had no money left to cover the utilities. But even harder than losing the money, she said, was the loss of the family she thought she was going to share with Tony.
Scam Victim Glenda Becomes a Felon for "Love"
But the scammers aren't necessarily just after the victims' money. At 81, Glenda Seim [who told her story in a video posted online by the FBI] should be looking forward to relaxing in retirement. Instead, she's waiting to be sentenced for federal crimes after she let the "love of my life," an online scammer she never met, persuade her to break the law for five years as she ignored warnings from law enforcement and bank employees.
The "love" she met online "told me that he was a U.S. citizen and was working in Nigeria," Glenda said. "He asked me for money to help with his business and help leave Nigeria."
"Then my love had people send me electronics like cell phones so I could pawn them and send him the money. When I couldn't get the money he wanted, he asked me to open personal and business bank accounts. I did as he asked, and he started sending me checks or having money deposited into the bank accounts."
When officials started warning Glenda to stop, that she was breaking the law, she says, "I didn't listen to anyone else but my love—the love I've never seen nor spoken to."
And so, in November 2021, she pleaded guilty to two federal felonies in connection with what the FBI describes as a money mule operation. Authorities said that between June 2014 and February 2021, Seim attempted to conduct fraudulent transactions worth between $550,000 and $1.5 million. According to the St. Louis Post Dispatch, Seim faced three to four years in prison under federal sentencing guidelines.
But because of her cooperation, her age and her health, a federal judge gave her a break, sentencing her to five years of probation. The probation comes with restrictions on her ability to use a computer and she is required to repay the victims $32,454.
Crypto and Speculative Trading Romance Scams
Dan Rutherford, associate director of customer outreach at the Commodity Futures Trading Commission said there appears to be a correlation between the pandemic, an increase in speculative trading and scams that exploit it. Rutherford said it's difficult to know, however, whether pandemic factors caused the increase.
The CFTC issued an advisory warning of an increase in romance scams involving forex, precious metals and digital assets like cryptocurrency: "The CFTC has received complaints about frauds that originated on dating apps and social media platforms," it says. "In many cases, the victims believed they were in romantic relationships that had formed over several weeks. These frauds are often conducted by people and entities outside the United States and use unregistered trading websites or third-party trading software."
The scammers pose as business owners, executives or financiers. They endear themselves to the victims but are unable to meet in person or via video chat. And as part of their scam, they induce their victims to trade in markets unfamiliar to them. Sometimes the appeal isn't just personal attraction, but the prospect of getting in on a trend where others seem to be making lots of money.
Don't count on someone you know only online to show you the ropes or try to invest in a market you don't fully understand. Like Glenda and Kate, it's all too easy to get scammed for love.
Finally, the Consumer Financial Protection Bureau has a resource guide, Money Smart for Older Adults, which can be downloaded for free.
Related articles
Senior Retirement Editor, Kiplinger.com
Elaine Silvestrini has had an extensive career as a newspaper and online journalist, primarily covering legal issues at the Tampa Tribune and the Asbury Park Press in New Jersey. In more recent years, she's written for several marketing, legal and financial websites, including Annuity.org and LegalExaminer.com, and the newsletters Auto Insurance Report and Property Insurance Report.