What to Do When Your Rent is Too High
If your rent is too high options for consumers are limited, but there are some things you can do if you're facing a rent increase.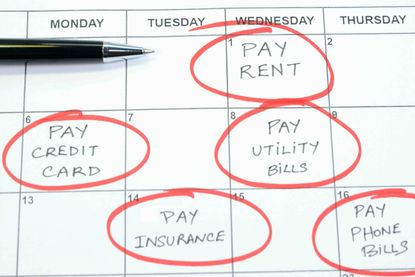 (Image credit: Getty Images)
Like seemingly everything else, the cost of rent continues to rise in the United States. But there is good news: last year's wild, double-digit increases have subsided, giving way to normal upticks.
National rents were actually stable in April, with the median rent rising just 0.29% over the last year to $1,967, according to Rent.com. That's the smallest yearly change in more than three years.
The site says rent growth has been decelerating for eight months, with single-digit growth reflected in each survey period since September. This follows almost a year of double-digit increases from October 2021 through August 2022. Last year, Rent.com reported that one-bedroom apartments saw an increase of more than 24% nationally compared to the previous year, while Redfin.com reported that some metro areas saw increases as high as 40%.
Subscribe to Kiplinger's Personal Finance
Be a smarter, better informed investor.
Save up to 74%
Sign up for Kiplinger's Free E-Newsletters
Profit and prosper with the best of expert advice on investing, taxes, retirement, personal finance and more - straight to your e-mail.
Profit and prosper with the best of expert advice - straight to your e-mail.
"Rent growth has normalized pretty much everywhere back in the low to mid-single digits, even negative in a few spots," Jay Parsons, vice president and head of economics at RealPage, a firm that provides property management software, told Kiplinger. "It's a very different market today with more vacancies and more new construction, shifting the balance of power back in favor of renters."
A big reason for the change in the market is that new apartments have been built and become available, according to Caitlin Sugrue Walter, vice president of research for the National Multifamily Housing Council. At the same time, people who might look to move into a new apartment are waiting to see what happens with the economy and if their employers ultimately decide to require them to work in an office.
Still, she noted that costs continue to rise for landlords. For example, some markets, like Florida, are seeing significant increases in insurance costs. So landlords pass those costs along in the form of higher rents.
"Unfortunately everything is more expensive overall," she told Kiplinger. "Costs are going up for owners just as they're going up for residents."
But, she added, "When you look at it over time, it's a much more even pace than it's looked over the last couple of years. I'm glad we're getting back to a normal pattern."
If your rent has crept into unaffordable territory, it's easier this year to move than it might have been last year. That said, your options may be limited.
We'll get into the details, but the main categories of steps you can take involve:


Checking your local laws
Looking for rent subsidy programs
Negotiating with your landlord
Where are rent increases hitting hardest?
According to Redfin, for example, the five metro areas with the biggest rent increases since last year are:
It seems every real estate company has different criteria for assessing geographic rent trends and averages. And some markets are seeing increases well above the national average.
Compare that to last year's Redfin list:
1. Austin, TX at 40%
2. Portland, OR at 39%
3. New York at 36%
4. Newark, NJ at 36%
5. Nassau County, NY 36%
Rent.com had a slightly different list. Its top five increases:


Providence-Warwick, RI-MA 15.97%
Raleigh-Cary, NC 12.43%
Indianapolis-Carmel-Anderson, IN 10.94%
Charlotte-Concord-Gastonia, NC-SC 10.50%
Cleveland-Elyria, OH 9.66%
Compared to last year:
1. Long Beach, CA, up 56.7%
2. Chandler, AZ, up 50.8%
3. Amarillo, TX up 46.6%
4. Huntington Beach, CA up 44.9%
5. Jersey City, NJ up 43.6%
Zumper.com, which helps people find rental homes, lists the cities with the highest median rent prices for one-bedroom apartments:
New York at $3,780
Jersey City, NJ $3,180
San Francisco at $3,000
Miami $2,900
Boston at $2,700
Where is rent cheaper?
While Redfin last year saw rent decreases in only two of the nation's 50 most-populous metro areas — Milwaukee and Kansas City, MO — things, again, are different this year, with rents falling in numerous markets.
Last year's highest increases were recorded by Redfin in Austin, Texas, which this year saw the biggest rent drops. The metro areas with the largest rent decreases recorded by Redfin are:
According to Zumper's report, which tracks 100 metro areas, median rent for a one-bedroom is lowest in several cities in Kansas, Texas, Kentucky, Nebraska, Louisiana and Ohio. It gives the lowest median rents for:
Wichita, KS at $690
Akron, OH at $700
Shreveport, LA at $730
Lincoln, NE at $790
El Paso, TX at $840


What are your options when your rent increases?
The first thing you should do when facing a rent increase is to research local rules and regulations that apply.
One place to start is on the website of the National Multifamily Housing Council, which has information about rent-control laws by state.
Generally, you're probably out of luck, though. According to the National Apartment Association, 36 states have laws that prevent or restrict local cities and counties from enacting rent control.


Rent control and other laws for tenants
States with rent control include:


New York
California
Oregon
District of Columbia


In addition, some cities and towns have enacted their own rent-control laws. If you live in one of those places, research the law and make sure your increase is in compliance. Possible protections include notice requirements, limits on increases and even relocation assistance.
What to do when the law doesn't help
If your jurisdiction doesn't have any rent increase restrictions, then your options are narrower.
Can you get rental assistance?
Before moving to your next step, check to see what resources might be available to help you pay your rent.
If you qualify, financial aid might be an option. You can look on the website of the Consumer Financial Protection Bureau for rental assistance programs in your area.
Beyond that, you're left with two categories of options: Negotiate with your landlord or move.
How to negotiate with your landlord
The CFPB warns tenants not to overpromise and not to agree to pay rent they can't afford. Falling behind in rent can destroy trust and make tenants unattractive to keep.
Zumper.com offered several suggestions for effective negotiations. It's best if your landlord wants to keep you. To be more attractive to a landlord, make sure you're respectful, professional and punctual in all interactions with them or the leasing agent, which can show you're a responsible tenant who will not only pay rent and bills on time but also take care of the place.
If you're a good tenant, your landlord is more likely to be motivated to keep you, rather than having to go through the expense of finding and screening another tenant who may not be as easy as you.
Having established yourself as a good tenant, there are other ways to appeal to the landlord and make yourself valuable in ways that might inspire a willingness to negotiate your rent.
Given today's environment, there's a decent chance you're going to need to negotiate. Don't wait for the landlord to spring a rent increase on you.If you negotiate before your lease expires, you don't have to negotiate from a place of desperation.
Try negotiating a few months prior to your move-out date. It is always in the resident's favor to be proactive. Depending on the management company, renewal notices are sent out 30-60 days prior to the end of a lease term. So residents should begin negotiations 90-100 days in advance of their new lease if they plan to negotiate.
Also, try to negotiate during a slow time of year for the landlord, which is usually winter. If you try to swing a deal during the summer moving rush, your request may fall on deaf ears.
If your landlord notifies you your rent is increasing, don't necessarily assume the amount is set in stone. Your property manager operates as a business and they're going to want to find a balance of happiness for their client and themselves.
To prepare yourself to respond to your new rent amount, you should research the market in your area to see what other rental properties are fetching. Zumper has a national rent report with data, including trends and rents in particular markets. You can also search Zumper and other real estate sites like Zillow, Redfin and Rent.com for rent pricing in your area and get examples of places charging lower amounts than your landlord is quoting.


You should know, though, that as much as your landlord may know it's better if they can keep you, they also know it's better for you if you don't have to go to the expense of moving. And some landlords will provide you with a sheet with information about moving and budgeting costs to drive that fact home.
Rent negotiation strategies
Zumper offered the following additional strategies for negotiating your rent:
Among the options the CFPB suggests as negotiating points is adjusting the date your rent is due. If the day better aligns with your payday or is split into multiple payments over the month, it might make it easier to pay.
If you've fallen behind, see if your landlord will agree to a repayment plan, giving you a period of time to catch up.
If your landlord tries to charge you the same as they would charge a new tenant, you might want to see if they could offer a discount for the fact that you're renewing.
Most property managers routinely discount renewals relative to a new lease rent for a variety of reasons," said Parsons at RealPage. "Renewals give property managers certainty. When a lease is renewed, the property manager saves on 'turn costs' – cleaning, paint, carpet, then marketing the unit to new prospective renters. Plus, renewals prevent down time when no rent is coming in between leases."
Zumper offered the following additional strategies for negotiating your rent:
If you can swing it, offer to prepay for several months at once. A lot of landlords would be relieved to not have to worry about chasing late rent payments. If you can pay a few months upfront, your property manager or owner might be willing to offer you a monthly discount.
If you can, agree to committing to a longer lease. If you plan on being in your location for a while, this could be a big negotiating factor. If the lease in question is for 12 months, ask if they'd be willing to drop the monthly rate in return for signing an 18-month or 2-year lease. Not having to find new renters every 12 months is a good reason to give someone a lower monthly rent price.
If you don't have a pet in a place that allows pets, point that out. Cleaning a unit after a pet-owning resident moves out can cost your property manager or owner extra time and money. If you don't have a pet, see if you can use that as a bargaining chip.
Offer to give up a parking spot. If you don't have a car or don't anticipate having many guests with cars, this may be something to offer your property manager. They can offer the extra spot to another renter and offer you a discount in return.
Moving might be a last resort
Before deciding to move, you should also understand that rent increases for existing leases are typically lower than for new tenants. And the reason you're facing a rent increase is the market supply is limited
That said, if you fail to negotiate a rent you can afford, you may have to move. Preparing for this outcome is another solid reason for negotiating your rent price well in advance. Having more time to find a new place and move will increase your chances of success.
If you have the option through your job to work remotely, you could research whether it would be worthwhile to move to a lower-cost area.
Finding the best deal if you have to move
If you have to move, Parsons said flexibility on your part could make a difference in finding something you can afford. "If you're insistent on moving into a particular floorplan in a particular property and with particular move-in/move-out dates, you're highly unlikely to find a good deal," Parsons said. "Some renters try to play hardball and negotiate, but might not know rentals are very different from for-sale homes."
Property managers must tread lightly in negotiating rent differences for different tenants, Parsons said, so as not to run afoul of federal and state fair housing laws that prohibit discrimination. But tenants can ask owners of multi-unit properties for the best-priced floor plans, Parsons said.
Senior Retirement Editor, Kiplinger.com
Elaine Silvestrini has had an extensive career as a newspaper and online journalist, primarily covering legal issues at the Tampa Tribune and the Asbury Park Press in New Jersey. In more recent years, she's written for several marketing, legal and financial websites, including Annuity.org and LegalExaminer.com, and the newsletters Auto Insurance Report and Property Insurance Report.