How to Haggle for Almost Anything
Learning how to haggle is an invaluable skill. These strategies will help you negotiate a better price for just about any product or service.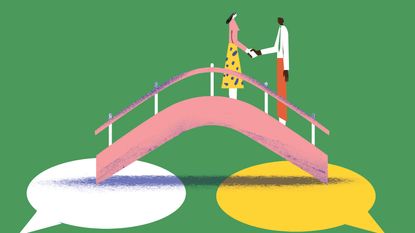 (Image credit: Illustration by Laura Liedo)
You can learn how to haggle for just about any product or service — your cable and cellphone bills, credit card interest rates, and even your rent. Negotiating prices isn't just for people buying cars or houses. You just need to borrow these tried-and-true methods of savvy negotiators.
Talk less, listen more. Ask open-ended questions rather than ones that might yield an abrupt yes or no response. A common mistake is to ask, "Do you have flexibility?" says Kwame Christian, director of the American Negotiation Institute and author of Finding Confidence in Conflict: How to Negotiate Anything and Live Your Best Life. Instead ask, "What flexibility do you have?" This sets the conversation off with the assumption that there is always some wiggle room. You'll find out just how much room there is by listening more and talking less. That lets the other person reveal more information that you can use to drive a bargain.
Show confidence. They say as long as you act in a confident manner, people will think you're confident even if you're not. The same goes for haggling. It's easy to feel fear, embarrassment or desperation when haggling, but if this comes across in your voice you will be at a disadvantage. If this is you, practice haggling and gather all the information that you might need before you start, so you're prepared. Try haggling over the phone, so you can have notes in front of you or, if you're not a confident speaker, see if whoever you want to haggle with has a live chat feature on their website. It is usually better to talk to someone though, so if that doesn't work, the next step is to give them a call.
Subscribe to Kiplinger's Personal Finance
Be a smarter, better informed investor.
Save up to 74%
Sign up for Kiplinger's Free E-Newsletters
Profit and prosper with the best of expert advice on investing, taxes, retirement, personal finance and more - straight to your e-mail.
Profit and prosper with the best of expert advice - straight to your e-mail.
Know when to walk away. Before negotiating, research market conditions and prices. Sellers of products with a large profit margin and short shelf life usually have more flexibility with pricing — think seasonal items, perishables and consumer electronics that are quickly updated and made obsolete.
Timing is key. Depending on what it is you're haggling about, for example, if you're tied into a contract already, then knowing when to haggle is key. If you are at the start or mid-way through a contract (this can be your cellphone contract or your cable subscription), it's often a good idea to hold off until the contract is a month or two from coming to an end, and then approach them to negotiate for a better deal. If you do attempt to haggle early on, you could end up paying a pricey exit fee.
Consider how the deal looks from the other side. What are the barriers to agreement, and what might prompt the seller to reconsider? If your offer gets rejected, ask, "Is there a price you would accept?" The best negotiators stand their ground, so practice saying no.
Is there a flaw with your purchase? This tip works more if you're buying something new and are haggling in person. For example, if you're planning to buy a new car or a second-hand mobile and you notice a flaw (perhaps a small scratch), then highlight this and try to use it as leverage to bring the price down slightly.
Launch a charm offensive. Studies show that when people do business with someone they like, they're more inclined to discount the price. So introduce yourself by name and ask the name of the clerk (or the person you're about to haggle with). If you realize you need to speak to a manager to get a discount, promise to put in a good word for the person who has been helping you. You can ramp up the charm by empathizing with the other person's position. If relevant, when you negotiate, emphasize your long-standing tenure as a customer and ask about the options for lower fees, better rates or improved terms.
Don't give up. If you're haggling for a cheaper price with, let's say, your internet provider, but the company won't put the price down at any cost, then try to haggle for a freebie. Haggling is all about getting more for your money, so if you can't get reduce the price, make what you're paying for more valuable. See if your internet provider will throw in a few months free of a streaming service like Netflix or Disney Plus, or haggle for a faster service. It's an idea to check beforehand what your provider offers/is willing to give in their deals so you know it's within reach when you ask.
Read more
Katherine Reynolds Lewis is an award-winning journalist, speaker and author of The Good News About Bad Behavior: Why Kids Are Less Disciplined Than Ever – And What to Do About It. Her work has appeared in The Atlantic, Fortune, Medium, Mother Jones, The New York Times, Parents, Slate, USA Today, The Washington Post and Working Mother, among others. She's been an EWA Education Reporting Fellow, Fund for Investigative Journalism fellow and Logan Nonfiction Fellow at the Carey Institute for Global Good. Residencies include the Virginia Center for the Creative Arts and Ragdale. A Harvard physics graduate, Katherine previously worked as a national correspondent for Newhouse and Bloomberg News, covering everything from financial and media policy to the White House.