The Ultimate Guide to Amazon Prime Day 2021: When It Starts, the Best and Worst Deals, Competing Events, More
Prime members can plan their Prime Day purchases in advance to efficiently score the biggest and best deals throughout the two-day event.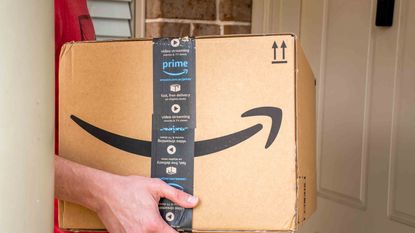 (Image credit: Getty Images)
Amazon Prime Day -- really days, but who's counting? -- is set to launch at midnight June 21 and roll straight through June 22. Amazon has historically hosted its Prime Day in July -- Christmas-in-July fireworks, so to speak, to ignite a typically dull period in retailing. Company execs said June was picked this year because of the 2021 Summer Olympics occurring in July and the fact that many people vacation in that month.
Last year, due to the pandemic, Amazon Prime Day was shifted to October, providing an early launch to the year-end holiday shopping period.
Will Amazon Prime Day 2021 be worth your time and money? Don't get me wrong. I, too, get sucked into the whizzes and whirls of the carnivalesque Prime Day, which manages to add (mostly) unneeded burden to my Amazon Prime Visa card (yes, I am card-carrying Amazon Prime member and have been for many years now). There are deals to be had -- and we'll get there.
But in case you haven't taken part in this mercantile madness in years past, I'll let you in on a little secret: Amazon Prime Day is basically a yard sale of millions of goods Amazon hasn't unloaded in the past year, with more unnecessaries than necessaries among the flotsam and jetsam.
It's also an enormous time-suck as you're whiling away your (uh, working) hours hoping to score a big deal. You might, but there are better chances you won't. Especially this year.
Here's what you need to know to find the best deals on Amazon Prime Day 2021 without staring at your computer screen for 48 straight hours:
1/7
How Amazon Prime Day Works
Amazon Prime Day's model is much like Black Friday, for the more than 150 million Prime members and any newbies who might stumble in through the Prime Day doors. Amazon Prime Day offers until-they-sell-out deals on everything from clothing and beauty products to electronics and home goods.
Members, you can get an early look at Prime Day deals by going to Amazon's Prime members deals page. Prime members also have exclusive access on Prime Day to "Lightning Deals," deep discounts that are time-sensitive -- when they're gone, they're gone. You can see them on Amazon's Today's Deals page or the Prime Day page.
And note that some early deals have already launched, including 40% off smart home devices; an Insignia 24-inch high-def Fire TV for $99 (down from $169.99); and 30% off Amazon house brands.
2/7
Amazon Prime Day 2021: How This Year's Sale Will Be Different
Nathan Burrow of The New York Times' Wirecutter has been following Amazon Prime Day for years now. He's certain Amazon will be tinkering with this year's event.
"Ultimately, Amazon Prime Day 2021 could see fewer exceptional discounts than ever before, so shopping strategically will be more important than ever," says Burrow.
For one, says Burrow, the global semiconductor shortage could mean fewer deals on computers and TVs, and almost any device with a screen, a bastion of Prime Days gone by.
Also, "certain product categories available for sale during Prime Days 2019 and earlier, like game consoles and quality fitness equipment, will continue to sell at or close to full price," says Burrow. "Everyday consumer goods, which Prime Day has expanded to include in recent years, will also continue to see price increases, according to recent reports, meaning that 'sales' on such items are to be regarded with caution both in general and during Prime Day."
Finally, although Amazon hasn't confirmed it, Vox's Recode is reporting there could be a second Amazon Prime Day -- in October.
3/7
Amazon Prime Day 2021: Deals for Non-Members, Too
Oh, non-Primers, too, can buy into Prime Day deals. You're just not going to get the deeper discounts, free shipping and early access to Prime Day deals, nor any of the other perks of being an Amazon Prime member. The annual fee to join Amazon Prime is $119.
Or consider this little workaround: Join Amazon Prime on a 30-day trial. Give it a whirl on Amazon Prime Day, enjoy your fast and free shipping. . . and, if that's enough Amazon Prime for you, then cancel before the trial's up and the payment kicks in. Just sayin'.
"You should be able to get a free trial membership for 30 days, but, even if that's not available, you can join for the monthly price of $12.99 rather than paying for an entire year of benefits," says Julie Ramhold, consumer analyst with deals site DealNews. "And buying a month-long membership will enable you to take advantage of the Prime Day deals without committing to a much higher price tag for a longer membership."
4/7
Amazon Prime Day 2021: Best Deals
On Prime Day 2021, expect Amazon, as it has in years past, to push its proprietary products at big discounts: Fire TV and tablets, Echo and Dot speakers, Kindles, and Ring doorbells (yes, Amazon owns Ring). Selling these devices on the cheap gets customers in the door and keeps them in the Amazon world, buying more items through Amazon or support items, such as books for Kindle, down the road.
Look for deals on clothing, which Amazon has been pushing hard. "Amazon has its own in-house brands now, including different clothing brands and its wide-ranging AmazonBasics line of products," says Ramhold. "We expect to see significant discounts on these brands for Prime Day. Currently Amazon is touting discounts up to 30% off on their brands, but those could definitely increase when Prime Day rolls around."
Experts say instant pots, coffee makers and other items for the home and kitchen should be discounted. Burrow forecasts the following items to be discounted on Prime Day:
Amazon devices -- Echo smart speakers, Show smart displays, Kindle ebook readers, etc.
Small kitchen appliances such as the instant pot, electric kettles, coffee makers, and sous vide cookers
Personal-care devices such as hair dryers, electric toothbrushes, razors, beard and body trimmers, and water flossers
Baby gear such as car seats, strollers, and baby monitors
Robot and stick vacuums
Headphones
Human and doggy DNA tests
Food storage containers
Board games
Gaming mice and headphones
Smart-home accessories such as smart light switches, plugs
Home security devices such as video doorbells, security cameras, and alarm systems
Mid-range laptops from Lenovo, Chromebooks from Lenovo and HP
Kitchen essentials such as chef's knives, frying pans, baking pans
Tablets, but probably older models such as the Samsung Galaxy Tab S6, S6 Lite, and the 4th-gen iPad Pro
Smart watches
Home goods such as shoe racks and bath mats
Seasonal items such as goggles, coolers, and bug-killing gear
5/7
Amazon Prime Day 2021: Worst Deals
Deals experts note the worst things to buy on Amazon Prime Day are items bought under pressure.
Says Wirecutter's Burrow, "Things like countdown clocks [and] flash sales drive a sense of urgency that can lead us to buy before asking ourselves how this item fits into our lives, or even whether the product in question is worth our time or money at all."
Wait until Black Friday to buy TVs, as more retailers will be competing with lower prices.
Ditto with laptops, which will be in short supply on Amazon Prime Day; you're likely to find better prices on Black Friday or Cyber Monday (although a shortage of semiconductors means laptops might not be heavily discounted for a while).
Ramhold cautions against buying the popular Nintendo Switch gaming console and other electronics (outside of Amazon's proprietary Fire TV and its ilk) from Amazon on Prime Day. "There's no guarantee we'll see a deal on Nintendo Switch consoles, but odds are it's best to hold off anyway if you're interested," says Ramhold. "There are a lot of rumors indicating we might see a Switch Pro announcement soon, so if there's a chance you'd prefer that console over the regular one, it's best to hold off for now."
6/7
Amazon Prime Day 2021: Tips and Tricks to Save Time and Money
Start by building a personal wish list of items you're targeting on Amazon Prime Day, advises Ramhold. Check current prices at other retailers ahead of time, or arm yourself with the Popcart browser extension (see how it works here) to alert you to lower prices elsewhere as you shop Amazon throughout Prime Day. (Learn more about our favorite money-saving deal sites and browser extensions for online shoppers.)
The night before Prime Day, "skim through your favorite [Amazon] departments' upcoming deals," says Ramhold. "This can be done by going to the Today's Deals page and then narrowing it by department and upcoming deals on the left rail. Anything you're interested in, mark it as watching; then, before the deal goes live, you'll receive a notification on your phone (and your computer if you've enabled those) so you can jump on it before it sells out."
Get the Amazon app. You won't need to be tethered to your computer, and you can get push notifications as new deals are announced throughout the event.
Also, don't despair if you miss out on an appealing Prime Day Lightning Deal. "If you've just missed a Lightning Deal, adding yourself to a product listing's waitlist (if available) can allow you to claim any remaining stock if it becomes available again," says Burrow.
7/7
Alternatives to Amazon Prime Day 2021
Retailers including Walmart and Target have stepped up their game against Amazon in recent years during Amazon Prime Day. They'll have the big guns out again this year. So will a lot of other retailers.
Says Burrow, "Competing sales during Prime Day from Best Buy, Walmart, Target, and others offer the opportunity to get Prime Day savings without a Prime membership."
Target's Deal Days will offer deep discounts on hundreds of thousands of items -- on June 21 and 22. Walmart is going head-to-head with Amazon before, on and after Prime Day with the blowout Deals for Days June 20-23.
"You can find the same or similar products (like Google Home vs. Echo) at the same or lower prices," says Woroch. "While comparing prices between sites is easier, you can make this even more seamless by downloading a tool like PriceBlink to your browser which will automatically scan competitor sites to see if you can find the same product for less elsewhere."
Online Editor, Kiplinger.com
Bob is a Senior Online Editor at Kiplinger.com. He has more than 40 years of experience in online, print and visual journalism. Bob has worked as an award-winning writer and editor in the Washington, D.C., market as well as at news organizations in New York, Michigan and California. Bob joined Kiplinger in 2016, bringing a wealth of expertise covering retail, entertainment, and money-saving trends and topics. He was one of the first journalists at a daily news organization to aggressively cover retail as a specialty, and has been lauded in the retail industry for his expertise. Bob has also been an adjunct and associate professor of print, online and visual journalism at Syracuse University and Ithaca College. He has a master's degree from Syracuse University's S.I. Newhouse School of Public Communications and a bachelor's degree in communications and theater from Hope College.