Can I Buy Amazon's Always Home Cam, the Flying Indoor Security Camera?
Want to know if everything's okay at home while you're away? The Always Home Cam is a drone that will fly from its dock and soar toward the bad guys (or broken pipes).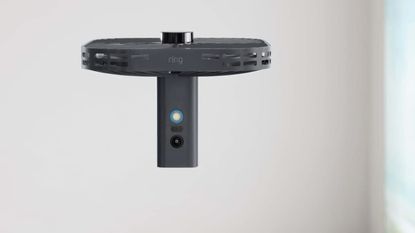 (Image credit: Courtesy Amazon)
Fixed cameras and sensors can only go so far in minding your property. In fact, they can't go anywhere at all, being screwed into the wall. That's where the flying Ring Always Home Cam from Amazon Prime comes in. But in order to get one, you have to have something unusual from a retailer that will generally sell just about anything to anybody: an invitation.
The Ring Always Home Cam is a camera-equipped drone that follows a guidepath the homeowner sets up. It allows you to see what's going on throughout the house (there are exceptions; we'll get to those). You can see live whether someone left the stove burner on or if the toilet's running – and even spot the bad guys if someone broke in. It has LED lights to illuminate the scene should you be checking the palace out at night.
This drone-for-home meshes nicely with Amazon's pending deal to buy iRobot, the maker of the Roomba home vacuum and cleaning devices. Shall we dub Ring's Always Home Cam the Roomba of the sky?
Subscribe to Kiplinger's Personal Finance
Be a smarter, better informed investor.
Save up to 74%
Sign up for Kiplinger's Free E-Newsletters
Profit and prosper with the best of expert advice on investing, taxes, retirement, personal finance and more - straight to your e-mail.
Profit and prosper with the best of expert advice - straight to your e-mail.
Another too-cool-to-be-true feature? When the contact sensor or motion detectors on your Ring Alarm security system are triggered, like a superhero, the Always Home Cam rises from its dock and flies toward danger – or whatever set off your alarm system. And if you're concerned about privacy, Amazon says the Always Home Cam only records when it's on its designated flight path or when triggered by the Ring Alarm system. You teach the Always Home Cam its flight path (look for the video). When you're home, the camera stays hidden in the Always Home Cam dock, recharging and readying itself for the next mission.
The cost of the Ring Always Home Cam: $249.99. And about the invitation-only ability to buy it: I let Amazon know I was interested in buying an Always Home Cam. I got an email from Amazon with a link back to a survey explaining that quantities of this drone are limited and not everyone who requests an invitation will be invited. Amazon wanted to know how many Ring devices I own (none); if I have a home security system (I do); whether I had a Ring Protect subscription that would allow me to use advanced Ring features (no); whether I had frequent visitors in the form of children or pets (no); and the square footage of my home (none of their business). I didn't go any further as I'm pretty sure the Ring Always Home Cam only works with Ring devices (let's get to work on this, Amazon).
Ring is one of the top name-brand companies that Amazon has scooped up in recent years. Others include that pending deal to buy iRobot; the Whole Foods upscale supermarket chain; MGM Studios (as well as the IMDB streaming service and internet movie database); healthcare service firm One Medical; and shoe retailer Zappos.
Perhaps iRobot will help tune the Always Home Cam. In its survey, Amazon also noted the setup of the Always Home Cam would need to be configured if my home had:
floor-to-ceiling glass windows doors or mirrors
floors with different colors and materials
chandeliers, pendants, beams or hanging ceiling fixtures
ceilings greater than 12 feet high
sunken rooms or sloped ceilings
narrow doorways or hallways less than 3 feet wide
concentrated air flow from air purifiers, fans, or air conditioners
These items aren't quite kryptonite for this hovering superhero, but they reveal the limitations of indoor drone flight.
The Always Home Cam comes from Amazon's Day 1 Editions, products Amazon releases to select customers willing to provide feedback and be involved with development.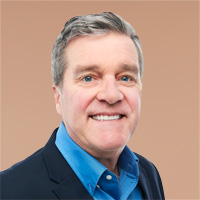 Bob was Senior Editor at Kiplinger.com for seven years and is now a contributor to the website. He has more than 40 years of experience in online, print and visual journalism. Bob has worked as an award-winning writer and editor in the Washington, D.C., market as well as at news organizations in New York, Michigan and California. Bob joined Kiplinger in 2016, bringing a wealth of expertise covering retail, entertainment, and money-saving trends and topics. He was one of the first journalists at a daily news organization to aggressively cover retail as a specialty and has been lauded in the retail industry for his expertise. Bob has also been an adjunct and associate professor of print, online and visual journalism at Syracuse University and Ithaca College. He has a master's degree from Syracuse University's S.I. Newhouse School of Public Communications and a bachelor's degree in communications and theater from Hope College.