Best No-Fee High-Yield Savings Rates June 2023
Consider opening a no-fee high-yield savings account if you want a competitive rate for your cash with no strings attached.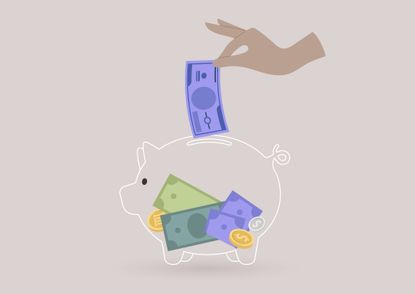 (Image credit: Getty)
If you're looking to find great no-fee, high-yield savings account but want to avoid any pesky fees, you're in luck. Many savings accounts let you avoid monthly fees while still earning a high rate of return, in some cases over 5%. With a no-fee high-yield savings account, you'll have the benefit of a high APY, but won't have to cut into your earnings by offsetting any additional monthly fees.
Plus, overall savings rates have been rising following the series of interest rate hikes from the Fed in their efforts to combat high inflation, making these accounts more appealing. However, the most recent interest rate hike by the Fed could be the last rate hike of the cycle. If this is the case, rates on savings accounts will likely peak, but then level out or go down if interest rate hikes are put on pause next month.
The Best No-fee High-Yield Savings Rates
We've looked at the current APY rates for no-fee high-yield savings accounts and listed some of the best earning accounts below.
Subscribe to Kiplinger's Personal Finance
Be a smarter, better informed investor.
Save up to 74%
Sign up for Kiplinger's Free E-Newsletters
Profit and prosper with the best of expert advice on investing, taxes, retirement, personal finance and more - straight to your e-mail.
Profit and prosper with the best of expert advice - straight to your e-mail.
Swipe to scroll horizontally
| Header Cell - Column 0 | APY |
| --- | --- |
| UFB Direct | 4.81% |
| Citizens | 4.50% |
| Synchrony | 4.15% |
| SFGI Direct | 4.01% |
| Marcus: by Goldman Sachs | 4.15% |
| Discover | 3.90% |
| Varo | 3.00% to 5.00% |
| Sallie Mae | 4.05% |
| Affirm | 4.15% |
With our new tool in partnership with Bankrate, you can search for some of the best overall high-yield savings accounts available.
Savings Rates
As mentioned above, savings rates have been on the rise with the Fed's interest rate hikes. Because of these continual interest rate increases, a variety of savings accounts have seen their rates go up. Now's a good time to take advantage of accounts with high APYs, as rates are expected to level off as inflation cools later this year.
Try our savings calculator tool to determine how much you'll earn over a fixed period of time.
Since interest rates on no-fee high-yield savings accounts are variable, the APY on the account can decrease from what it was when you first opened the account. If you're anxious to lock in rates when you open an account, you may want to consider opening a no-penalty CD account instead.
Interest rates on CDs are fixed, so if rates do drop, your earnings won't be affected. Plus, if you decide you need access to your cash before the CD's maturity date, there's no penalty for pulling it out if it's saved in a no-penalty CD.
Opening a No-Fee High-Yield Savings Account
Before you open a no-fee high-yield account, there are a few things to keep in mind.
Look out for hidden fees: While some banks readily list the associated fees and charges that come with an account, others don't. To be sure you're actually opening a fee-free account, you may have to call your bank's customer service line or do some research online before opening your account.
Make sure your money is safe: Another important thing to consider when opening any form of savings account is to make sure your money is FDIC insured, so you know it'll be safe in the event the bank fails. The FDIC protects up to $250,000 in individual deposit accounts and up to $250,000 for each person's share of joint accounts.
Compare high yield rates: It's a good idea to shop around for savings accounts to ensure you get the best rates. Usually, online banks offer more generous APYs on savings accounts, so changing from your traditional savings account at a brick and mortar bank to one online could be a good choice.
Avoid teaser rates: Teaser rates are promotional rates that banks use to attract new customers, but these are typically short-lived.
Related Content
Erin pairs personal experience with research and is passionate about sharing personal finance advice with others. Previously, she was a freelancer focusing on the credit card side of finance, but has branched out since then to cover other aspects of personal finance. Erin is well-versed in traditional media with reporting, interviewing and research, as well as using graphic design and video and audio storytelling to share with her readers.