Kiplinger Readers' Choice Awards: Cash Back Credit Cards
The Kiplinger Readers' Choice Awards celebrate the best products and services in personal finance.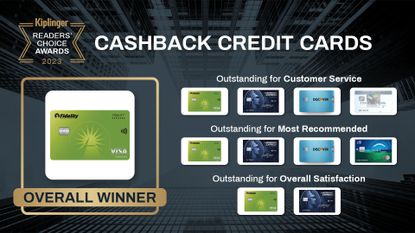 (Image credit: Future)
About the Kiplinger Readers' Choice Awards
The Kiplinger Readers' Choice Awards aim to recognize and celebrate the best products and services in the personal finance arena. We asked you, our Kiplinger community, to help us name the products and services you think have delivered excellent value in the past year.
Our Awards recognize excellence in everything from credit cards, banks and brokers to insurers, tax software and financial apps. More than 2,600 readers responded to our survey, and we're sharing the results here. For each category, we've listed an overall winner that earned the highest score. We've also highlighted other products and services that earned above-average scores for various criteria we asked readers to assess.
By voting, our community has helped us form our guide to the very best financial products. These are the products and companies that you think stand out from the crowd.
Kiplinger Readers' Choice Awards: Best Cash Back Credit Cards Winners
Many of those who use a rewards credit card prefer simple, straightforward rewards in the form of cash back. We asked survey respondents to rate their cash back cards on the strength of customer service, how likely they would be to recommend the card to others and how satisfied they are overall with the card.
OVERALL WINNER: Fidelity Rewards Visa
Outstanding for:
Customer service
Most recommended
Overall satisfaction
On the whole, our readers are highly impressed with the rewards credit card from Fidelity Investments. It received scores that were well above average for all the features we asked survey respondents to rate. A few readers expressed appreciation for the simplicity of having cash-back rewards automatically deposited into their eligible Fidelity accounts. "I don't have to keep track of anything," says one respondent.
Fidelity customers earn 2% back on each purchase with this card if they deposit rewards into qualifying Fidelity accounts, including brokerage and cash-management accounts, 529 college-savings plans, retirement accounts, donor-advised funds and health savings accounts. You can also direct your rewards to a friend's or family member's account (excluding donor-advised funds). If you don't want to deposit rewards into a Fidelity account, they are redeemable at a lower value for travel, merchandise, gift cards or statement credits.
American Express Blue Cash Preferred
Outstanding for:
Customer service
Most recommended
Overall satisfaction
The Blue Cash Preferred card from American Express ($95 annual fee, waived the first year) is another strong performer among cash-back cards, handily beating the average score on all criteria. The card provides 6% cash back on supermarket spending (up to the first $6,000 spent annually; 1% thereafter), as well as subscriptions with select video and music-streaming services; 3% on transit and fuel purchases; and 1% on other spending. Cash back is redeemable for statement credits.
Discover It
Outstanding for:
Customer service
Most recommended
Survey respondents were quick to highlight outstanding customer service from Discover, with a couple expressing appreciation that its representatives are 100% U.S.-based. "Discover's credit card customer service representatives are amazing. I have yet to have a situation where the representatives were not able to resolve the issue in one phone call," says one reader. Some respondents added comments to say they are pleased with Discover's fraud prevention and response services, too. "They catch fraud before we've even seen it on our statements," says one respondent.
Discover It provides 5% cash back on up to $1,500 spent each quarter in rotating categories. So far in 2023, the categories have included grocery stores, drugstores and select streaming services in the first quarter and restaurants and wholesale clubs in the second quarter (at press time, third- and fourth-quarter categories had not been announced). All other spending gets 1% back. You can redeem cash back for a statement credit, an electronic deposit into a bank account, gift cards, charitable donations or purchases with select merchants.
American Express EveryDay
Outstanding for:
American Express EveryDay had a strong showing for customer service in our survey. The card provides two Membership Rewards points per dollar on up to $6,000 of supermarket purchases per year and one point per dollar on all other spending. If you make at least 20 purchases on the card in a billing period, you get a 20% bonus on the points you earned on those purchases. You can redeem points in various ways, including exchanging them at a rate of 0.6 cents apiece to cover past charges on your credit card or at values as high as 1 cent apiece for restaurant, retail and travel gift cards.
Citi Double Cash Mastercard
Outstanding for:
Many readers like the Citi Double Cash card enough to recommend it to a friend. The card offers 1% cash back for each purchase you make and an additional 1% cash back when you pay the bill, for a total of 2% on all spending. Rewards are tracked as Citi Thank-You points, which you can exchange at a rate of 1 cent apiece for a statement credit, direct deposit into your bank account or check by mail.
Kiplinger Readers' Choice Awards Categories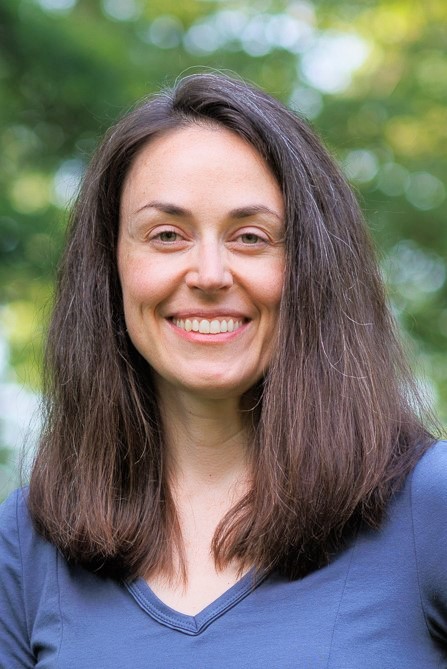 Editor, Kiplinger Personal Finance magazine
Lisa has been the editor of Kiplinger Personal Finance since June 2023. Previously, she spent more than a decade reporting and writing for the magazine on a variety of topics, including credit, banking and retirement. She has shared her expertise as a guest on the Today Show, CNN, Fox, NPR, Cheddar and many other media outlets around the nation. Lisa graduated from Ball State University and received the school's "Graduate of the Last Decade" award in 2014. A military spouse, she has moved around the U.S. and currently lives in the Philadelphia area with her husband and two sons.