Kiplinger Readers' Choice Awards: Airline Credit Card Rewards Programs
The Kiplinger Readers' Choice Awards celebrate the best products and services in personal finance.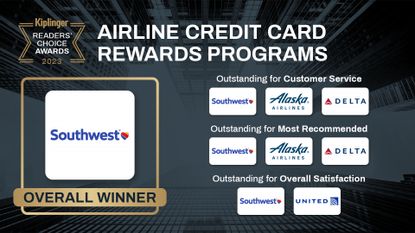 (Image credit: Future)
About the Kiplinger Readers' Choice Awards
The Kiplinger Readers' Choice Awards aim to recognize and celebrate the best products and services in the personal finance arena. We asked you, our Kiplinger community, to help us name the products and services you think have delivered excellent value in the past year.
Our Awards recognize excellence in everything from credit cards, banks and brokers to insurers, tax software and financial apps. More than 2,600 readers responded to our survey, and we're sharing the results here. For each category, we've listed an overall winner that earned the highest score. We've also highlighted other products and services that earned above-average scores for various criteria we asked readers to assess.
By voting, our community has helped us form our guide to the very best financial products. These are the products and companies that you think stand out from the crowd.
Kiplinger Readers' Choice Awards: Airline Credit Card Rewards Programs
Each airline below earned top marks from our readers for their credit card programs. Airline cards provide miles or points on purchases, which passengers can put toward flights. Readers evaluated airline card programs on customer service, how likely they would be to recommend the card program to others and how satisfied they are overall with the card program.
OVERALL WINNER: Southwest Airlines cards
Outstanding for:
Customer service
Most recommended
Overall satisfaction
The credit card program from Southwest Airlines is the only one that achieved "outstanding" in our awards for all three criteria that readers rated. The Southwest Rapid Rewards credit cards, which are issued with Chase, include the Plus card ($69 annual fee), Premier card ($99) and Priority card ($149). Recently, all the cards offered an initial bonus of 50,000 Rapid Rewards points for those who spend $1,000 in the first three months. And they all provide 25% back on in-flight purchases.
The Plus card provides two points per dollar on Southwest purchases, while the Premier and Priority cards provide three points per dollar on Southwest spending. All the cards offer two points per dollar on spending with Rapid Rewards hotel and car rental partners; local transit; and internet, cable, phone and select streaming services. Other spending gets one point per dollar.
The Priority card layers on the most benefits, including a $75 annual credit for eligible Southwest purchases, a bonus of 7,500 Rapid Rewards points on each yearly anniversary of card membership, reimbursement of up to four upgraded boardings per year, 10,000 Companion Pass qualifying points each year (a Companion Pass allows you to fly with one person free of airline charges each time you purchase or redeem points for a flight), and 1,500 tier-qualifying points toward A-List status for every $10,000 spent on the card.
Outstanding for:
Customer service
Most recommended
Issued with Bank of America, the Alaska Airlines Visa Signature credit card charges a $95 annual fee. Cardholders get three miles per dollar spent on Alaska Airlines purchases, two miles per dollar on gas, cable, streaming and local transit purchases, and one mile per dollar on other spending. Plus, get a $99 round-trip base companion fare (plus taxes and fees) when you travel coach with another guest each year after you spend $6,000 or more on purchases with the card. Other perks include priority boarding as well as a free checked bag for the cardholder and up to six guests traveling on an Alaska Airlines flight. For more information on the card, read Alaska Airlines Credit Card.
Delta Air Lines cards
Outstanding for:
Customer service
Most recommended
In conjunction with American Express, Delta offers a few consumer credit cards, including the Delta SkyMiles Blue (no annual fee), Gold ($99 annual fee, waived the first year), Platinum ($250) and Reserve ($550). All of the cards offer Delta SkyMiles on every purchase, with variations in the number of miles offered per dollar in different categories. The Blue and Gold cards, for example, offer two miles per dollar spent on Delta purchases, and the Platinum and Reserve cards offer three miles per dollar on Delta purchases. Some cards offer extra miles on restaurant and supermarket spending, too.
The cards that have annual fees come with additional benefits, such as a free checked bag for up to nine passengers and priority boarding on Delta flights. The Platinum and Reserve cards also offer reimbursement of the application fee for TSA PreCheck or Global Entry, as well as a companion certificate for a round-trip flight each year you renew the card, among other perks.
United Airlines cards
Outstanding for:
Among United's collection of credit cards from Chase are United Gateway (no annual fee), Explorer ($95 annual fee, waived the first year), Quest ($250) and Club Infinite ($525). They all offer 25% back on United in-flight drink purchases and heightened rewards on United flight tickets, ranging from two miles per dollar with the Gateway and Explorer cards to four miles per dollar with Club Infinite. The cards offer various rewards in other spending categories, including two miles per dollar on restaurant purchases with the cards that have an annual fee.
The cards with annual fees also offer at least one free checked bag on flights (two free bags with the Quest and Club Infinite cards) and up to $100 in credit for a Global Entry, TSA PreCheck or NEXUS application fee. The Explorer card offers two one-time United Club airport lounge passes per year, and Club Infinite offers a full membership to the airport lounges—worth up to $650 per year
Kiplinger Readers' Choice Awards Categories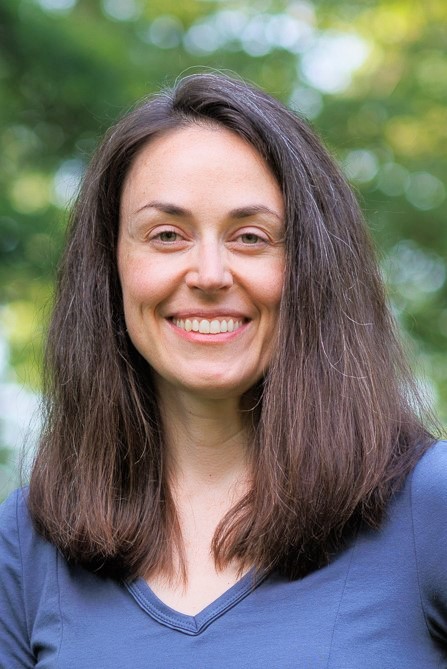 Editor, Kiplinger Personal Finance magazine
Lisa has been the editor of Kiplinger Personal Finance since June 2023. Previously, she spent more than a decade reporting and writing for the magazine on a variety of topics, including credit, banking and retirement. She has shared her expertise as a guest on the Today Show, CNN, Fox, NPR, Cheddar and many other media outlets around the nation. Lisa graduated from Ball State University and received the school's "Graduate of the Last Decade" award in 2014. A military spouse, she has moved around the U.S. and currently lives in the Philadelphia area with her husband and two sons.