4 Money Benefits All Military Personnel Should Know
Kiplinger.com contributing editor and NFL linebacker Brandon Copeland explains several key financial benefits that military service members and their families should take advantage of.
What's up, everybody. For those of you who I've not had the pleasure of meeting yet, my name is Brandon Copeland, a.k.a Professor Cope. I'm an eight-year NFL veteran linebacker for your New England Patriots. I'm also an Ivy league professor at my alma mater, the University of Pennsylvania, on financial literacy. I've teamed up with Kiplinger to help deliver personal finance information to you monthly. I'm super excited about this -- and so without further ado, let's dive in.
Now November is a great month for many reasons. Thanksgiving, for a Husky individual like myself -- it lights my eyes up. Got to go back for multiple plates. But, more importantly, it's Veterans Day. It's also Salute to Service month in the NFL. So with that being said, I wanted to take this opportunity to shed light on some of the financial resources that are out there for our servicemen and women and their families.
I had an opportunity to sit down with Lisa Gerstner, who wrote an article on the top 10 benefits that military servicemen and women and their families can take full advantage of. Her husband, Tom, currently serves in our military. So first and foremost, thank you, Tom. Thank you for your service. And that's where a lot of the passion for wanting to shine light on these resources comes from. My father also served in the military, and I understand firsthand how important it is to make sure our servicemen and women are taken care of when they come back home after putting everything on the line for their country and for us.
Subscribe to Kiplinger's Personal Finance
Be a smarter, better informed investor.
Save up to 74%
Sign up for Kiplinger's Free E-Newsletters
Profit and prosper with the best of expert advice on investing, taxes, retirement, personal finance and more - straight to your e-mail.
Profit and prosper with the best of expert advice - straight to your e-mail.
Free college for yourself, your spouse or a child -- also known as the Post-9/11 GI Bill. The Post-9/11 GI Bill covers full in-state tuition and fees for public colleges and a little over $25,000 per year for private colleges and foreign schools. It also has a stipend for housing and some other fees. Definitely check into this and utilize this resource.
No money down mortgages. VA loans allow you to purchase a house for no money down and no private mortgage insurance. This literally can save you thousands of dollars at the closing table and help you get into the home that you love and deserve. Please be sure to talk to a certified financial planner at your base or another trusted resource in your life so that you make sure that you are purchasing a home that you can afford for the long haul.
There are some resources that are only available to those who are serving in combat zones or who have served in combat zones. Let's dive into those a bit -- 10% guaranteed on savings. Being a NFL player, people have told me when you hear the word "guaranteed," that means run the other way. I, on the other hand, am extremely excited to tell you the work that you've put in for your country has earned you this guarantee. If you look around and you're serving in a combat zone right now -- you look around yourself and you say, "Wait a minute, this is a combat zone" -- that means you can put $10,000 into a savings account and receive 10% guaranteed in interest on those savings. Make sure you take full advantage of this resource, which you've earned.
Finally, we have tax-free Roth deposits. For the average individual, when you put money into a Roth IRA, it is taxed and when you withdraw that money, there are no taxes on those withdrawals. Fair trade off, fair trade off. For service members receiving tax-free combat zone pay, you are eligible to put money into those Roth IRAs tax-free and withdraw that money tax free, as well. You're looking around right now and you think, "Man, this sure feels like a combat zone to me. Man, my paycheck is tax-free, combat-zone pay." Take full advantage of this benefit. If you're in a position to put some money away now to pay yourself later on in life, then I urge you to take advantage of this resource.
For those of you that want more information on the benefits that I share in this video, as well as other benefits, go check out Lisa's article on Kiplinger.com. Also, if you get a chance, please sign up for our e-newsletter. It's completely free. Also, go ahead and follow all of us on social media as we will be sharing more money advice and tips as we move forward.
Finally, if you got something beneficial from this video -- or if you think about a neighbor, a family member, a loved one who could definitely use some of the information in this video -- then feel free to share it with them. Spread the information. Spread the knowledge so that we can continue to build together. Professor Cope signing out here, but I want to make sure that I give a big, big thank you to all our servicemen and women. We appreciate the sacrifices you make for us to have the liberties that we do. We appreciate you. We love you. We can't thank you enough. I hope you all continue to stay safe, and I hope God continues to bless you all. Thank you.
Links and resources mentioned: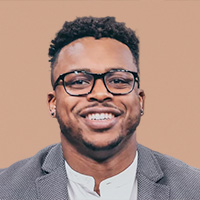 Contributing Editor, Kiplinger.com
Brandon Copeland, an active, eight-year veteran NFL linebacker, has spent the past two years teaching a class he created, and nicknamed "Life 101," at his alma mater, the University of Pennsylvania. Life 101 focuses on life's constant money decisions so that students are better prepared for the financial realities that adulthood brings. Copeland also spends time off of the field consulting and investing in real estate. He is the co-founder of a nonprofit organization, Beyond the Basics Inc., and was the recipient of the 2020 NFLPA Alan Page Community Award, the NFLPA's highest honor given for extraordinary dedication to service, social justice and equality. He is a member of CNBC's Financial Wellness Council and the NFL Players Inc. Advisory Committee. Copeland has interned for UBS and Weiss Multi-Strategy Advisers.