Costs of Hearing Loss Are Both Financial and Personal
Employees with hearing loss experience isolation and have worse career outcomes, but stigmas keep them from seeking assistance. What can companies and individuals do?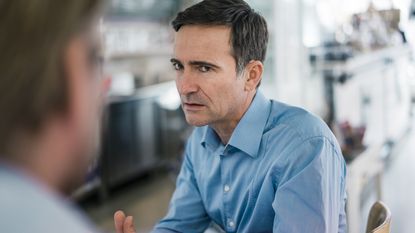 (Image credit: Getty Images)
May is Better Hearing and Speech Month. OK, but why am I, as a financial expert, writing an article about hearing loss? I'm doing this because I want to bring awareness to a huge problem that has significant financial impacts on corporations and individuals alike.
How Big Is the Issue of Hearing Loss?
Have you ever sat in a dimly lit, crowded restaurant where the music is blaring and you are at a table of six and can hardly see your friends or colleagues faces, let alone hear them? You end up leaning over to catch some words, and your throat starts to hurt from yelling across the table. You might shrink away into your own thoughts and give up on even trying to have a conversation.
Well, this is what can happen with a person who has hearing loss — some give up even trying to communicate. This can have a profound effect on their quality of life, at home and at work.
Subscribe to Kiplinger's Personal Finance
Be a smarter, better informed investor.
Save up to 74%
Sign up for Kiplinger's Free E-Newsletters
Profit and prosper with the best of expert advice on investing, taxes, retirement, personal finance and more - straight to your e-mail.
Profit and prosper with the best of expert advice - straight to your e-mail.
While hearing loss is a well-known problem and common, there are still great stigmas associated with it. Here are some stats from the Hearing Loss Association of America (HLAA):
48 million Americans have some degree of hearing loss.
50 million Americans experience tinnitus (ringing in the ears), and 90% of those also have hearing loss.
Two to three out of every 1,000 children in the U.S. are born with a level of hearing loss.
1 in 5 teens have some degree of hearing loss.
2.7 million veterans have hearing loss.
According to the CDC, hearing loss is the third most prevalent chronic health condition facing older adults in the U.S., and most of us are headed toward it someday. And according to the National Institute on Deafness and Other Communication Disorders, 50% of those 75 years and older have difficulty hearing.
How Are We Dealing with Hearing Problems?
The HLAA also reports that people with hearing loss wait an average of seven years before seeking help. Hearing aids and cochlear implants can drastically improve an individual's quality of life, but of those who could benefit from hearing aids, only 7.1% of U.S. adults ages 45 and over used these devices, including 8.9% of men and 5.4% of women. Among men and women over age 45, hearing problems increase with age, with men leading the way.
Why do people wait so long to deal with this issue? There is a stigma around admitting that you have a problem hearing and an equal stigma about wearing a hearing aid. This is sad, because the FDA says about 30 million U.S. adults could benefit from using hearing aids and improve their well-being. The social aspect is real. If it's difficult for some to hear and participate in conversations with colleagues, they feel excluded or "old" and can become demoralized and make mistakes because of their untreated situation.
Mishearing Can Be Costly
One gentleman, who was embarrassed and wanted his name withheld, told me a story of how the letter T cost him his job. He was presenting a project idea on a Zoom meeting with his boss and colleagues. His boss said with enthusiasm, "We can't proceed with this project." Because of his hearing loss, the employee did not hear the T in "can't" and thought he'd gotten the greenlight to move ahead on the project. He was fired for insubordination.
Impact of Hearing Loss
Your first thought may be that hearing loss affects only older employees, but think again. About 60% of those with hearing loss are below retirement age. Employees with hearing loss can find it challenging to hear and follow directions correctly or communicate with colleagues. In manufacturing facilities or any workplace involving heavy machinery, it can be deadly.
News Medical reported that researchers at Portland State, Oregon State and York universities, as published in the Journal of Management, shed light on how an employee's hearing loss can impact their experience at work. They say that employees suffering from hearing loss experience isolation and ultimately have worse career outcomes in the areas of attitudes, commitment, satisfaction and salary levels.
HLAA reports, "Those with untreated hearing loss earned an average $20,000 less annually than those who used hearing aids or cochlear implants." The organization also reports, "Even (an untreated) mild hearing loss can cause a child to miss as much as 50% of classroom discussion."
I Hear You
One of my dear friends who used to be the highest-ranking woman at AIG is Linda Goodwin. Goodwin ran into this problem while she was at AIG. She saw a co-worker leaning forward to hear every time there was a discussion. Because Goodwin was sensitive to the situation, she asked her colleagues to speak up, saying she couldn't hear them. She later spoke to her employee privately and connected him with the HR department who put him in touch with hearing specialists.
We know that hearing devices are expensive, and that is a major problem. I wanted to know what people can do. So Goodwin introduced me to Linda Daniel, MA, MS, board-certified and Texas-licensed audiologist, listening and spoken language specialist, certified auditory-verbal therapist and author, who gave me some pointers.
Daniel said, "There are many causes of hearing loss. It's important to see an ear specialist (otologist) and an audiologist for professional evaluations. Hearing aids cost on average $1,600 per pair, and prescriptive hearing aids average $4,600 per pair. Over-the-counter aids are primarily for mild to moderate loss and do not require professional evaluations and are not custom fit to your needs. Prescriptive hearing aids are fitted by a licensed audiologist, who programs them specifically for your loss."
Daniel added, "Most commercial insurance and Medicare plans do not cover costs for hearing aids, though some may offer partial coverage. They are more likely to cover benefits for cochlear implants and other surgically implanted hearing devices." In cases of financial need, Daniel suggested that people contact their state's Department of Vocational Rehabilitation if they need to hear better on the job, or a non-profit organization."
A Sound Life
I also spoke to Michael Noble, who was born profoundly deaf and received a cochlear implant at age 2½. Noble is a senior manager of U.S. Field Marketing at Medtronic. He leads teams that engage in the production of medical devices that will be sensitive to a person with disabilities. Obviously, a company that is engaged in the production of medical devices will care about its market. But others can learn from Noble's experience in creating hearing-loss-friendly environments.
He told me, "It's important to foster a positive work environment for those with hearing loss, and it's a two-way street. Those with hearing loss, or any disability, need to feel comfortable sharing their needs, and those without disabilities should feel comfortable asking how they can help. Sometimes it's as simple as activating captions on Zoom or using a combination of visual aids like slides along with voice. This partnership should be embedded into the culture of your company; that's the key takeaway."
Whether you are at home or at work, it's important to remember the words of Helen Keller: "Blindness cuts us off from things, but deafness cuts us off from people."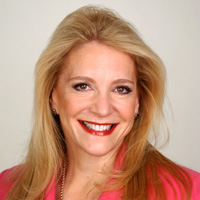 President & CEO, Children's Financial Network Inc.
Neale Godfrey is a New York Times #1 best-selling author of 27 books, which empower families (and their kids and grandkids) to take charge of their financial lives. Godfrey started her journey with The Chase Manhattan Bank, joining as one of the first female executives, and later became president of The First Women's Bank and founder of The First Children's Bank. Neale pioneered the topic of "kids and money," which took off after her 13 appearances on "The Oprah Winfrey Show." www.nealegodfrey.com