This Vet is on the Frontlines of the Pandemic Pet Problem
Lisa Gretebeck used telemedicine and other creative ways to handle a surge of new cat and dog patients.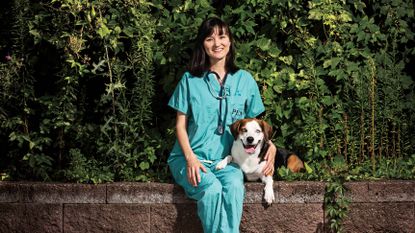 (Image credit: Photo by Scott Suchman)
Profile
Who: Lisa Mariko Gretebeck, age 33
What: Veterinarian at animal hospital
Where: Alexandria, Va.
Subscribe to Kiplinger's Personal Finance
Be a smarter, better informed investor.
Save up to 74%
Sign up for Kiplinger's Free E-Newsletters
Profit and prosper with the best of expert advice on investing, taxes, retirement, personal finance and more - straight to your e-mail.
Profit and prosper with the best of expert advice - straight to your e-mail.
The pandemic pushed pet adoptions to new records. How has that impacted your work? The good side is that we've been very busy with a lot of pet owners. The bad side is that if the caseload goes up, sometimes it can compromise the quality of care we can provide. Quite a few times the caseload was just too high, and we went into something called limited admission status (L.A.S.) in the veterinary world. I would call other hospitals to see if they could take patients from us, but usually by then all the other clinics were also overwhelmed.
How did that affect the care you gave? Different doctors practice medicine differently. But for me, especially with emergency patients—they're usually pretty sick, serious patients that come in—I like to do follow-ups directly with the owners to make sure their dogs or cats are doing okay. But it was so busy that I had to pick and choose which clients I was following up with. And hand in hand with that are long hours and all the medical records that you need to write when it's literally case after case after case, nonstop.
How did it go early in the pandemic? We were doing more communicating over the phone, like telehealth. We would bring only the animals in, examine them, and then call the owners. I actually spent the beginning of 2020 in Japan with my husband, who works for the U.S. State Department. When I was there, I worked for a telehealth company called AirVet, seeing the overnight cases in the U.S. We moved to Japan just before COVID, and at that time, it was not a very busy job at all. But when COVID hit, many owners took advantage of it. The longer I did that, it really told me that telehealth has the potential to grow.
What kind of problems were you seeing with the new owners? We've had a lot of first-time pet owners come in saying, "There's a problem with my dog. It's just peeing everywhere!" They don't know how to communicate with their pets. It's not so much neglect; it's more ignorance. And during COVID I was discussing finances with a lot of owners, because many people lost their jobs or could barely pay their rent to stay in their homes. So if they were coming to the hospital and paying more than a hundred dollars just to talk to a doctor, I thought it was really important to change my way of speaking about finances. I became very blunt about how much it cost and how to manage it.
Why do you think so many people adopted pets during the pandemic? I think with stay-at-home orders and quarantining, there are a lot of feelings of isolation. I think that has made humans feel very anxious and lonely. Pets have this ability to provide companionship and comfort. They can actually provide people with therapy and give them more confidence and a sense of purpose. The other thing I think is that people have just generally had more time—people who were always saying, "I want a dog, but I just don't have time" were suddenly able to telework, which gave them the ability to raise a puppy. I think that pet ownership generally will continue to increase. And I think that owners will likely be taking advantage of telehealth appointments, and vets should be encouraging of that. Telemedicine gives opportunities to triage cases that don't need to come in immediately. We can better prioritize.
Staff Writer, Kiplinger's Personal Finance
Emma Patch joined Kiplinger in 2020. She previously interned for Kiplinger's Retirement Report and before that, for a boutique investment firm in New York City. She served as editor-at-large and features editor for Middlebury College's student newspaper, The Campus. She specializes in travel, student debt and a number of other personal finance topics. Born in London, Emma grew up in Connecticut and now lives in Washington, D.C.