Back to School, Ready or Not
This Florida teacher's school let families choose distance learning or in-person classes.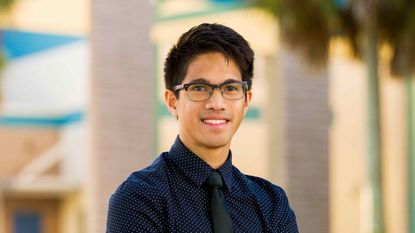 (Image credit: Photo by Ryan Ketterman)
Who: Philip Sabado, 29
Occupation: Social studies teacher
Where: Ponte Vedra High School in St. John's County, Fla.
How did you adapt last March when you began to do full-on distance learning? Some teachers recorded lectures and had them posted for students to watch on their own time, but I felt that I needed to do something more interactive. So I would invite everyone to online conferences, where I would walk through my slides, mark them up and then have students ask me questions, either in a chat or on a mike. Two days a week, I did a lecture or tried to do a writing activity—which is really hard to do online.
How did the students respond to this sort of learning? The term that the district uses for what I do is brick-and-mortar schooling. My class typically is, "listen to me lecture, and let's practice some writing." The kids who are going to try hard and do very well in a brick-and-mortar school will continue to do well in distance learning. But distance learning made it nearly impossible for me to reach my lower-end students. Some students simply wouldn't attend certain things or wouldn't complete the assignments. Even coordinating with the deans, administrators, guidance counselors and parents, there's only so much I can do.
How can distance learning be effective? If students have devices and a solid internet connection, it gives them the freedom to work at their own pace—more so than with brick-and-mortar schooling. The downside is maintaining motivation and keeping students invested in the process. That was really hard to do.
Subscribe to Kiplinger's Personal Finance
Be a smarter, better informed investor.
Save up to 74%
Sign up for Kiplinger's Free E-Newsletters
Profit and prosper with the best of Kiplinger's expert advice on investing, taxes, retirement, personal finance and more - straight to your e-mail.
Profit and prosper with the best of Kiplinger's expert advice - straight to your e-mail.
As a teacher, how has the pandemic affected your life? Seeing my students is really what I miss the most. I miss it every day. I thrived in the classroom setting. All my students know how hard I work for them and how much I care about the learning process. And I didn't have the type of closure with them that I normally would. There are traditions that I normally do to end the year on a high note, but it ended on a somber, sad note.
Your school delayed classes until August 31. How else will school be different this fall? We have plans for both brick-and-mortar classes and distance learning. Students who have chosen to attend classes will be required to wear face masks if they can't social distance.
With Florida's virus cases surging, what do you think about the teachers unions' objections to returning to class? I understand the desire to go back to a sense of normalcy and to get students back in school. There are arguments for doing that—giving the parents the freedom to work without a babysitter, for instance. That said, we need to value the lives of our students, teachers and parents. We need to try to keep everyone safe. From speaking with other teachers, the overwhelming majority would say to play it safe. As much as we want to go back to brick-and-mortar schooling, it just doesn't feel safe yet.
Staff Writer, Kiplinger's Personal Finance
Emma Patch joined Kiplinger in 2020. She previously interned for Kiplinger's Retirement Report and before that, for a boutique investment firm in New York City. She served as editor-at-large and features editor for Middlebury College's student newspaper, The Campus. She specializes in travel, student debt and a number of other personal finance topics. Born in London, Emma grew up in Connecticut and now lives in Washington, D.C.