College During COVID
Students and their families must be ready to adapt to the changes in the way they attend—and possibly pay for—college.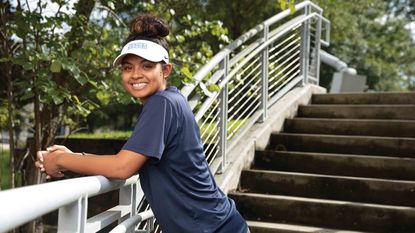 (Image credit: Photograph by Matthew Coughlin)
At Kiplinger, the name of the game is value. For more than 20 years, our annual college rankings have been no exception. Over the years, we analyzed data on hundreds of public and private colleges and universities across the nation seeking institutions that deliver a high-quality education at an affordable price.
But this year, as the coronavirus forced schools to shutter in mid March and transformed the higher-education system practically overnight, we put our rankings on pause. Instead, we decided to focus on strategies for getting the most value out of a reeling higher-education system, including transfers, gap years and increased financial aid.
For Mika Garcia, a 21-year-old rising senior at the University of West Florida (UWF), the pandemic shutdown meant a softball season cut short. "It was extremely heartbreaking," she says. "Everything was shut down—no weights, no practice, no games, no visiting one another. It was a weird and confusing and sad time, for sure."
Subscribe to Kiplinger's Personal Finance
Be a smarter, better informed investor.
Save up to 74%
Sign up for Kiplinger's Free E-Newsletters
Profit and prosper with the best of expert advice on investing, taxes, retirement, personal finance and more - straight to your e-mail.
Profit and prosper with the best of expert advice - straight to your e-mail.
Samuel Merritt, 20, who was attending the American University of Paris, had to quickly find a flight home. Although he says doing so was "pretty easy," his father, Dan, recounts the situation differently, noting inflated prices for last-minute tickets to airports near their home in West Caldwell, N.J., and a layover in Düsseldorf, Germany: "I was completely freaked out about his getting home from Paris," he says. "My biggest concern was that he'd get to Düsseldorf and get stuck there, where he has no place to stay and I don't know if I'm going to be able to get to him."
Merritt's return was safe and smooth, but he's decided not to return to Paris. "Given the pandemic, I really just want to be closer to everyone."
This fall, Merritt is set to transfer to Emerson College, in Boston—a move he and his family see as a silver lining to this gray cloud of a year. "I am quite honestly very happy that he's going to be on soil where I can drive to him," says his father.
Happily, Garcia's softball scholarship remains intact—part of the agreement when she signed on with UWF was that her scholarship would carry over all four years of her college career. And certain sports scholarships may remain safe in general.
"For many schools, the athletic program is an important part of their community, enrollment strategy and outreach to their alumni base," says Kevin Walker, publisher of CollegeFinance.com.
Garcia is looking forward to getting back to school and on the softball field for her senior year, even if classes are conducted online (before the pandemic, she tended to go with online course options to accommodate her rigorous sports schedule) and new restrictions are in place. "As long as we are all staying safe and our health is being taken into account, that's all that matters," she says.
Back to school
More than one-third (37%) of high school students report altering their path for higher education, according to a June survey by the College Savings Foundation. Among those who are setting a new course, 40% plan to attend community college to save on costs, and 25% are taking a gap year.
The vast majority (84%) of colleges are planning to reopen for the new academic year with at least some form of in-person classes, according to the Chronicle of Higher Education. But pandemic plans vary greatly, depending in part on each school's geographic location and campus layout.
The California State University System, the nation's largest four-year public university system, announced in May that the fall semester would focus on virtual learning, with minimal in-person activity. At the other end of the spectrum, Emerson is planning for a mainly in-person return. The University of West Florida is taking a hybrid approach, allowing students to choose among classes in four categories: full distance learning, primarily distance learning, hybrid (with 50% to 79% of the course delivered remotely) and primarily classroom. Both Emerson and UWF plan to close campus for Thanksgiving and finish the remainder of the term virtually.
With so much variety and uncertainty, the college decision is understandably harder these days. "There has been a lot more hand-wringing and consideration around whether to go to college this fall," Walker says. "But it might still be the best alternative, even if the mode that college of choice is using is not the optimal one."
More aid, please
Most schools were quick to issue prorated refunds for room and board, which became unavailable once schools closed in March. But many students and their families think they deserve more. They argue that losing access to in-person classes and on-campus amenities lowers the value of their education—and that change should be reflected in the price. Some families have even filed lawsuits against several schools, including Arizona, Cornell, George Washington, Michigan State and Rutgers universities. Such appeals have so far been unsuccessful, so if schools are forced to close campuses again and shift classes to Zoom, don't count on reimbursements.
Even if you've already settled on a school and been awarded financial aid, you should ask for more, especially if your financial situation has changed due to the pandemic. When you fill out the Free Application for Federal Student Aid (FAFSA), you use financial records from two years prior. Aid awarded for the 2020–21 school year was based on your family's 2018 tax filing, so the FAFSA may not reflect your 2020 financial needs.
Mark Kantrowitz, publisher and vice president of research for Savingforcollege.com, says the appeal process is pretty straightforward, with schools either providing a standard form or requesting that you write a letter. In the letter, he suggests using bullet points to note each special circumstance—which might include medical issues, job losses, job insecurity and wage cuts—and its financial impact on the family. Attach copies of documentation to support your claims, such as medical bills, layoff notices and bank account statements.
Facts and figures will matter more than your powers of persuasion. "The amount of the adjustment will be based on the financial impact on the family in a very formulaic manner," Kantrowitz says. But manners count, too. "There is no appeal beyond the financial administrator, so it pays to be polite and to do things the way they expect," Kantrowitz says. For additional guidance on appealing for more financial aid, see www.kantrowitz.com/books/appeal. Merit-based financial aid is likely to be less generous in order to make more room in the budget for need-based awards.
Take a break
Deferring enrollment or taking a gap year can help alleviate worries about returning to campus amid the pandemic and delay students' entry into a rickety labor market—all while pausing tuition payments. Still, the move has its obstacles. Understand deferral policies, which vary by school. You especially need to check on whether financial aid that has already been awarded will carry over.
For returning students who already have certain types of student loans, a semester- or year-long break may trigger the repayment grace period. Depending on the type of loan, if a student is no longer enrolled at least half-time, repayments will start coming due in six to nine months. Taking the summer and fall semesters off may count as a six-month grace period—and you only get one. "Once you ultimately graduate, your loans are going to go into repayment immediately," Kantrowitz says. (If you reenroll before the grace period ends, it resets the clock.)
Structuring a gap year can help make the most of your time away from school and keep you on track to return and graduate on time. But such opportunities may be derailed by the virus.
That's the issue for Kevin Walker's middle daughter. She had planned to take a gap year after graduating high school this past spring. But after the virus halted travel opportunities in her intended gap-year program, she changed plans and applied for college in April. As of early July, she was still deciding between two schools, waiting to hear how they would be handling the fall.
Managing the costs
Paying for college—already a challenge for many families—may be increasingly difficult. Nearly 70% of parents with college-bound kids say they are worried about paying for their child's college education, up from 64% before the pandemic outbreak, according to a survey by Discover Student Loans.
Even before the coronavirus pandemic triggered a sharp spike in the unemployment rate, many families were struggling to pay for college. In the 1979–80 academic year, tuition and fees at a public four-year college averaged $2,600 (in 2019 dollars), according to the College Board. By 2019–20, those costs increased fourfold to $10,440, on average. "College wasn't affordable to begin with, and there were lots of reasons that was happening," says Sara Goldrick-Rab, professor of sociology and medicine at Temple University.
One reason she notes is stagnant wages not keeping up with rising costs. The pandemic is making those matters worse. While Black and Latinx workers make up just 11% and 17% of the workforce in the U.S., respectively, they suffered 15% and 24% of recent record job losses, according to the Georgetown University Center on Education and the Workforce.
Students, too, are suffering job in­security, with one-third reporting job losses due to the pandemic, according to a report from the Hope Center for College, Community, and Justice, a research group founded by Goldrick-Rab at Temple University. That has deepened students' concerns about their ability to afford basic needs, including food and shelter, let alone tuition.
About half of white students report experiencing basic-needs insecurity, compared with 65% of Latinx students and 71% of Black students. (Indigenous students were worst off, with 74% suffering basic-needs insecurity.)
Several schools, including the University of Chicago, Ohio Wesleyan University and William & Mary, have announced tuition freezes, and a handful of colleges are lowering tuition rates: Southern New Hampshire University moved up existing plans to cut tuition by 61%, to $10,000 a year. Williams College is cutting tuition rates by 15%.
But other colleges are forging ahead with rate increases. For example, at New York University, full-time tuition (for 12 to 18 credits) for undergrads at the College of Arts and Science rose about 3%, from $25,342 in fall 2019 to $26,102 this fall.
Despite the financial challenges college poses, the pandemic has emphasized the advantages of having a college education. Workers with a bachelor's degree or higher account for only 19% of recent job losses, according to the Georgetown Center on Education and the Workforce. By comparison, workers with a high school diploma or less suffered 46% of job losses. Also, white-collar workers are more likely to have the option of working from home, a privilege that has allowed them to continue earning the same income while sheltering in place.
To ensure your family can afford college, whether your prospective student is in diapers or donning a cap and gown, you need to get your financial plan in order. "The sooner families start planning, the better," says Derenda King, a certified financial planner in El Segundo, Calif.
"What is often misunderstood is that paying for college is not just about saving," King says. "To save on college costs, families need an integrated and strategic approach that entails having a proper understanding of how the financial-aid process, savings and investments, tax strategies, borrowing, and loan-repayment options all work together to lower the cost of college."
Still, saving is important—and you may need to do more of it. Kantrowitz expects tuition rates at public colleges to rise faster than usual in a couple of years. As state and federal budgets suffer, public colleges can expect to see less funding, which may lead to higher costs and less financial aid.
In the short term, though, families have some bargaining power to score big discounts and additional aid. "Schools don't want to lose students in terms of enrollment," Walker says. "Every incremental dollar that comes in is important to them, so they're going to be very motivated to work with the family."
How much a school is able to give depends on its own financial security, an important point to consider if you're still undecided on where to enroll or willing to transfer. Check into prospective schools' endowment funds, enrollment levels (years of declining enrollment is a "leading indicator of a deep financial problem," Walker says) and discount rate (the average share of tuition and fees that a school covers with aid and grants).
"Knowing which schools have a great track record of meeting a family's demonstrated financial need or which schools provide generous merit aid can help inform your funding strategy," King says. A good place to start is Kiplinger's best-value college rankings for 2019.
5 ways college is changing
1. Lower enrollment. As families struggle through the pandemic recession, fewer students are likely to be able to afford the high cost of college. About half of college presidents expect fall enrollment to be lower in 2020 compared with 2019, according to a June survey by the American Council on Education. (Optimistic note: That's down from 62% in May.)
However, past economic downturns have typically seen an increase in college enrollment. Following past patterns, Moody's Investor Service estimates that higher education enrollment could actually rise 2% to 4% for the fall, according to a June report.
Either way, enrollment levels are at risk among international students, who tend to pay full price, making them more-lucrative enrollees. While the Trump administration rescinded plans to strip visas from international students if their schools went entirely online, travel restrictions could still deter some from attending school in the U.S. The Trump administration's suspension of work visas for foreigners is also expected to shrink this cohort of students.
2. Tighter budgets. Revenue per student is expected to drop by 5% to 13%, according to Moody's. Market turmoil is threatening endowment funds. Federal and state funding is likely to be cut, as government budgets get squeezed themselves. All that means tighter budgets, so schools will have to cut spending, delay campus construction, freeze salaries and lay off staff. Ultimately, fewer schools will remain. Kevin Walker, publisher of CollegeFinance.com, estimates that 100 to 200 schools may close or merge within the next three years. "Many of them will close because they were barely making it prior to the coronavirus crisis," he says. "[This] just pushed them over the edge when it came to their ability to bring in the tuition dollars and the enrollment they need to keep their business model working."
3. More education technology. Look for an explosion of online learning options to generate new revenue. Traditional schools still lag leading online educators, such as for-profit colleges. That spells more sales to colleges by leading software vendors, such as Blackboard, Canvas and Moodle.
Innovation in education technology will accelerate. Look for more virtual experiences that feel like a real classroom, as well as artificial intelligence tools to automate grading.
4. Smaller staffs. In an effort to balance budgets bleeding red ink, 224 colleges and universities had laid off, furloughed or opted to not renew contracts for nearly 51,800 employees as of July, according to the Chronicle of Higher Education. Cuts included professors from programs that have shrunk or been shuttered; all types of administrative positions; dining and other service staff; and sports coaches and assistants. The fallout could lead to worse student-faculty ratios and fewer student activities, among other things.
5. No parties? To update policies and procedures in accordance with coronavirus restrictions, schools are cobbling together solutions, from COVID quarantine dorms to Plexiglas-divided lecture halls. And whether mandated or recommended, social-distancing etiquette—wearing a mask, staying 6 feet apart and limiting gatherings, especially indoors—is certain to change the college experience. "It's not going to be back to normal until there is a safe and effective vaccine," says Savingforcollege.com's Kantrowitz.
The case for community college
Enrolling in your local community college can be a great way to pursue an affordable education while minimizing the risk of coronavirus exposure and spread. "It's not just a smart financial move; it is a smart move," says Sara Goldrick-Rab, professor of sociology and medicine at Temple University. "Community college is great, and it always has been," she says. "All the community colleges have needed is for the public to start acting like it."
If you plan to transfer your credits to a four-year college later, though, note a potential drawback to this strategy: Transfer students tend to get less financial aid than first-year students, so you have to plan accordingly. "It can mean several thousand dollars less in grants," says Savingforcollege.com's Kantrowitz.

Online Editor, Kiplinger.com
Rapacon joined Kiplinger in October 2007 as a reporter with Kiplinger's Personal Finance magazine and became an online editor for Kiplinger.com in June 2010. She previously served as editor of the "Starting Out" column, focusing on personal finance advice for people in their twenties and thirties.
Before joining Kiplinger, Rapacon worked as a senior research associate at b2b publishing house Judy Diamond Associates. She holds a B.A. degree in English from the George Washington University.