Fed Signals That More Interest Rate Hikes are Coming
The stock market may have hoped that the Federal Reserve will soon slow down its pace of increasing interest rates, but the Fed chair had a different message for the markets.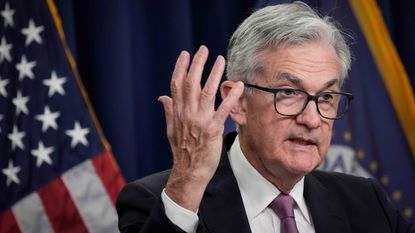 (Image credit: Getty Images)
Federal Reserve Chairman Jerome Powell spoke with steely resolve today of the Fed's determination to continue to raise interest rates as long as it takes to beat inflation. As a result, another large, three-quarters-of-a-point interest rate hike is still a real possibility at the Fed's next policy meeting on September 21. At least a half-point rate hike is guaranteed.
Powell spent the majority of his short speech warning against easing restrictive monetary policy too early. There is a real danger that a period of prolonged inflation could induce businesses and workers to automatically add a certain inflation rate into their wage and price calculations. That mentality would cause high inflation to become a self-perpetuating cycle, which would lengthen the time needed for higher interest rates to bring down inflation (opens in new tab). Better to slow the economy enough to bring down inflation right away before this can happen, Powell said.
Higher interest rates bring down inflation by making it more expensive for consumers and businesses to borrow, thereby reducing the demand for houses (opens in new tab), cars and other financed goods. This eases price pressures for these items, but it also slows the economy in general. As the economy slows, businesses are no longer able to raise prices, or workers to win large pay raises. The Fed doesn't want the economy to slow so much that it falls into recession, but is willing to let that happen if it's necessary to tame inflation. While Powell acknowledged that the economy is slowing, he also pointed out that its underlying momentum is still strong, as evidenced by continuing labor shortages.
Subscribe to Kiplinger's Personal Finance
Be a smarter, better informed investor.
Save up to 74%
Sign up for Kiplinger's Free E-Newsletters
Profit and prosper with the best of Kiplinger's expert advice on investing, taxes, retirement, personal finance and more - straight to your e-mail.
Profit and prosper with the best of Kiplinger's expert advice - straight to your e-mail.
Powell did say that the Fed would ease its rate hikes at some point in the future, but not to expect one or two months of lower gasoline prices to get the Fed to change its course. What this likely means is that the Fed will want to see smaller price increases for consumer goods and services, beyond the notoriously volatile categories of food and energy, before it will change course. That broader slowing of price rises would indicate that underlying inflation momentum would be easing. Although Powell didn't mention this, one of the main components of consumer services prices is rent, which has been rising strongly because of the housing shortage. Home prices have likely peaked already, given the slowing of the housing market because of higher mortgage rates, but rent increases tend to lag behind home prices, so their momentum could continue for a while.
Staff Economist, The Kiplinger Letter
David is both staff economist and reporter for The Kiplinger Letter, overseeing Kiplinger forecasts for the U.S. and world economies. Previously, he was senior principal economist in the Center for Forecasting and Modeling at IHS/GlobalInsight, and an economist in the Chief Economist's Office of the U.S. Department of Commerce. David has co-written weekly reports on economic conditions since 1992, and has forecasted GDP and its components since 1995, beating the Blue Chip Indicators forecasts two-thirds of the time. David is a Certified Business Economist as recognized by the National Association for Business Economics. He has two master's degrees and is ABD in economics from the University of North Carolina at Chapel Hill.