A Financial Guide to Gray Divorce
Older women deal with many of the same issues as their younger counterparts but face additional challenges, some unexpected during a gray divorce.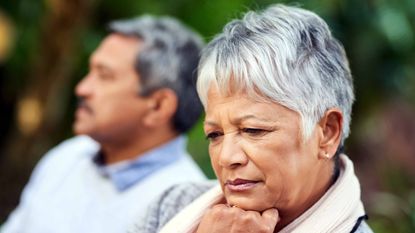 (Image credit: Getty Images )
Even though a later-in-life divorce can be potentially devastating financially, it's often women who initiate the process. "They may have stayed in an unhappy marriage for the sake of the children," says Lisa Zeiderman, managing partner at the law firm Miller Zeiderman, in New York City. "Now that the children are off to college or grown, they feel it's time to move on with their lives."
Sometimes the breaking-up point comes when both spouses retire and "sparks start to fly," says Kimberly Foss, a partner with Mercer Global Advisors in Roseville, Calif. Leslie Thompson, cofounder of Spectrum Wealth Management in Indianapolis, says financial control is often a factor for women "who don't want to be judged on how they manage their money."
In a divorce, money can be an even bigger stumbling block for older women than for younger ones. Women in this age group frequently have been out of the paid workforce for long periods of time and "don't have the earning capacity to find a job with an income that's comparable to their ex-spouse's," says Zeiderman. Nor do they always have the time to reinvent themselves. At the same time, the available assets in the marriage have to support two households rather than one, and expenses have jumped with inflation.
Subscribe to Kiplinger's Personal Finance
Be a smarter, better informed investor.
Save up to 74%
Sign up for Kiplinger's Free E-Newsletters
Profit and prosper with the best of expert advice on investing, taxes, retirement, personal finance and more - straight to your e-mail.
Profit and prosper with the best of expert advice - straight to your e-mail.
Financially, says Thompson, it can be a scarier time for women in their fifties, who need to plan for the next half of their lives, than for women in their seventies, who have a shorter time frame and may have access to other resources.
Money Matters
Whatever your age, it's critical to get your ducks in a row if you are considering filing for divorce and to be as prepared as possible if you are blindsided. Have credit in your own name. Hold assets in your own name. Keep a foot in the workplace door. If you aren't working outside the home, fund a spousal IRA based on your spouse's earnings.
And know where the money is. Zeiderman and her husband have been married for 25 years and, she says, "I trust him implicitly." But they have what they call the "mailbox rule." When they are at home on Saturday mornings, she opens all the mail, looks at all the statements and starts a discussion about where they stand financially.
Don't count on receiving spousal support. Laws vary from state to state, and court-ordered alimony "is much less of a given than it used to be," says Foss. "More often I'm seeing it as part of a settlement agreement."
So it's important to uncover as many assets as possible that can be used for your support and to make sure those assets are divided equitably. It may make sense to sell the family home while you still qualify for the $500,000 capital gains exclusion as a couple and invest the proceeds in income-producing assets. When divvying up joint brokerage accounts on which capital gains taxes may be due, make sure that the tax bill is also divided equitably.
If you have been married for 10 years or more, when you turn 62 you are eligible for Social Security benefits based on your ex-spouse's earnings if they are higher than benefits based on your own earnings. But remember: A portion of the benefits may be taxable. "That's an eye-opener for many women," says Foss (see "Cut Your Social Security Taxes," on page 78).
With money such a big issue, you'll need a budget that reflects your income and expenses so you know what kind of lifestyle you can afford.
One thing that likely won't be a factor for older women is children. "Once children are 21, the courts won't look at them unless they have special needs," says Zeiderman. "Once you're divorced, the oxygen-mask rule takes over," she says. "Think of yourself first."

Janet Bodnar is editor-at-large of Kiplinger's Personal Finance, a position she assumed after retiring as editor of the magazine after eight years at the helm. She is a nationally recognized expert on the subjects of women and money, children's and family finances, and financial literacy. She is the author of two books, Money Smart Women and Raising Money Smart Kids. As editor-at-large, she writes two popular columns for Kiplinger, "Money Smart Women" and "Living in Retirement." Bodnar is a graduate of St. Bonaventure University and is a member of its Board of Trustees. She received her master's degree from Columbia University, where she was also a Knight-Bagehot Fellow in Business and Economics Journalism.