Sell Your Gold Safely for a Fair Price
Selling gold jewelry and coins can be daunting with hucksters abounding. Here's how to avoid being scammed.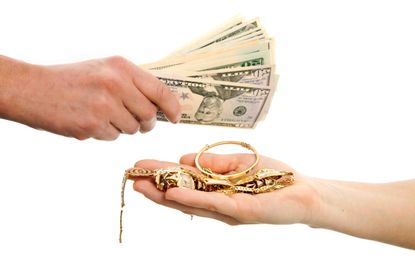 You've got some gold you want to sell. Some of your late aunt's jewelry, maybe. Or your grandpa's coin collection. Some old earrings that don't have partners anymore. Or a really hideous bracelet you never wear. You could use the cash much more than the knotted lump of old chains in your jewelry box. But selling gold can be intimidating.
We're sure you've seen the signs promising quick cash for gold. What about an online buyer? Maybe you got a mail solicitation. Authorities warn about ripoffs, and knowing how to get a fair price in a volatile market is a challenge. But if you have some gold jewelry or coins or other gold you would rather cash in, there are ways to sell it safely and for the best price.
The key to this transaction is your comfort level and trust that the person you're selling to is reputable. So one of the first rules is to do your research and shop around.
Subscribe to Kiplinger's Personal Finance
Be a smarter, better informed investor.
Save up to 74%
Sign up for Kiplinger's Free E-Newsletters
Profit and prosper with the best of expert advice on investing, taxes, retirement, personal finance and more - straight to your e-mail.
Profit and prosper with the best of expert advice - straight to your e-mail.
Pandemic Affects Consumer Gold Sales
More and more consumers are looking to sell gold items, according to Gary Smith, past international president of the American Society of Appraisers (ASA), even if gold prices aren't particularly high right now. Part of the reason for the heightened interest in selling? It's a bit dark: The high number of deaths from COVID-19 has left survivors to sell property owned by their deceased relatives, Smith said.
Also, people facing financial hardship because of the pandemic are looking to sell gold and other items. "People have actually come into our facility with very low-value jewelry," said Smith, who owns PA Gem Lab in Montoursville, PA. "They need money and they're willing to sell grandpa's class ring. It is a sad state and people are hurting."
With all this need, scams abound, according to Smith. So it's wise to be cautious when selling your gold and jewelry. As with most things, knowledge is your key to success.
Before Selling Your Gold, Talk to an Appraiser
The first step, Smith said, is to talk to an appraiser. Smith pointed to the ASA, as well as the National Association of Jewelry Appraisers and the Appraisers Association of America as the major organizations in this area. In addition, he said there's an organization for retailers called the American Gem Society.
Appraisers who belong to one of these organizations must abide by strict codes of conduct and ethics, Smith said. All three of these outfits maintain databases on their websites where you can find an appraiser near you. For a small fee -- perhaps as low as $20 -- one of these independent appraisers can give you a quick assessment of what you have and what it should fetch, along with whether a piece of jewelry has intrinsic value beyond the gold weight and if the gems are real.
That should be enough, Smith said, to give consumers what they need to know to sell their items for a fair price. A seller shouldn't need an expensive, written appraisal, such as might be required for insurance coverage.
"Most appraisers are pretty lenient that way," Smith said. "We're here to help and from ASA's standpoint, we're here to educate the general public." Appraisers, he said, "want people to get value for their money."
Shop Around Before Selling Your Gold
Amanda Gizzi, spokesperson for jeweler trade organization Jewelers of America, says that getting more than one offer and selling to a reputable purchaser are important steps to selling gold and jewelry safely for a fair price.
"Shopping around is a good way to understand the average price you can expect," Gizzi said. "If you can find a jeweler that you like to buy jewelry from, you may find you get a higher amount if you use the money toward another jewelry purchase."
Kate Mars, who lives in Arlington, Virginia, went by recommendations from people she trusted when she sold jewelry and a coin collection from a safe deposit box left when her father died.
Through the estate lawyer, she found a coin dealer in nearby Frederick, Maryland, where the dealer gave Mars a "sense of security" as he went through her books of coins and told her what had value.
The jewelry had been appraised for the estate and none of it was particularly valuable, Mars said. She took that to a jewelry store that was recommended to her -- and that had been in business for a long time. "The people were nice," she said. "They looked everything up...Even if I could have made a few more bucks (going somewhere else), I am happy with the experience."
They also helped by providing the documentation she needed as executor of her father's estate. And note that for everyone selling gold or jewelry, getting a good receipt should be part of the process. It should include all the details of the transaction, including the name and address of the buyer, the date of the sale and the weight, fineness, prices and names of all precious metals involved.
How Much Do You Get for Selling Gold?
A variety of sources online, such as kitco.com, will give you the spot price of gold. Don't expect to get that amount, though, for old jewelry or coins. For one thing, those are wholesale values, and you are selling to a middleman, who is going to need to make a profit when he resells your property.
Smith, the past international president of the American Society of Appraisers said some places that post signs offering to buy gold pay just 40 to 45% of the value. Pawn shops may pay just 20%. So what's a fair value? Consumers should sell to someone who will pay 65 to 88% of the value of an item, according to Smith.
Why can't you get more? There are several reasons. For one, businesses that buy gold are usually required by state law to hold onto items for a set number of days before selling them, Smith said. This can be a gamble because of the volatility of gold prices. The purchaser of your gold also will likely sell to a refiner or to a middleman who sells to refiners. The gold will pass through two or three sets of hands before it is ultimately sold for its value.
"Gold jewelry isn't always very heavy, so the price that something was purchased for will not be the same as what you sell it back for," Gizzi said. "Remember, the retailer that buys the gold, has to process it, clean it, and oftentimes melt it down to make it into something else before they can resell it."
Another important variable that will affect price is the gold's purity, measured in karats. Pure gold -- think bullion bars -- is 24 karat. But pure gold is soft, so it's usually mixed with other metals to make it harder and more durable such as when used in jewelry.
The karat measurement tells you how much pure gold is in the piece. The proportions of pure gold and other metals will add up to 24. So, if your jewelry is 18K, or 18 karats, that means it has 18 parts of gold plus six parts of other kinds of metal. A 10K piece of gold is 10 parts gold with 14 parts of other metals.
Should You Sell Your Gold Online?
Like with almost every other business transaction, the internet is an option for selling your gold. Ebay, for example, has a marketplace where sellers can send a photograph of their item and receive a quote -- without sending in their item. Notably, their buyback partner, APMEX, only accepts bars, coins and rounds.
If you have coins or bullion, Smith said, selling the items on eBay is "better than a pawn shop." But he prefers local in-person transactions to online sales. "Basically you know who you are dealing with," he explained. "I guess I'm old school inasmuch as I like to deal face to face. If I don't get that 'warm fuzzy vibe of trust' I go elsewhere."
Special caution is warranted, though, if you elect to mail your items to a potential purchaser as part of an online sale. Make sure to take photographs of your items and make a list before mailing them out. Also, you should insure the package before mailing it.
Check Businesses Before Selling Your Gold
And as long as we're discussing precautions, with potentially significant amounts of money changing hands, you want to do at least as much due diligence as if you were, say, trading in a car. In addition to professional associations and recommendations, you can check with the Better Business Bureau to find out if there are complaints against a business you're considering, and if so, how they were resolved.
It's smart to weigh your gold before taking it to a buyer -- a kitchen or postal scale should give you a reasonable idea of the weight of your items. And make sure that when the buyer is weighing the gold, you pay attention to the procedure.
Is Selling Your Gold a Good Idea?
Is now the right time to sell? Should you wait for the price to go up, or will waiting risk losing money if the price goes down?
"Selling gold now is a good idea for those who need cash or want to use the gold to reinvest in a newer piece of jewelry," Gizzi said. "Outdated jewelry that is broken or single earrings also make great items to sell."
That being said, it's possible to have regrets. "Always remember that once the piece is gone, you can rarely get it back," Gizzi explained. "Just because a piece of jewelry is outdated, doesn't mean that it won't come back."
Senior Retirement Editor, Kiplinger.com
Elaine Silvestrini has had an extensive career as a newspaper and online journalist, primarily covering legal issues at the Tampa Tribune and the Asbury Park Press in New Jersey. In more recent years, she's written for several marketing, legal and financial websites, including Annuity.org and LegalExaminer.com, and the newsletters Auto Insurance Report and Property Insurance Report.