4 Ways to Earn More From Your Rainy Day Fund
You should set aside enough money to cover three to six months of living expenses in case of an emergency. But sticking this cash in a savings account can mean forgoing earnings from interest.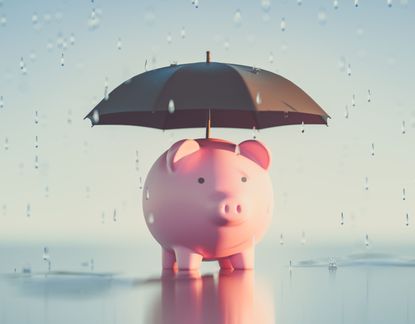 (Image credit: Getty Images)
Conventional wisdom calls for keeping enough cash in a rainy day fund to cover three to six months of routine living expenses as well as all insurance deductibles. But sequestering tens of thousands of dollars in a savings account that earns a miserly 0.01% is painful.
There are better ways -- like the four alternatives that follow -- for an emergency fund to earn more.
1/4
Money Market Accounts
These FDIC-insured accounts at a bank or financial institution offer slightly higher annual yields, currently 0.35% to 0.56%, than savings accounts. Plus, an amended federal regulation lifted the six-per-month restriction for check writing and ATM withdrawals, but check with your bank first.
2/4
CD Ladder
Certificates of deposit offer higher yields because you lock up your money for a specified time, from months to years. If you tap the funds earlier, you pay a penalty, usually a certain number of months in interest depending on the CD term. Current annual yields for a one-year term range from 0.50% to 0.70%.
You can earn more without tying up all your money by building a ladder of CDs with staggered maturities. "That way you know there's money always available," says Zaneilia Harris, a certified financial planner in Upper Marlboro, Md., and author of Finance 'n Stilettos. For example, you might create a ladder by investing $5,000 each in a six-month, one-year, 18-month and two-year CD. Every six months, one of the CDs matures, freeing up $5,000. If you don't need the money, reinvest it in the ladder.
3/4
An Extremely Low-Risk Mutual Fund
A money market fund from a mutual fund company invests in cash and short-term debt securities, such as Treasury bills. These low-risk funds can be cashed in easily, although they aren't FDIC-insured.
Like a money market fund, a short-term bond fund delivers higher yields in exchange for slightly higher risk. These funds invest in Treasury bonds, municipal securities and corporate debt with shorter durations. Because the funds tend to remain fairly stable in price, you generally can sell shares in an emergency without risking big losses.
Ted Halpern, president of Halpern Financial in Ashburn, Va., likes low-cost, short-term muni bond funds like the JPMorgan Short-Intermediate Municipal Bond Fund (JIMIX), which has a net expense ratio of 0.25% and an average 52-week return of 1.41%. Short-term muni bond funds provide tax-free interest and better rates than CDs without locking up the money for a set term. This is especially important if rates rise, he says. "Munis are very attractive now as states are well capitalized after receiving multiple rounds of stimulus payments."
4/4
Credit Lines
In a pinch, your home might be a source of cash. A home equity line of credit costs just a few hundred dollars to open, and some lenders waive closing costs and maintenance fees if the loan is linked to a checking account at the same financial institution. The HELOC should be in place before you retire, when your income is relatively high and your credit is good, says Harris. "Don't tap it. Have it there just in case of an emergency." Rates for home equity lines of credit usually hover about a point above the prime rate, or slightly above the rate of inflation, with interest payable only if you draw money from the HELOC.
Similarly, you can set up a securitized line of credit tied to your investment account, with no closing costs, says Halpern. Like the HELOC, you only pay interest on the balance you draw from the credit line.
The more credit you can tap immediately, the lower your reserves need to be in other emergency accounts. Halpern recommends keeping the equivalent of two months of expenses in bank accounts and one month or more in a bond fund, in addition to credit lines.
Revisit the size of your emergency fund periodically and beef up your cash savings to cover anticipated expenses, such as a home remodeling project or car purchase, says Sunit Bhalla, a certified financial planner in Fort Collins, Colo. Bear in mind, "the more frugal you are in life, the less you need in your emergency fund," says Derek Sall, who blogs at Life And My Finances, in Grand Rapids, Mich.
Katherine Reynolds Lewis is an award-winning journalist, speaker and author of The Good News About Bad Behavior: Why Kids Are Less Disciplined Than Ever – And What to Do About It. Her work has appeared in The Atlantic, Fortune, Medium, Mother Jones, The New York Times, Parents, Slate, USA Today, The Washington Post and Working Mother, among others. She's been an EWA Education Reporting Fellow, Fund for Investigative Journalism fellow and Logan Nonfiction Fellow at the Carey Institute for Global Good. Residencies include the Virginia Center for the Creative Arts and Ragdale. A Harvard physics graduate, Katherine previously worked as a national correspondent for Newhouse and Bloomberg News, covering everything from financial and media policy to the White House.